Fall has arrived.   With the arrival of the new season, and the leaves turning colour, it's time for bringing out the sweaters and a time for new dishes in the kitchen. Chef Castro Boateng has presented a mouth-watering recipe for Braised Short Ribs Confit with garlic pommes puree and wild mushroom jus.
We tend to avoid using the oven in the heat of the summer, but when autumn rolls around, it's time for roasted dishes that fill the kitchen with savoury aromas.
For this dish I will recommend four wines. I recently had a similar dish paired with a Portuguese wine and it worked very well – Crasto, Quinta do Crasto Douro Red. This wine is made from several of the varietals used in making Port. You could also try Jose Maria da Fronseca, Periquita Reserva.
For BC picks, choose a Gamay such as Mount Boucherie's or Vin Perdue's or one of BC's great Pinot Noirs – from Cedar Creek, Ex Nihilo, La Frenz, Meyer Family, Orofino, Privato or Stoneboat among many others.
Braised Short Ribs Confit garlic pommes puree, Wild mushroom jus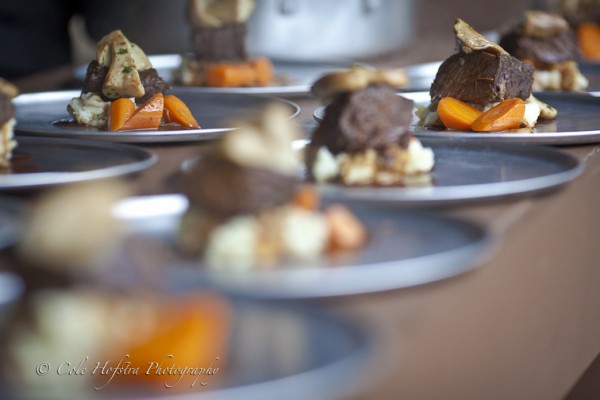 1 1/2 kg short ribs
1 1/2 tbsp black pepper
1 1/2  tbsp kosher salt
1/2 bottle red wine
1 cup onion (roughly dice)
1/2 cup carrots (roughly dice)
1/2 cup celery (roughly dice)
6 garlic gloves
few sprigs of thyme
few bay leaf
2 tbsp vegetable oil
1 tbsp tomato paste
4 cup stock(veal, chicken, or mushroom stock)
Trim excess fat from short ribs. Season short ribs well with salt & pepper, allow to sit for a minimum of 2 hours (this allow the seasoning to penetrate through the meat and tenderize)
Submerge the short ribs in red wine, add the diced vegetables and garlic, thyme & bay leaf. Marinate overnight or minimum of four hours.
Pre heat the oven to 250 degrees.
Remove the meat from the marinate and separate the vegetables from the wine.
Place a large Dutch pan over high heat, when hot add the short ribs and sear on both sides, repeat with the remaining short ribs. Once all the short ribs has been seared, add the vegetables, garlic and the herbs cook for a few minutes, add tomato paste, cook for a few minutes. Deglaze the pan with the red wine then add short ribs back to the pan, add stock, bring the stock to boil, cover with tin foil and place the pan in the oven.
Braise short ribs for minimum of 4 hours or lower the heat to 200 and leave over night (the longer you braise the short ribs the tender it will be).
Once the short ribs have been cooked, remove from the liquid, strain and discard the vegetables then reduce the stock.
pommes puree
3lbs Yukon gold potatoes
salt & pepper to taste
1 head of garlic
1/4 cup vegetable oil
1/2 cup heavy cream
3 tbsp butter
Wash, peel and dice potatoes. Place the potatoes into a large sauce pan, cover with water then season with salt. Bring the pot to boil, cook for 20-25 minutes depending on the size of the potatoes.
Meanwhile cover the garlic cloves with oil, simmer on low heat for ten minutes or until the garlic is soft and sweet (do not allow the oil to boil)
When potatoes are tender, drain the water, lower the heat and allow excess moisture to evaporate. Mash the potatoes, remove the garlic from oil then add to potatoes, add cream, salt & pepper then finish with butter. Keep warm.
Mushroom jus
1/4 cup vegetable oil
1 cup chanterelles
1 cup porcini (cleaned)
1 cup cauliflower mushroom
1/4 cup onion(diced)
1 cup carrots medium dice(blanch)
2 cups reduced braising liquid(from above)
3 tbsp parsley (chopped)
1/2 tbsp truffle oil
shaved truffles(optional)
In a heavy sauce pan, sauté mushrooms over medium high heat for 4 minutes, keep stirring. Add onions & carrots, sauté for a few more minutes, add reduce liquid bring to boil then add the short ribs back to the pan. Add parsley and truffle oil. Serve as desired.
chef@nullcastroboateng.com
250-588-9398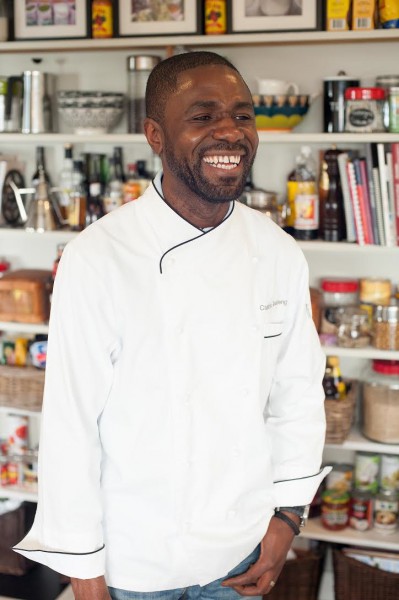 Castro Boateng, Fine Catering & Private Chef, was born in the West African country Ghana, the land of the gold coast. Immigrating to Toronto when he was nine years old, he and his younger brother were raised by his father who taught respect, family values and a good work ethic – encouraging them to strive for their dreams and goals. At a young age Castro had to overcome many obstacles but he was determined and become an Executive Chef before he was 30. After graduating from culinary school in Toronto, Boateng worked under European Master Chefs Stewart Cameron and Colin Watson at the prestigious Turnberry Resort, Scotland. He then worked at The Fairmont Southampton Princess in Bermuda where the successful New Port dining room became the first Caribbean restaurant to receive the five diamond award. Returning to Canada, Castro has been Chef de Cuisine of Eden, the five diamond restaurant at the Rimrock Resort Hotel in Banff Alberta, and Executive Chef at the Aerie Resort in Victoria B.C. Castro now lives in Victoria with his wife Charlotte and two young sons Kaeden & Noah.
Chef Boateng is pleased to share his passion for food & wine through Castro Boateng Fine Catering & Private Chef Services.
Fine Catering & Private Chef
Facebook Castro Boateng Fine Catering & Private Chef
250-588-9398