Several weeks ago, the summer came to an end but I discovered there was a beginning to something else: the art of pairing beer and pizza.
On September 22nd, award winning Nicli Antica Pizzeria and Strange Fellows Brewing  held an end of summer pizza and beer dinner which brought together a curious and smiling crowd of Vancouverites. Strange Fellows Brewing co-founders, Iain Hill & Aaron Jonckheere, were also able to join the dinner party and provided background on the selection of beers that evening and the story of how they began working together.
Through 5 courses and the next few hours, Chef David Tozer and Bar Manager Christopher Allen presented pairings of Strange Fellows reputable beers with Nicli Antica Pizzeria's VPN certifed pizza (FYI, it was the first VPN certified pizzeria in Vancouver).
The first course served was Pizza Tartiflette paired with the Jongleur Belgian Whit, a Belgian version of Hefeweizen. Kennebec Potato, Berkshire Pork Bacon, Caramelized Onion, and Raclette cheese topped a thin crust layer of goodness that one might experience as a sweet indulgence. It was a pleasant surprise that what one might enjoy as as part of a Raclette plate could very well be served as a pizza.  At only 4.5% the Jongleur Belgian Whit unleashed aromas of earthy oranges and coriander and perfectly matched the rich flavours of the pizza's toppings.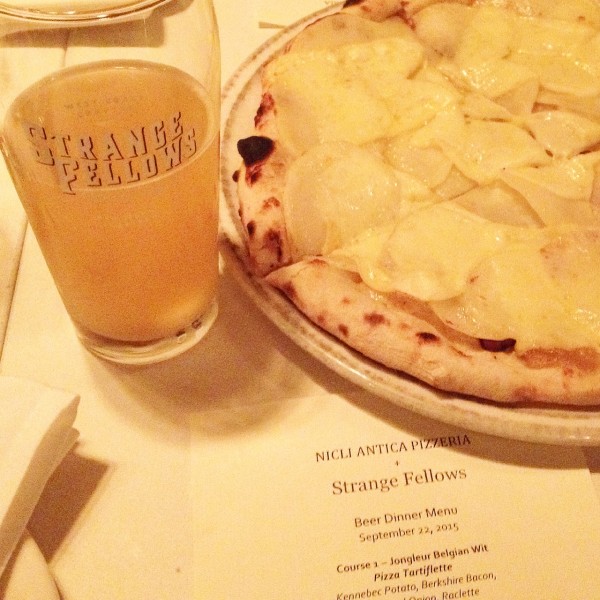 Our next serving was Pizza Bianco paired with the Guardian White IPA. For this pizza innovation, you really can't go wrong when you mix together BC's Red and Yellow Heirloom Tomatoes with Bufala Mozzarella, Grana Padano, Castelvetrano Olives, Garlic, Basil and EVOO. Although the Guardian White IPA was hoppier and slightly higher in alcohol (6.5%) than the beer served with the first course, the dominating citrus flavour  complemented the fresh summer flavours well.


For anyone with an appreciation for Wild BC Salmon, the richness and creaminess of the Cedar Plank Salmon Pizza was another delicious course that would not disappoint the palate. Paired with the Talisman West Coast Pale Ale, this pizza had Wild BC Salmon, Mostarda di Frutta (Italian condiment made of candied fruit and a mustard-flavoured syrup), Sungold Tomato, Corn and Cream. at only 4% alcohol, the Talisman West Coast Pale Ale offered tropical aromas, particularly mango, and married well with the hint of sweetness offered by the Mostarda di Frutta.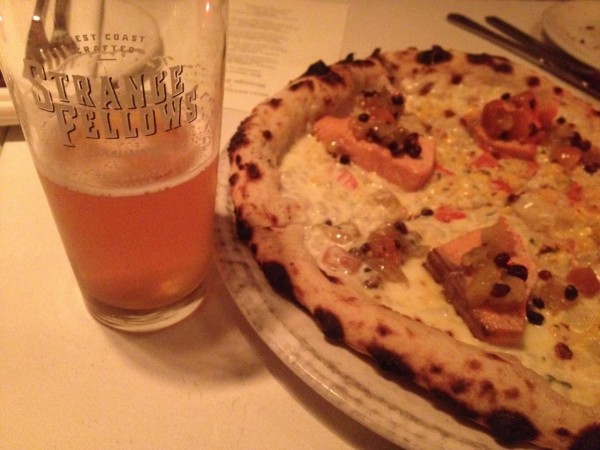 For our final pizza of the evening, Pemberton Beef Short Rib, Squash, Smoked Cheddar, Black Garlic Jus and Nasturtium were combined together to create the Nocturnum Nightmare pizza.  Paired with the Nocturnum Dark IPA, this combination was hard to resist as the rich flavours of the beef short rib and creamy cheddar matched well to the Dark IPA (which often requires something meaty of cheesy).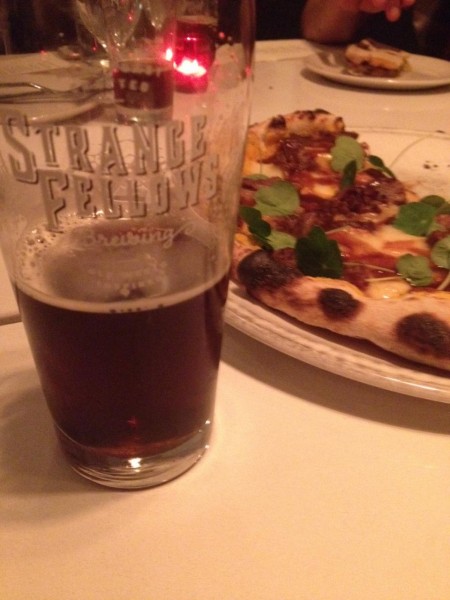 To say goodbye to summer in style, a pairing of pure decadence and sweetness was a nice surprise as the 5th course: Chocolate Olive Oil Cake with Honey & Hop Gelato, Black Huckleberry, and Chantilly paired with the Roxanne Framboise Noire. The richness of the chocolate slightly overpowered the berry freshness of the Roxanne.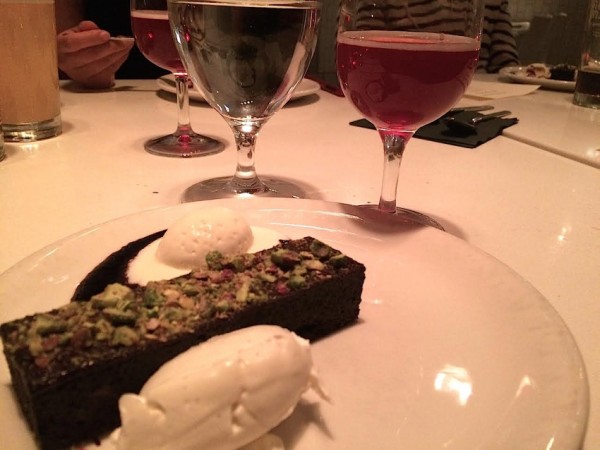 As seasons change and we embrace the autumn flavours of food and different beverages, one thing that I know for sure is that pizza and beer combinations are limitless and it comes down to how adventurous one can be with the pairings. Cheers to Nicli Antica Pizzeria and Strange Fellows Brewing for putting together such an incredible dinner and marking the end of the summer with a unique twist.