Wild Sweets® Ranked one of '24 Best Chocolatiers in the World' & Releases Exclusive Lunar 2016 'Year of the Monkey' Chocolate Art Collection.
Dominique and Cindy Duby are longtime internationally acclaimed award-winning pastry chefs-chocolatiers and world experts in their field from authoring 5 books including Best Cookbooks in the World, to representing Canada at the World Pastry Cup in France, to contributing articles on their cutting edge sweet food innovation in international magazines, to participating alongside Michelin 3-Star chefs in prestigious food-&-wine events around the world.
World 24 Best: Dominique and Cindy Dubyare proud to announce that Wild Sweets® has been ranked one of the '24 Best Chocolatiers in the World'. The ranking is part of 'CHOCOLATE – THE REFERENCE STANDARD – The Chocolate Tester' book just released by Georg Bernardini. The comprehensive resource book reviewed and taste-tested over 550 brands and 4,000 products from 70 countries. The ranking is based on various stringent evaluation criteria and awards 0 to 6 'Cocoa Pods' – similarly to the 'Stars' that the Michelin Guide awards to restaurants internationally. Additionally, products / brands that score the highest ranking, or 6 'Cocoa Pods', are included in the 'List of the Best', which in this year edition only included 24 companies worldwide. Wild Sweets® By Dominique & Cindy Duby was awarded the coveted '6 Cocoa Pods' and ranked as one of the '24 Best Chocolatier in the World' alongside other international chocolate luminaries such as Pierre Marcolini in Belgium, Patrick Roger in France, Es Koyama in Japan, Michael Recchiuti & William Dean in the USA to name but a few!
Lunar NY 2016: Wild Sweets® By Dominique and Cindy Duby is also excited to introduce its 2016 Lunar Limited Edition 'Year of the Monkey' Chocolate Art Collection. This 'East-Meets-West' collection is custom designed and hand-crafted for the 2016 Chinese New Year celebration. The collection features specific sweet ingredients (see below) for their symbolism in Chinese traditions including Prosperity – Good Fortune – Longevity – Wealth yet is crafted using modern French based chocolate-making techniques.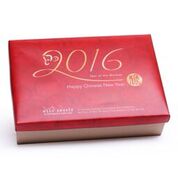 Wild Sweets® chocolates & designs are guaranteed one-of-a-kind. Our creative team custom designed a Limited Edition 'Year of the Monkey' 'FoodArt' print cover for the chocolate box. A macro-photography scene representing the emulsification process of liquids in chocolate featuring minuscule bubbles in different intensities is superimposed with an illustration uniting the numeric year and monkey theme as one drawing. The final Limited Edition artwork prints are individually glued by hand in-house on each chocolate box cover.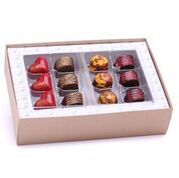 To make all Wild Sweets® Chocolate Art Collections even more unique from any other in the world, they are crafted with chocolate made in-house from origin cocoa bean-to-bar chocolate. The 'Year of the Monkey' Collection features an assortment of 12 chocolates (168g @ 14g each), each comprising of 2 types of fillings: one is a creamy nut praline with different nuts or seeds while the other is a soft ganache made with different fruit-based liquid caramels. All of the chocolates are painstakingly hand-painted with cocoa butter colours in different artistic patterns. Specifically, the 2016 Collection includes the following flavours;
∑       Lychee Logan Caramel Ganache & Black Sesame Praline Cream
∑       Mandarin Orange Caramel Ganache & Coconut Praline Cream
∑       Peach Persimmon Caramel Ganache & Almond Praline Cream
∑       Mango Green Tea Caramel Ganache Peanut Praline Cream
To follow Chinese traditions, all chocolate boxes are sold ready for gifting in their own Wild Sweets® branded gift bag at a great value of $21.88 online 
About Wild Sweets®:
Dominique and Cindy Duby are world-acclaimed chocolate makers, designer chocolatiers, celebrated authors, foodArt architects, photographers and owners of Wild Sweets®. Their list of international kudos and awards is extensive including receiving the 2015 Best Chocolatiers and Confectioners in America Award by the International Chocolate Salon in San Francisco as well as being ranked one of the '24 Best Chocolatiers in the World' in the 2015 ' Chocolate – The Reference Standard', Germany. In addition, they continue to work regularly with food scientists to research, develop, and implement techniques for their chocolate-making process.
Their artisan virtual chocolate boutique, Wild Sweets®, is an haute chocolate atelier concept that specializes in the painstaking multi-step process of making their own vintage chocolate in-house from premium cocoa beans. The Wild Sweets® virtual boutique provides customers with the convenience of online shopping while, as an extension to the virtual boutique, The Atelier Micro-Store in Richmond, British Columbia offers customers the opportunity to purchase a selection of products directly from the store or pickup products that have been ordered online that cannot be shipped.
Dominique and Cindy Duby are long-time medal-winning pastry chefs who have competed for over 10 years in worldwide culinary art competitions including winning Gold at the Culinary World Cup in Luxembourg and World Culinary Olympics in Germany. The Duby's are the only husband-and-wife pastry chefs that have represented Canada twice as part of Pastry Team Canada at the world's biggest team competition: The World Pastry Cup in Lyon, France.
For the last 10 years, Dominique and Cindy Duby have worked closely with the University of British Columbia to create the next cutting-edge sweet food innovation. Pioneers in the Molecular Gastronomy movement, the Duby's were the first sweet chefs to introduce the concept in Canada in the early 2000s. Science continues to be a big part of their approach to food design, which they now call Culinary Constructivism and they continue to lead the way as Canada's only science-based chocolate-makers. They have written five cookbooks, two of which have won Gold at the Gourmand World Cookbook Awards. They are currently working on their sixth cookbook.
·      For more information on Wild Sweets® by Dominique and Cindy Duby visit:
o   604-277-6102
o   www.instagram.com/wildsweets