Wild Sweets celebrates the season with Spring 2016 Chocolate Art Collection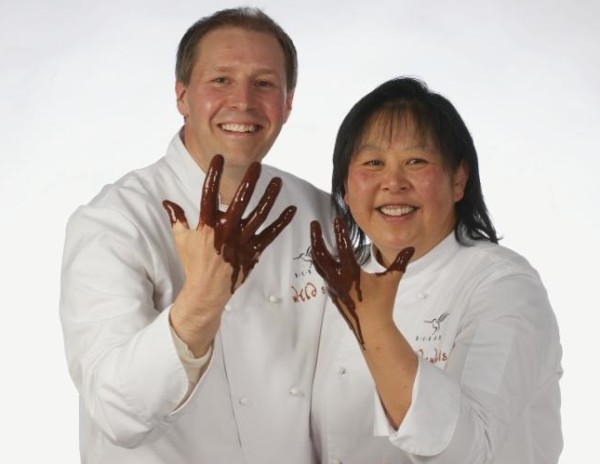 Wild Sweets® By Dominique & Cindy Duby have also released their 
Spring 2016 Limited Edition Chocolate Art Collection 
($21.10) which features a vast array of fresh, fruit forward chocolates with flavours including apricot, ginger root, passion fruit, yellow lemon, key lime and more. All of the chocolates are hand-painted with cocoa butter colours and can be ordered 
online
.
Just in time for the launch of Wild Sweets® By Dominique & Cindy Duby new cocoArt Easter Sculptures and Chocolate Art Collections, the Richmond based, world-acclaimed chocolatiers kick-off the season with the win of another new major International Award.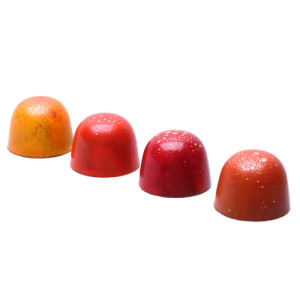 Best Chocolatiers in America: Wild Sweets® By Dominique & Cindy Duby are proud to announce that they were bestowed, for the 4th consecutive year, another 'Best Chocolatiers & Confectioners in America Awards' (2013 / 2014 / 2015 / 2016) from The International Chocolate Salon, an organization based in San Francisco, USA. The Best Chocolatiers & Confectioners in America Awards winners are based on the combined total number of Gold and Silver Awards received by each entrant in each year Chocolate Salon Competitions in San Francisco, Los Angeles, Seattle, and/or standalone Chocolate Salon Award Competitions for Best Caramels, Toffees, Bars, Truffles and/or Artistic chocolates.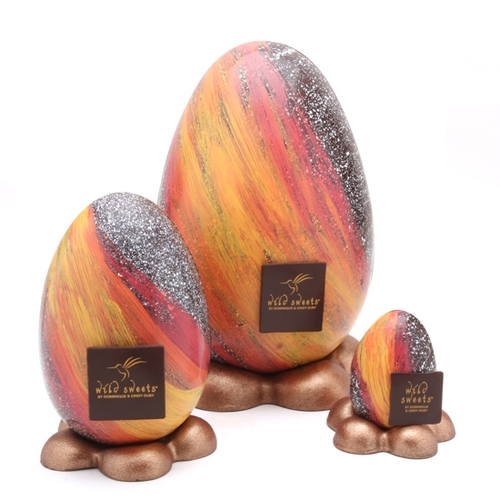 Easter / Spring 2016: Wild Sweets® By Dominique and Cindy Duby is also excited to introduce their new Chocolate Art Collections. Wild Sweets® chocolates & designs are guaranteed one-of-a-kind. Our creative team custom designed a Limited Edition 'Spring' and 'Heart' 'FoodArt' print covers for the chocolate boxes. A macro-photography scene showcasing flowers is superimposed with a graphic artist illustration. The final Limited Edition artwork prints are individually glued by hand in-house on each chocolate box cover.
To make all Wild Sweets® Chocolate Art Collections even more unique from any other in the world, they are crafted with chocolate made in-house from origin cocoa bean-to-bar chocolate.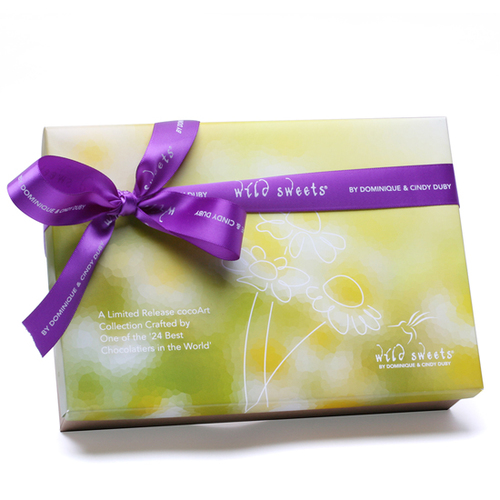 The Wild Sweets® 'Spring 2016' Limited Edition Chocolate Art Collection brings forward the freshness and aroma associated with spring through the use of various citrus fruits and specifically lemons including Yellow, Meyer, Kalamansi and Key Lime. The 'Spring 2016' Collection features an assortment of 12 chocolates (168g @ 14g each), each comprising of 2 types of fillings: one is a creamy nut praline with different nuts while the other is a soft ganache made with different fruit juices and spices. All of the chocolates are painstakingly hand-painted with cocoa butter colours in different artistic patterns. The Wild Sweets® 'Spring 2016' Collection features the following assortment of flavours;
Passion fruit, Ginger root, Yellow lemon Ganache & Peanut praline cream
Apricot, Vanilla bean, Meyer lemon Ganache & Almond praline cream
Coconut milk, Lemongrass, Kalamansi Ganache & Coconut praline cream
Mango, Vanilla bean, Key Lime Ganache & Macadamia praline cream
The collections are sold at a great value of $21.10 at Wild Sweets® online boutique and ship across North America. And/or they can be picked-up at Wild Sweets® own retail store 'The Atelier' Chocolate Gallery in Richmond, BC.
For more information about 
Wild Sweets® By Dominique & Cindy Duby
 including the Creative Team 
Story
, their numerous international 
Awards
, their unique Cocoa 
Bean to Bar
 Process as Canada's only science-based Chocolate-Makers and more, please visit: 
dcduby.com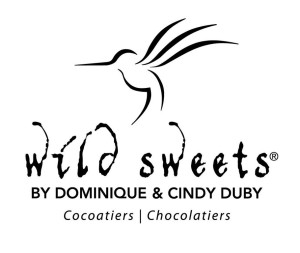 About Wild Sweets:
Wild Sweets®
 By Dominique & Cindy Duby in Richmond, British Columbia, are world-acclaimed chocolatiers, pastry chefs and celebrated authors, named 
24 Best Chocolatiers in the World. 
Their artisan and innovative online chocolate boutique specializes in luxurious bean-to-bar chocolates and desserts that are made in-house using premium cocoa beans. Visit the Dubys 
online
 or in-store at 
The Atelier
.