BY INVITING PATRONS TO COLOUR OUTSIDE THE BOX 
Lombardo's Pizzeria and Restaurant on Commercial Drive in Vancouver is releasing a specially designed "colouring" pizza box to help mark the restaurant's 30th year in business.
Created by East Vancouver artist Ali Bruce, the box draws on the recent swell in popularity of adult colouring books.  Bruce's bold black and white street-art inspired illustrations depict Lombardo's owner Patti Lombardo and her three daughters, who all help run the restaurant.
"We wanted to commemorate the years of being on the Drive, and at the same time, showcase that we are a family, female-run business, one that has lasted through thick and thin together," says Lombardo.  "By making it a colouring box, we also thought it would be a fun way to engage customers and inspire their own creativity."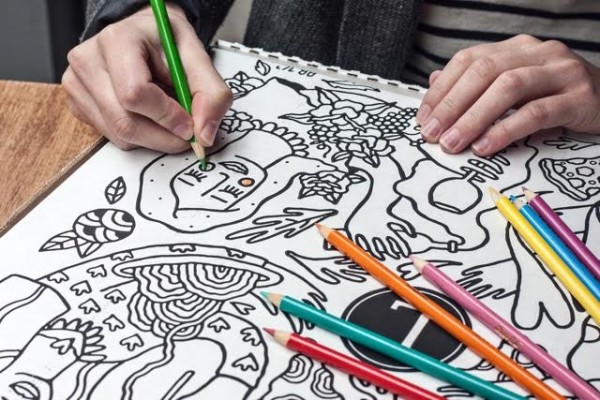 Patrons of all ages are invited to colour in the box, take photos of their creations, and share with @LombardosPizza on social media using the hashtag #Lombardos30yrs.  Submissions will be entered in a monthly draw for a free large pizza, running for the rest of 2016.
Lombardo's opened on Commercial Drive and 1st Avenue in Il Mercato Mall in the summer of 1986, at the height of Expo fever in Vancouver.  Despite no previous restaurant experience, Lombardo was able turn the small eatery into a local institution, serving some of the best pizza in the city.
Eldest daughter Elizabeth (31) is the restaurant manager, 21-year-old Sonia helps with front-of-house, bartending and marketing, while 27-year-old Giulia is the head chef, whipping up Italian specialties since the age of five.
"We have some great recipes, ones that haven't changed since day one," says Lombardo.   "Pizza #7 is still the same pizza #7.  But the fact that we've maintained this as a family-owned and operated business is really the special ingredient.  I believe that's contributed so much to the restaurant's longevity and success."
Lombardo's is Commercial Drive's original wood oven pizzeria established in 1986.  The family owned and operated restaurant serves traditional Italian pasta dishes and what many believe to be the best think-crust pizza in Vancouver.  Located at 1st and Commercial Drive, Lombardo's is open 7 days a week. For more information or to make a reservation, please contact 604-251-2240 or go to www.lombardos.ca.