Since Evolve Cellars opened as part of Bottleneck Drive in Summerland a year ago, their location has taken visitors' breath away, and their wines have been warmly received. Now, the wines have wowed the judges at the 2016 Spring Okanagan Wine Festival. Evolve Cellars is proud to share that the 2014 Pinot Blanc has captured Best of Varietal at the Spring Okanagan Wine Festival. This Pinot Blanc from Sundial Vineyard was picked at the precise time to maintain optimal fruit forward characteristics, and then was cool fermented to capture delicate aromatics. No oak was used. Rich ripe fruit makes it round, luscious, and delicious. The wine opens with a nose of Granny Smith apple, white peach and pear, leading to orchard-fresh melon and tropical fruit flavours on the palate, that linger with minerals and grapefruit on the finish.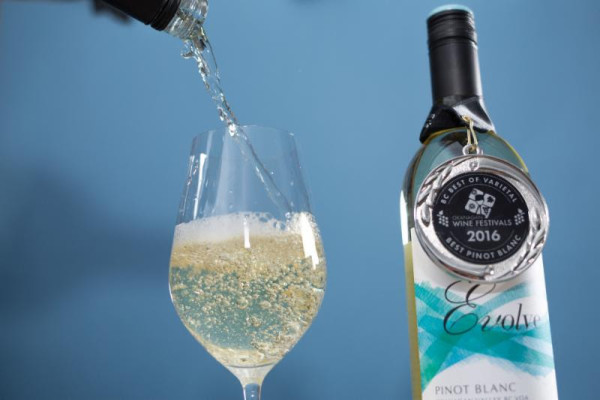 Christa-Lee McWatters-Bond, sales and marketing manager for Evolve Cellars, is understandably delighted. "This was such a surprise," she exclaimed. "I can't thank people enough for their support for the winery. This award," she continues," is such a wonderful way to kick off what is going to be a great season in the Okanagan. I look forward to having people visit me in Summerland at the winery so I can pour them a taste – before it's gone!"
About Evolve Cellars:
You are the change. We change together. For every move you take forward, every positive thought you have, and for everything you've ever tried to do, you're always trying to be the best version of yourself. Evolve Cellars is right here with you.
To evolve means to change or develop slowly, step by step, one day at a time, into a more advanced state of being. We believe that the Okanagan Valley has evolved to produce some of the best wines on the planet, and it is our intention to gently transform the fruit that Mother Nature creates into wines that can be enjoyed by all. Evolve's wines are fresh, fruit-forward, crisp, approachable, well-balanced and affordable; and can be enjoyed by anyone, at every occasion.
The winery is perched on a bench overlooking Okanagan Lake and surrounded by five acres of vineyard, with a spectacular view across the water to the surrounding mountains. With an onsite kitchen and numerous sun-drenched patios, al fresco dining with a glass of wine in hand is essential. The grounds offer the perfect setting for a wedding and many special events, including pilates and corporate retreats. The bright and airy tasting room is hosted by friendly and knowledgeable staff, and features carefully-selected gifts and collectibles.
For more information, visit evolvecellars.com   and follow along on Facebook, Twitter and Instagram.
About Okanagan Wine Festivals Society:
The Okanagan Wine Festivals Society is responsible for the development of the wine tourism sector in the interior of British Columbia. It is well known for producing two annual Okanagan Wine Festivals in spring to celebrate the bud break and in fall to celebrate the grape harvest. Its Winter Okanagan Wine Festival is run in partnership with Sun Peaks Resort near Kamloops. It is also responsible for Signature Wine Events and two annual wine judging competitions including the British Columbia Best of Varietal Wine Awards and the British Columbia Wine Awards. Its popular website that drives wine tourism is thewinefestivals.com.