Dames White 2015 and Dames Red 2013 – two fundraising wines that assist BC women in culinary educations – have been released. 100% of profits from the sales of these 520 cases of wine (6,240 bottles) will be donated to the scholarship fund that sends BC women through educational pursuits in the food and drink fields within our province. The wines sell for $25 per bottle, exclusive of taxes, on www.dameswine.com and in private liquor stores and restaurants across BC (prices vary click here for current list).
In 1997 Mireille Sauvé, Canada's youngest female Sommelier graduated from George Brown College with honours standing assisted by a scholarship received from British Columbia's Les Dames d'Escoffier. "Without that scholarship," says Sauvé, "I would not have been able to pursue my dream to become a Sommelier".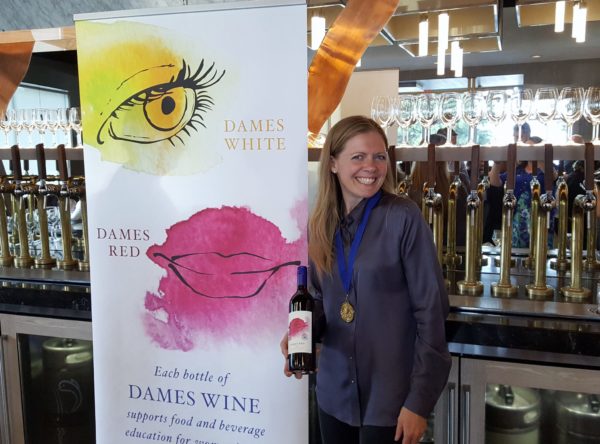 The 2015 Dames White is a dry, aromatic blend of 80% Pinot Blanc, 10% Riesling and 10% Gewurztraminer. Light-bodied with a lively acidity, it pairs best with shellfish and seafood, especially California Rolls. The 2013 Dames Red is an organic blend of 70% Merlot and 30% Syrah. It is a luscious, fruit-forward wine, exhibiting flavours of plum and toasty vanilla that pairs best with cheeses and meats, especially burgers. Both wines are made exclusively from Okanagan Valley fruit and were produced at Meyer Family Vineyards as a custom Crush, with Mireille Sauvé as Winemaker.
While the primary objective of this project has always been to raise money for the Dames d'Escoffier Scholarship Fund, a secondary objective, and a very important one,
is to celebrate the work that women are doing in our thriving wine industry. As such, Mireille elected to work with as many talented women as possible at all levels of the project; from graphic design and photography to administration and media relations, an inspired team of BC women have come together to make the dream of Dames Wine a reality.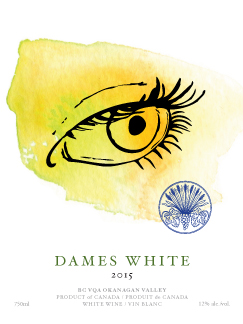 Dames White – $25
The Dames White is a light straw colour with aromas of apricot, apple, pineapple and a hint of lime zest and mineral undertones. On the palate — light-bodied with lively acidity, racy lemon and lime. Pear, apricot and lychee fruit flavours. A beautiful BC blend of 80% Pinot Blanc from Sperling Vineyard in Kelowna, 10% Riesling from Sperling Vineyard in Kelowna, and 10% Gewurztraminer from Meyer Family Vineyards in Okanagan Falls.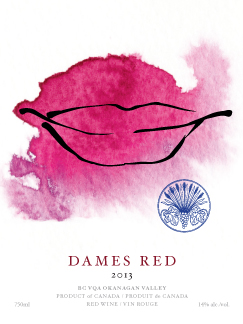 Dames Red – $25
The Dames Red is a great 'fireplace wine', enjoyed on its own with friends or alongside assorted charcuterie and cheese plates, burgers or stew. Deep crimson with a burgundy hue, with rich vanilla-infused mulled berry aromas joined by bright red cherry juice and a toasty star anise spicy note. A beautiful BC blend of 70% Merlot and 30% organic Syrah, both sourced from vineyards in the south Okanagan.
Our Winemaker
Mireille Sauvé, director of the Wine Umbrella and member of the BC Chapter of Les Dames d'Escoffier, is blending her wine skills with her desire to support women in BC's beverage and food industries. Thanks to a scholarship from the Dames organization, she became Canada's youngest female sommelier in 1997, and together with a team of women she is paying it forward with the production of Dames Wine. Proceeds from the sale of the #dameswine — will support food and beverage education for women in BC.