National Theatre Company Returns 30 Years After Expo 86
to Remount Signature Masterpiece
Canada-China Cultural Development Association (CCCDA) presents Beijing People's Art Theatre in Lao She's Teahouse – an epic drama of Chinese culture, history, and politics, November 10 & 11 at The Centre in Vancouver for Performing Arts (777 Homer Street). The signature work from one of China's national theatre companies, the play follows 50-years of turbulent history – from the fall of the Qing Empire in 1898 to the defeat of the Kuomingtang in 1948 – as witnessed within the walls of a Beijing teahouse. Tickets are now on sale at teahousevancouver.com.
"Teahouse was first performed by Beijing People's Art Theatre in 1958, and it has become one of China's most iconic plays," says Rudy Gao, President of the Canada-China Cultural Development Association. "The work was of such acclaim, in fact, that when the company was invited to participate at the Expo 86 World Festival – only six years after the company's first tour outside China – Teahouse was the work they decided to share. We are thrilled and honoured to mark the 30-year anniversary of Expo with the work's return to Vancouver, while introducing Teahouse to a new generation of audiences."
Chronicling the 50-year rise and fall of a teahouse – a hotbed of political discourse, economic turmoil, and social upheaval – the classic drama takes audiences on a whirlwind journey through three seismic shifts in modern Chinese history: to 1898, when reformists failed to strengthen the Qing dynasty; to 1911, at the founding of the Chinese Republic; and to 1948, during the civil war. Each time period offers a window onto the everyday lives of Beijing's citizens, showcasing the impact of sweeping societal change on an intensely human scale.
Revived by the theatre company's Touring Artistic Director Lin Zhaohua, one of China's hottest directors, and featuring a restored version of the original set design, Teahouse offers a fascinating panorama of characters from all walks of life, portrayed by some of Chinese cinema's biggest and brightest stars. Performing roles among the cast of more than 60 characters are such celebrated actors as Liang Guanhua, Pu Cunxin, and Yang Lixin.
The work is written by celebrated Chinese Playwright Lao She (1899-1966), distinguished as one of the most significant figures of 20th century Chinese literature. His 1936 novel Rickshaw Boy was among his most successful works, becoming enshrined as a classic of modern Chinese literature and enjoying bestseller status in the US in 1945 via an English translation. Written in 1957, the play Teahouse is the author's most lasting legacy – continuing to be performed regularly on stage, as well as being one of Lao She's many stories adapted for film.
Teahouse is performed in Mandarin with English Surtitles.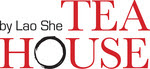 About Beijing People's Art Theatre:
China's premier professional theatre company, the Beijing People's Art Theatre, has presented nearly 300 productions in its more than 60-year history. Modeled after Moscow People's Art Theatre, the company is renowned for its distinctive theatrical style, dubbed "poetic realism" by critics, which blends principles from traditional Chinese opera with elements borrowing from Bertolt Brecht and Konstantin Stanislavski.
Founded in 1952, shortly after the establishment of the People's Republic of China, the company earned renown presenting classic works by Lao She and Cao Yu (the company's founding president) in its first decade. After the Cultural Revolution, which disrupted the lives of many theatre professionals, the company thrived anew, extending its repertoire into freshly translated works and new works by young Chinese dramatists.
The company made international headlines in 1983 when Arthur Miller's Death of a Salesman premiered with the playwright as a guest director. Other plays from the West presented by the theatre include The Threepenny Opera, Shakespeare's Hamlet, and the West End/Broadway hit Copenhagen.
Teahouse is the cornerstone of the company's repertory and has been revised several times since its 1958 premiere, including tours to Japan, Western Europe, and the US.
LISTING INFORMATION
Beijing People's Art Theatre presents
Teahouse
Date & Time:
November 10 & 11, 2016 at 8pm
Ticket prices:
From $40 (plus applicable fees)
Address:
The Centre in Vancouver for Performing Arts
777 Homer Street, Vancouver, BC
Website: