Black Truffle and Mascarpone Saccottini Pasta with Galliano Cream Sauce, Pancetta Crisps and Sweet Pea Purée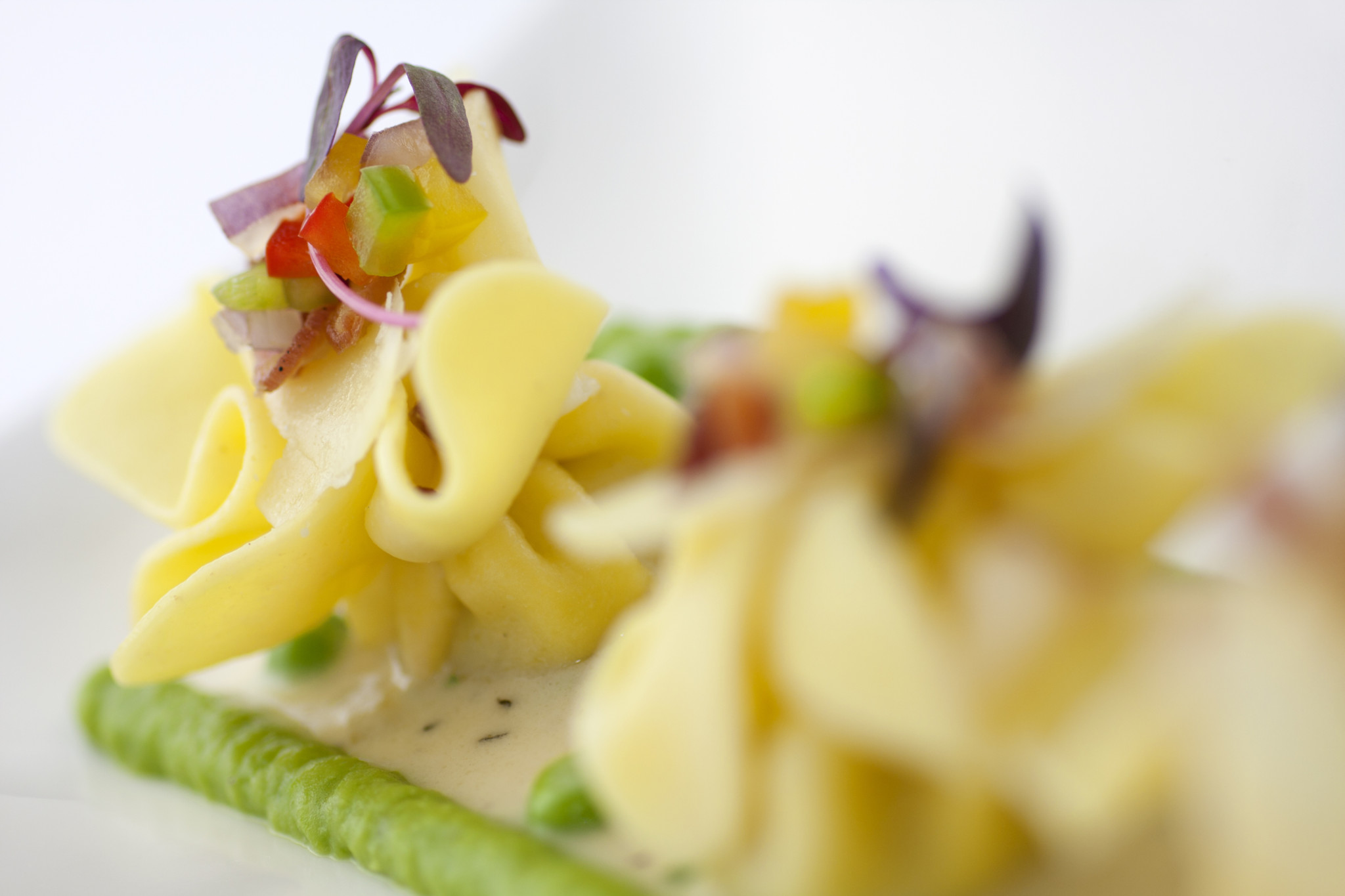 This dish has some history. It started out, as ravioli then, in search of a different shape, became the little purse. To accompany its 'rich' filling, I added a sweet Galliano sauce offset by some crispy, salty pancetta.
Ingredients:
24 prepared Saccottini
2 oz pancetta, finely diced
1/4 cup sweet pea purée
3/4 cup Galliano sauce
2 oz Parmesan cheese, shaved
2 oz micro greens
Assemble and serve:
Bring the Galliano cream sauce back to a simmer in a large shallow saucepan.
In a large pot, bring salted water to a rolling boil. Gently add the saccottini and cook for 2 to 4 minutes, or until they to float to the top. Use a slotted spoon; transfer the pasta to pan of Galliano cream sauce.
Plating:, arrange 6 saccottini per plate and spoon sauce over top.  Squeeze some of the sweet pea purée across the pasta, top with shaved Parmesan cheese, some pancetta crisps and a few micro greens. Serve immediately.
Yield: Serves 4
Black Truffle and Mascarpone Saccottini
Ingredients:
1-cup mascarpone cheese
1-cup ricotta cheese
1 egg
2 tsps. black truffle paste or truffle oil
Salt and ground black pepper to taste
1 lb. fresh pasta dough
1 egg, mixed with 1 tbsp. water for egg wash
flour for dusting
pasta rolling machine
Directions:
In a medium-sized bowl, mix cheeses, egg and truffle paste until smooth. Season to taste. Cover and refrigerate until ready to use.
Cut the pasta dough into 4 equal pieces. Use a rolling pin to shape each piece into a 10"x 5" sheet about one-half inch thick.
Lightly dust the pasta sheets with flour and, using either a hand-cranked or electric pasta machine, roll pasta through the machine, starting from thickest through to the thinnest setting. Repeat for the other pieces of dough.
Use a fluted 3-inch round cookie cutter to cut as many rounds from the dough as possible. Transfer to a baking sheet, dust with flour and cover with a clean kitchen towel.
Take the truffle cheese filling from the fridge, and begin assembling the saccottini.  
Lay 10 pasta rounds out onto a lightly floured surface. Put 2 tsps. of filling in the centre of each pasta round.
Use a pastry brush to egg wash the outer edges of each of the rounds. Imagine the round divided into four parts. Take one "corner" of each round to the middle, creating a seal with four distinct edges. Fold the other corner to the top, forming shape. Repeat until all the rounds are filled.
Transfer to a baking sheet lightly dusted with flour and refrigerate or freeze until ready to use.
Yield:  approx. 24 pieces
Pancetta Crisp
Directions:
Heat a medium sized sauté pan to medium-high heat. Fry the pancetta bits until crispy. Transfer to a paper towel to drain. Set aside.
Yield: ½ cup
Sweet Pea Purée
Ingredients:
½ cup frozen sweet peas
¼ cup water
1 tbsp unsalted butter
salt to taste
Directions:
In a small pot, place frozen sweet peas, water and butter. Bring to a boil and then remove from heat.
Transfer contents to a blender or processor. Add a pinch of salt and purée until smooth. Transfer to a clean squeeze bottle and set aside.
Yield: 1/2 cup
Galliano Cream Sauce
Ingredients:
4 tbsp. unsalted butter
¼ cup shallots, finely chopped
1 tbsp. garlic, minced
1 tsp. fresh thyme, finely chopped
2 tbsp. all-purpose flour
¼ cup Galliano liqueur
2 cups heavy cream
¼ cup frozen sweet peas
1 tsp. lemon juice
Salt and ground black pepper to taste
Directions:
In a heavy, medium sized saucepan, melt the butter on medium-high heat. Add the shallots, garlic and thyme and cook for 3 minutes. Stir in the flour to make a roux.
Add the Galliano and cream. Bring to a boil then reduce to low. Simmer for about 8 to 10 minutes, stirring well and often.
Add frozen peas and lemon juice, season with salt and pepper to taste. Set aside.
Yield:  about 2 1/2 cups