Roasted Heirloom Carrots with Black Garlic Hummus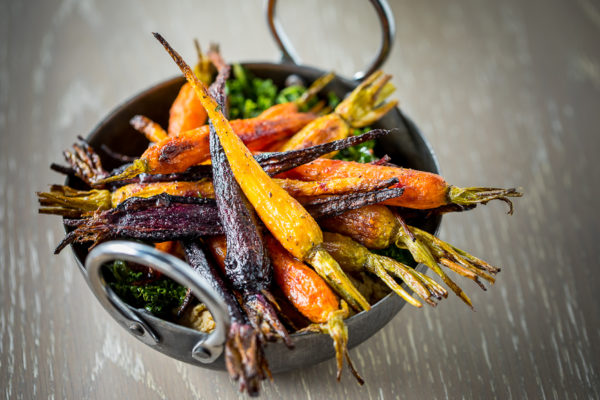 Black garlic hummus:
Ingredients:
1 large can of chick peas (save 1 cup of chick pea juice from can)
6 cloves of black garlic
10 cloves of roasted garlic
1 tbl spoon of tahini
Juice from 1 lemon
Method:
Steam chick peas for 10 minutes in a perforated pan.
Add all ingredients into blender and puree until smooth.
Add chick pea juice to thin out hummus.
Add salt and pepper to taste.
Cumin and honey roasted carrots: 
Toss carrots in honey, cumin and oil to taste.
Roast in oven at 350 degrees F until tender approx. 8-10 minutes. You want the carrots to still have a little crunch to them.
Serve on top of the hummus.
By Executive Chef Chris Savino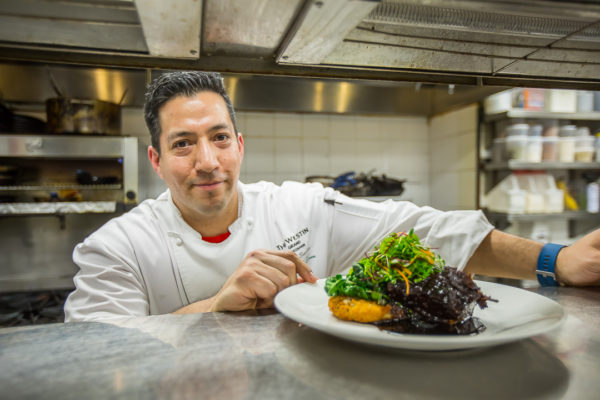 Chef Chris Savino – Executive Chef at Hendricks Resto-Lounge in the Westin Grand, Vancouver
A graduate of the VCC Culinary Arts Program, Chef Chris Savino spent his early professional years on the line in hotels, restaurants and golf courses across the Lower Mainland. Over time, he nurtured a passion for the region's culinary diversity of cuisine, developing a global repertoire of flavours using sustainable local ingredients to build memorable dining experiences.
Chef Chris has been with the Westin Hotel Group for 10 years, the last three as Executive Chef at the Westin Grand, Vancouver. He's looking forward to spearheading the launch of Hendricks Resto-Lounge in 2017.
HENDRICKS RESTO-LOUNGE
On the Lobby Level of the Westin Grand, Vancouver
433 Robson Street
Vancouver, BC V6B 6L9
604-647-2521
Key Staff
Managing Director: Zahra Mamdani
Executive Chef: Chris Savino
Lead Bartender: Matt Houston
Director of Food & Beverage: Michael Salhani
Hours: open seven days a week
Breakfast: 630am to 1030am
Lunch: 11am to 2pm
Evenings:
Sunday to Thursday from 5pm to 11pm
Friday and Saturday from 5pm to midnight
SOCIAL MEDIA
Instagram: @hendricksyvr
Twitter: @hendricksyvr
Facebook: /Hendricksyvr
About Hendricks
Inside the Westin Grand, Vancouver, overlooking the city's vibrant Library Square, Hendricks Resto-Lounge offers a contemporary twist on the classics. With a subtle nod to West Coast lounge culture, Hendricks is both a full-service restaurant showcasing clean, modern cuisine as well as an old-school cocktail bar stirring up decadently crafted cocktails. Hendricks features a rotating roster of live musical performances on Tuesdays and DJ sets on Fridays and Saturdays.