Cherry Cheesecake French Toast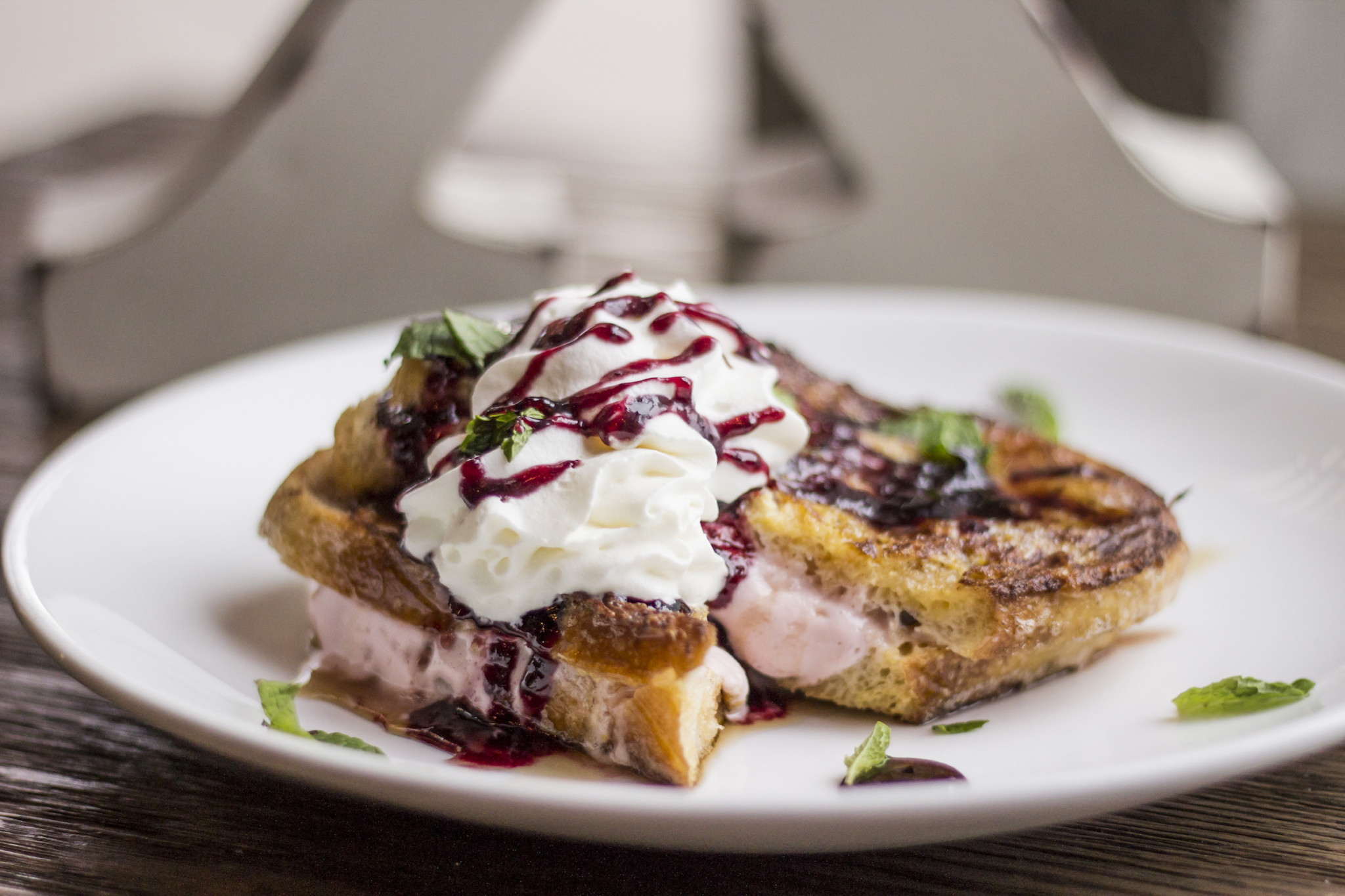 This is one of my favourite brunch ideas, and it always ends up being a huge hit! The goat cheese adds a bit of tanginess to the dish, mine is always from Happy Day Farms in Salmon Arm. The cheesecake is no bake and super easy to make, you can also switch it up year round using whatever seasonal local fruit is available. Another great idea is to make extra fruit coulis and use it in some brunch mimosas!
Serves: 8
Fruit Coulis (yield 2 cup)
2 cup water
2 cup granulated sugar
4 cup fresh cherries
Cheesecake Filling (yield 1.25 L)
14 oz cream cheese (room T*)
4 oz kg goat cheese
1/2 cup granulated sugar
1 & 1/3 cup whipping cream
1 tbsp lemon juice
1 tbsp water
2 each gelatin sheets
1/2 each vanilla bean
French Toast (6 orders)
16 slices white bread (thinner slice)
8 eggs
1 cup milk
2 tbsp butter
1 cup maple syrup
Method
Fruit Coulis
1. Bring cherries to a boil with water and sugar
2. Reduce to a simmer for 20-30 mins until reduced to about 2 cups and fairly thick
3. Remove from heat, strain and cool
Cheesecake
1. Bloom gelatin in cold water
2. In stand mixer with paddle attachment on medium speed whip cream cheese, goat cheese, vanilla & 1/2 cup fruit puree until smooth (approx 2 mins)
3. Slowly add in sugar while beating for 1 min (scraping down sides with spatula) until granules are dissolved
4. Switch to a whip attachment and slowly drizzle in whipping cream and whip on medium speed until fluffy
6. Bring the lemon juice and the 1 tbsp water just up to a simmer and shut off heat, squeeze excess liquid out of the bloomed gelatin and stir into warm mixture until dissolved
7. Strain warm gelatin mixture into the cheesecake mixture while whipping on slow until incorporated
8. Using a piping bag, pipe 8 x 4 fl oz circles onto patty or parchment paper (or spread), each the diameter of the pieces of toast and place in freezer for 1 hr
French Toast
1. Preheat oven to 100*F
2. Whisk together egg and milk, heat pan with butter in large skillet over medium heat
3. Sandwich each frozen cheesecake patty between two pieces of bread, soak in the egg wash for 30 seconds and fry on each side until golden brown
4. Transfer each piece onto cookie sheet and keep warm in the oven until all pieces are fried
Cut in half before serving for presentation or let your guest cut it themselves and watch the cheesecake filling ooze out! Serve with the leftover fruit coulis and maple syrup.
Chef Graydon Gliege
The Xchange tbl
Executive Chef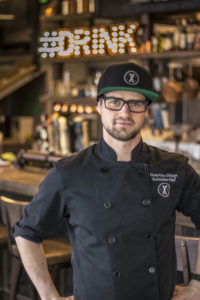 Graydon grew up in the Okanagan and truly appreciates everything it has to offer. While training in the Culinary Arts at Okanagan College, he worked in a number of establishments under a variety of chefs. With his background in Italian, French & West Coast cuisine, he believes in using the best local ingredients possible to create dishes that blend rustic style & flavours with modern techniques & elegance.
ABOUT THE RESTAURANT
Nestled in the center of Kelowna's Landmark Business District, Xchange offers incredible Spanish style tapas, inspired entrees, and a massive 28 day dry aged tomahawk steak. All of these are created in a fully open concept kitchen by a passionate team of Chefs AKA 'The Heart of the House'. Everything prepared at Xchange is made from scratch with the freshest ingredients, and they will smoke anything! Bacon, brisket, bourbon, jalapeños for their signature hot sauce, tomatoes for house-made ketchup, and anything else they feel like. With a warm rustic meets modern industrial atmosphere that encourages socializing, the always BC craft beer taps are constantly rotating. Kill the keg, your beer is on us and you choose what's up next! Phenomenal house-made Sangria and the largest Tequila selection in the Okanagan will make this your favorite dining spot in Kelowna!