While visiting the Okanagan we had a short list of restaurants we wanted to try. Some of the chefs are contributors to the website's #TasteofThursday feature where we publish recipes of top chefs from Vancouver, Victoria and the Okanagan. It had been a number of years since we visited the Naramata and Oliver/Osoyoos area so we were taking advantage of the opportunity to visit both Terrafina by RauDZ with Chef Jenna Pillon and Miradoro Restaurant at Tinhorn Creek with Chef Jeff Van Geest. For our final night we chose to have dinner at Miradoro. We were staying at the Villa at Hester Creek so we were right next door.
As a prelude to dinner we decided to do a tasting at Tinhorn Creek in order to have an idea what wines we might want to pair with our dinner. We arrived on a quiet Monday afternoon which worked out well. Our Wine Associate, Fred, was an excellent ambassador for the wines and the region. In addition to being fully versed on the wines he was able to give us some history of the vineyard and of the Oliver area. Fred was knowledgeable, professional and very personable. We enjoyed our tastings and by the time we left had a good idea of which wines we would enjoy with dinner. We also had an interesting discussion about the demographic of the area which as it turns out is approximately 60% of residents in the "over 50" age group. Makes sense, what a great place for semi retired and retired people. There is a lot to do in the area and the weather is mostly dry with warm summers.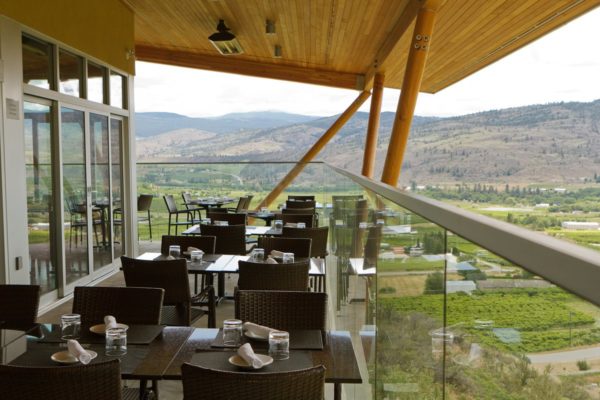 When we arrived at the restaurant for our dinner reservation we were greeted warmly by friendly staff. I was surprised at how large the restaurant is and it was pleasant to be seated outside. The views are quite spectacular and the evening was comfortably warm. It was a very quiet night following what had been a very busy two days with numerous events going on over the weekend.
We started with a local sparkling wine while deciding what we would order for dinner. I must confess we had spent the previous four days making the rounds of first Naramata and later Okanagan Falls before spending time touring Oliver wineries. We had been eating in restaurants every night and I had enjoyed lunch at Liquidity Bistro that day so our appetites were moderate.
We decided to each have a starter dish and then to share a main course. This turned out to be ideal. He opted for the red wine flight of 3 – 3 oz glasses of Tinhorn  Creek wines. Cabernet Franc 2014, Merlot 2014 and Pinot Noir 2013 made an excellent trio.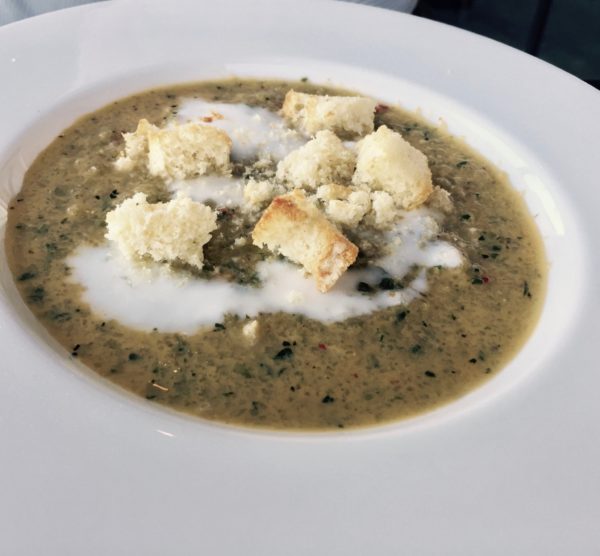 For his first course he ordered the Chef's daily soup which was a refreshing gazpacho. I chose the Charcuterie plate which was perfect for a discriminating carnivore. Cheese was an option but I had decided to keep it a bit lighter which was a good idea given the generous portion of cured meats and a country style terrine. In the end we did share the charcuterie plate.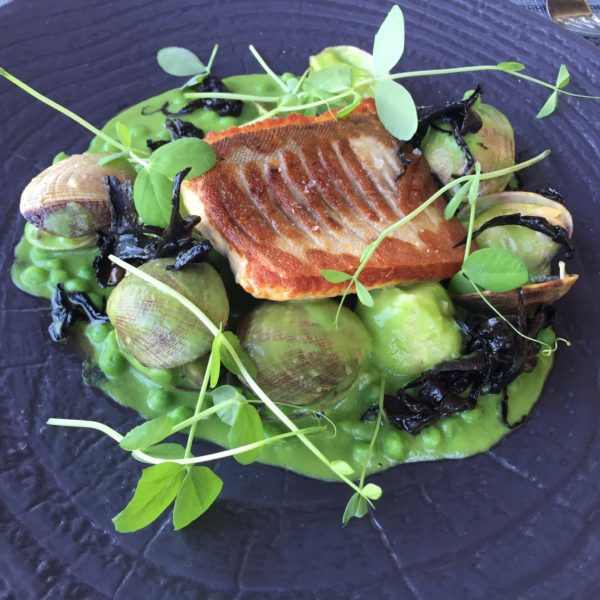 We also shared the Arctic Char which had a nicely crisp skin and a moist and delicate texture. The Char has a mild flavour and went well with the clam ragu. The addition of the sweet peas really made the dish. The peas were fresh and flavourful. I would definitely have this dish again.
The Lemon Creme with seasonal fruit and a lavender sablé cookie was rich and creamy with a hint of tartness. Just right for sharing. 
Jeff Van Geest, Executive Chef
Courtney Welter, Sous Chef
About Miradoro
Miradoro Restaurant is a partnership between Tinhorn Creek and Manuel Ferreira, former owner of Le Gavroche in Vancouver.
Panoramic views of the valley below; clean lines, and a comfortable atmosphere. Locally sourced ingredients prepared by an award-winning chef. All of this, in the heart of the south Okanagan – with a hint of Mediterranean on the palate.
It's where rustic meets elegant in delicious harmony.
With an emphasis on seasonal products and a commitment to sustainable practice, the menu at Miradoro is a study in culinary creativity. From the authentic forno oven to a diverse wine list (including library wines), this is the place for food lovers to indulge.
Open from March through December, Miradoro is where you can enjoy a leisurely meal and a glass of wine – whether you're visiting wine country or you live down the road.
Vancouver Magazine GOLD medal for Best Winery / Vineyard Dining five consecutive years 2016, 2015, 2014, 2013, 2012
Georgia Straight Golden Plates Reader's Choice Winner 2017, 2016.
Silver medalist in the "Best of the Okanagan" category of the Vancouver Magazine Restaurant Awards 2017.