The city's top bartenders will compete for the Boothby Julep Trophy and $1,000 cash prize at Reflections atop The Hotel Georgia on Friday, July 21
After four years as the anchor to one of Vancouver's premier summer events, the 5th Annual Cocktail Jockey Mixology Competition has outgrown its traditional venue at the Grandstand Skybox Patio of the Hastings Racecourse.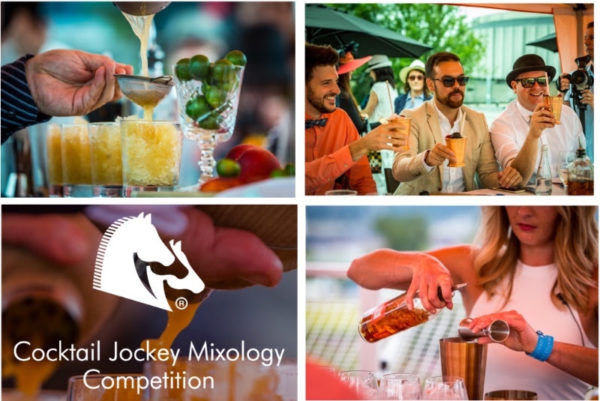 In order to accommodate a growing roster of competing bartenders and ever more exuberant public interest, this year's battle for shaker supremacy will take place the day before the Deighton Cup, on Friday, July 21 from 12pm to 3pm, at Reflections at the Hotel Georgia Vancouver — making the Deighton Cup a two-day event.
Presented by Dax Droski and The Social Concierge, and helmed by returning Cocktail Director Alex Black (Nightingale), Cocktail Jockey challenges 10 of the province's top bar talents with a distinctly modern twist on a pre-determined classic cocktail. Their efforts will be judged by the all-star industry panel consisting of Sean McGuigan (Pac Rim), Robyn Gray (Prohibition), Kelcie Jones (Chambar) and Joel Virginillo (Diageo Canada).
The speed pour winner will receive a $250 cash prize and the main winner will receive a $1,000 cash prize as well as their name engraved on the coveted Boothby Julep Trophy, joining those of past champions Sean McGuigan (2013 & 2015), Cam Brown (2014), and last year's runaway favourite, Kaitlyn Stewart. And last, but perhaps most importantly for the bartenders, the champion will have all attendant bragging rights for a full year.
In association with presenting sponsor, Piper-Heidsieck, the competition cocktail for this fifth anniversary year will be the Champagne cocktail – made with sugar, Angostura bitters, brandy, topped with chilled Champagne and a cherry on top.
"This year's cocktail is going to be exciting for so many reasons," says Alex Black. "The classic formula of spirit, sugar, bitters and bubbles will inspire a lot of creativity for the contestants. The biggest trick will be the ability to play with the formula but still respect the original while showing off the subtle flavours of Piper-Heidsieck Champagne."
Complimentary tickets to the 5th Annual Deighton Cup Cocktail Jockey Mixology Competition are available online here and includes a welcome cocktail designed by Prohibition Head Bartender Robyn Gray.
Deighton Cup Cocktail Jockey Mixology Competition
WHEN: Friday, July 21, 12pm to 3pm
WHERE: Reflections at the Rosewood Hotel Georgia (801 W. Georgia St.)
TICKETS: Complimentary, available online at
https://deighton-cup.guestmanager.com/?c=deighton-cup-website
*please note there is limited space available
A $25 Cocktail Jockey Mixology Competition ticket upgrade is available and includes guaranteed access to the event and a complimentary Bulliet Bourbon mint julep at The Deighton Cup on July 22. $5 per ticket will be donated to imagine1day.
SOCIAL MEDIA
Twitter: @DeightonCup
Instagram: @DeightonCup
Facebook: /DeightonCup
#CocktailJockey #DeightonCup
Website: www.deightoncup.com/cocktail-jockey-mixology-competition/