It doesn't matter whether you call them 'tomatoes,' 'tomahtoes,' 'tomates' or 'pomodoro' – everyone agrees that the tomato is the ultimate summer ingredient. Eaten fresh-picked out-of-hand, chopped into salsas and salads, juiced, roasted or sun-dried – there are almost as many ways to enjoy their flavourful goodness as there are heirloom varieties.
Provence Marinaside celebrates all things tomato with its Eight Annual Tomato Festival – offering a special three-course prix fixe menu that will satisfy even the most addicted tomato-holic. This special seasonal menu, created by Provence Proprietor/Executive Chef Jean-Francis Quaglia and Chef de Cuisine Sheldon Maloff,  is value-priced at $56 with an optional wine pairing which has been carefully selected by Wine Director Joshua Carlson. The wine pairing is value-priced at $25 for a different wine with each dish. The wines for the first two courses are also available individually by the glass or by the bottle.
"We are fortunate to have local producers supplying us with amazing heirloom varieties. Even though each variety has a different flavour profile, all are very intense. The heirlooms taste so much better," says Chef Quaglia.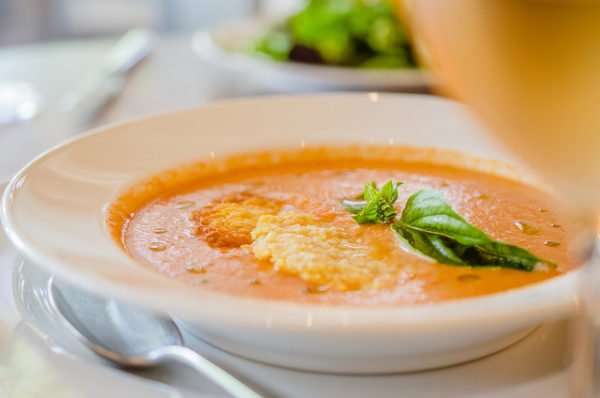 Provence Marinaside's Tomato Festival Menu starts with three choices: Heirloom Tomato Gazpacho – a refreshing summer starter featuring heirloom tomatoes, grilled artichoke confit and a Nostrala cheese crisp (Tissot Cremant de Jura Rosé, Jura, France);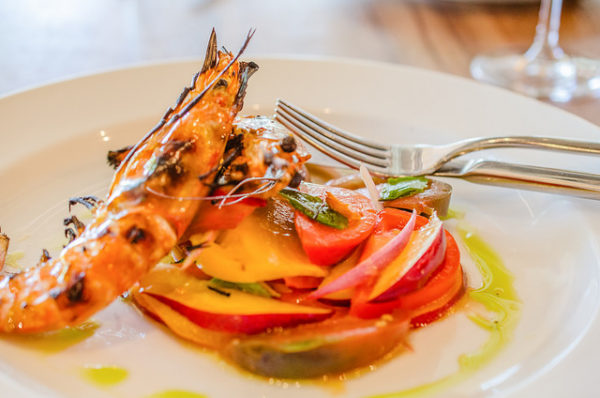 Tomato and Nectarine Salad – this year's iteration includes whole, grilled Argentinian prawns, red onion, fresh basil, and sherry vinaigrette (Luc Belaire Rare Rosé, Provence, France) and Alessandra's Tomato Tarte – a perennial Tomato Fest favourite with puff pastry, Dijon mustard, Niçoise olives, extra virgin olive oil, fresh basil (Lavendette Rosé 2016 Alpes de Haute Provence, Provence, France).
The starters set the palate for a trio of tempting Mains. Diners have their choice of perfectly prepared Garlic-Rubbed Lamb Sirloin accompanied by sunflower sprout and tomato salad, pommes frites, Gem tomato confit and lamb jus (LINI 910 'Labrusca' Lambrusco Rosso, Reggiano, Italy) or Tomato Risotto with Wild Mexican Prawns and Hokkaido Scallops – grilled heirloom tomatoes, oven-roasted Roma tomatoes, Gem tomato and Piparras pepper salsa, shaved Grana Padano cheese and basil oil (La Beyssannette Rosé 2016, Cotes de Provence, France) or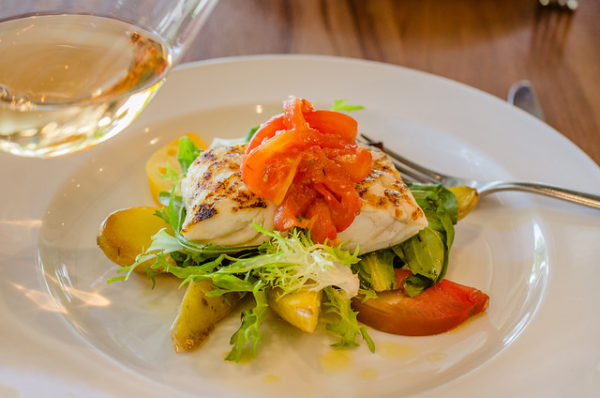 Grilled Line-Caught Halibut with Smoked Tomato Vinaigrette accompanied by California greens, Provençal fingerling potatoes with oven-dried tomatoes (Miraval Rosé 2016, Provence, France).
Dessert is a choice from Provence's regular dessert menu. Will you choose their signature Lemon Tarte (Inniskilin Vidal Icewine, Okanagan, BC)?  How about a silky Crème Caramel (Gonzalez-Byass Nutty Solera Sherry, Spain)? Or perhaps you will opt for the ever-popular Berry and White Chocolate Clafoutis (Quails' Gate Botrytis Affected Optima, Okanagan, BC)? There are lots of choices to tempt you on Provence's dessert menu.
Whether you are balmy for Black Krims, rave about Red Zebra's or go crazy for Camparis – you'll find them all and more on the menu at Provence's Eighth Annual Tomato Festival August 1- 31, 2016 at Provence Marinaside at the foot of Davie St. and across from the Quayside Marina in Yaletown.