The Installation – Now Open Come experience this one-of-a-kind space.
Tom Kundig's works begin on the edge of endless landscapes, where art, physics, nature, and industry intersect to create masterful structures.  One of America's leading contemporary architects, Kundig has won over 50 prestigious design awards. His award winning projects include Studio House, Chicken Point Cabin, Art Stable, Tacoma Art Museum, and Burke Museum of Natural History and Culture, to name only a few.  Kundig's elemental style is unique to Northwestern Architecture, influenced by his childhood fascination with practical moving pieces and outdoorsman instinct as an avid mountaineer.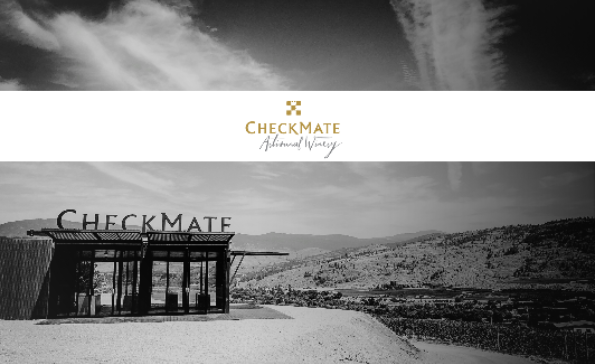 The new Installation at CheckMate is reminiscent of many of Kundig's small cabin commissions, centered around indoor/outdoor living, even in the most remote locales.  His lines follow those of the surroundings, everything placed to frame the landscape around it, never to be obtrusive.  No view showcases the South Okanagan better than those at The Installation pop-up tasting room Kundig created for CheckMate Winery.  This one-of-a-kind space was conceived to allow visitors to slow down and connect with CheckMate's premium Chardonnays and Merlots, which express the terroir of the Okanagan Valley.  There is no better place to appreciate CheckMate Artisanal wines, than The Installation.
Open daily through mid October 10:30 am – 6:00 pm
No reservations required
Winemaker tastings available by appointment
Mailing list members taste for free
4799 Wild Rose Street, Oliver, BC (off Road 13)
Black Rook Merlot Takes Top Spot at the 3rd Annual Judgment of BC
For the past three years, the British Columbia Wine Institute has held a benchmark tasting – The Judgment of BC – which sees six BC wines blind tasted against six international wines.  Each year the BCWI selects two varieties to showcase, one white and one red.  The 2017 Judgment of BC's selections were Merlot and Pinot Gris.  Our 2103 Black Rook Merlot, from our inaugural Merlot Vintage took top honours against formidable local and international wineries.  It was an honour to be included in a class of such renowned wines.  We were ecstatic and humbled to learn Black Rook took home top spot.
2013 Black Rook Merlot comes from low vigour vines, on Black Sage Bench.  The nose opens with a lifted aroma of roses, aniseed, and bramble fruit.  Small clusters and berries on these vines produce concentrated flavours of black fruits and cassis.  This wine is sophisticated and elegantly structured with fine tannins.
2013 Black Rook is our most limited production Merlot, with only 9 barrels made.  Be sure to order yours before its gone.  Available at our tasting room, or online, from $85.00 (also available in 1.5L, 3L, and 6L formats).
---
2016 Bear's Move – First Edition
This special Chardonnay was crafted in the vineyard and is our most natural wine.
Seven days before harvesting the famous Dekleva Vineyard adjacent to our estate, selected clusters were picked, placed in a clay jar, stomped by foot and left in the vineyard by to start fermenting.  This classic method is known as pied-de-cuve.  Once the block was harvested, the fruit pressed and drained into our 250L ceramic vessel, it was transported by tractor back to its home –  amongst the vines in the Dekleva Vineyard – where the pied-de-cuve was hand squeezed into the vessel to provide the natural starter for fermentation.
The sweet aromas of fermentation attracted many a visitor, even an adolescent bear. Little did he know the fermenting CO2 gases that lay waiting when he swiped out the fermentation bung to smell the honeypot… scaring the bear off.
But not before he left his mark.  Small paw prints of our black bear visitor, gave this special wine its remarkable story, and its namesake: Bear's Move.
Available exclusively in The Installation tasting room, this naturally crafted wine is perfect for summer.  Crafted without sulphites, it develops attractive notes of honeydew, cantaloupe, peach, nectarine and apricot.   The stock is extremely limited, don't miss your chance to grab a bottle of our second Golden Mile Bench DVA wine, only $60.00.
---