I guess if someone does not live in the Okanagan and has no interest in wine, then it could be possible that they might not know the name, Harry McWatters. But if you are not in the afore-mentioned group, then you will have at least heard of him. It is safe to say that he is recognized as a legend in the BC wine world.
Harry's wine career goes back to the late sixties and Penticton's Casabello Wines, the Mediterranean styled building that stood near the intersection of Skaha Lake Drive and Main Street. If you are of a certain mature age, then you may even remember their signature carafe 'bottles' with the flip lid.
Later, in 1980, Harry launched Sumac Ridge, the first estate winery in BC, which was unique in that it backed onto the local golf course. That was where I first met him. I clearly remember him introducing his then twelve-year-old daughter, Christa-Lee, and how he told the group he was touring around that she had a very good palate and that it wouldn't be long before she was a better taster than her dad.
Harry was the first to make traditional method sparkling wine in BC and I remember seeing the riddling racks in the cellars at Sumac Ridge. Harry was very well known for his flashy way of opening a bottle of bubbly. It isn't hard to find a video of him 'sabring' a bottle of sparkling wine. Sumac Ridge also had the first winery restaurant, the Cellar Door Bistro.
Years later, Harry sold the winery. In 1995 he bought a winery in Okanagan Falls, rebranding it as See Ya Later Ranch. He also served as Vice-President of Vincor Canada before venturing out to become a consultant.
As a consultant, Harry had to tell many star-struck small vineyard owners the realities of opening a winery. "There are so many hats to wear," he'd tell them. "It is one thing to be a good grape grower and another to be a good winemaker. Then there is branding, marketing and sales. You can have the best wine in town, but it means little if you can't sell it and get it in the hands of consumers. And then there are all the accounting and government forms, and, and, and . . . ."   That was the voice of experience and why people hire consultants. Many didn't want to hear the hard facts and were surprised that Harry appeared to be talking them out of making the leap. But he wanted them to go into it with their eyes wide open. Those that had the fire in their belly and still plunged ahead usually turned out to be successful.
I was surprised to learn that Harry was the first to bring a mobile bottling line to BC. Custom Estate Bottlers was modelled after ones he had seen south of the border. Bottling lines are big ticket cost items for wineries, take up considerable floor space and are only used for short periods of time throughout the year. It is far more efficient to make a phone call and have a semi trailer back up to your door and begin bottling.
Something else I learned from McWatters, was that up until 1977, wineries could not be built at the vineyards as it was considered 'improper use' of agricultural land. Yes, we have come a long way, though there is still much work to be done to modernize out regulations regarding BC produced wines, craft beers, ciders and spirits.
Harry left Vincor/Constellation Brands in 2008 and some thought he was retiring, he was simply regrouping and was soon back in the saddle. It was not long before he got the 'itch' again and the limited production McWatters Collection of low yield, high quality wines hit the shelves.   Next, TIME Estate wines appeared followed by the ground breaking huge winery on the Black Sage Bench. That winery was sold recently and will open later as Phantom Creek. Did that mean Harry was ready to step back and take it easy? Not in the least.
His latest project will see a new home for TIME Estate Wines in a renovated cinema in downtown Penticton. This will be the cities first fully functioning 'urban' winery. Likely to open officially sometime next spring, this will be an impressive venue and is sure to attract a lot of attention, both for its architectural design and the variety of special events it will offer.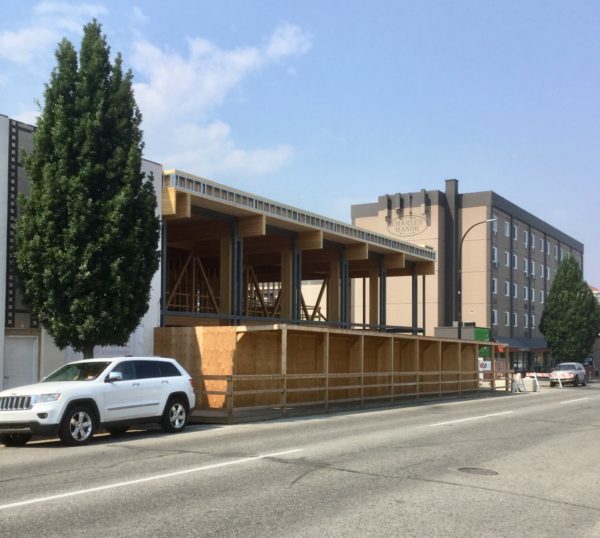 I had the pleasure of spending a little time with Harry recently and got a tour of the new facility on Martin Street, which is one block west of Main Street and just a couple of blocks south of the shore of Okanagan Lake.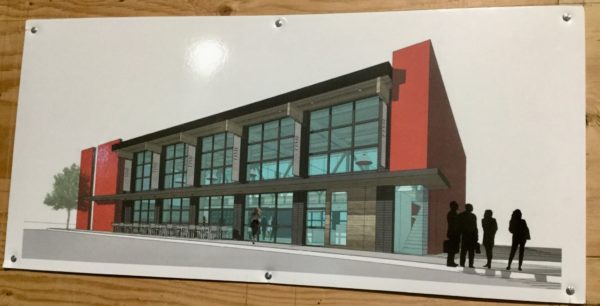 As one might imagine, it required extensive work to change the theatre, which dates back to 1956, into a winery. Properly insulating the building so it was appropriate for wine making, was a big part of the job. A glass walled tasting room and retail shop will face the street and offer some patio space as well. The boardroom is located in what was once the theatre's projection room.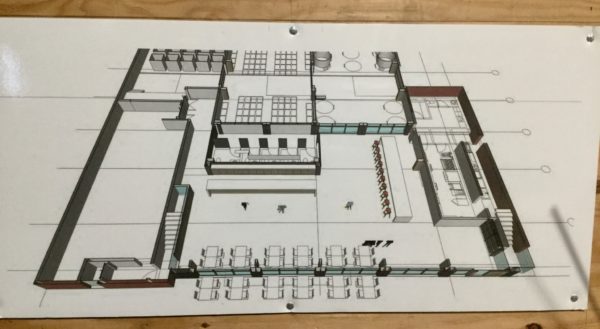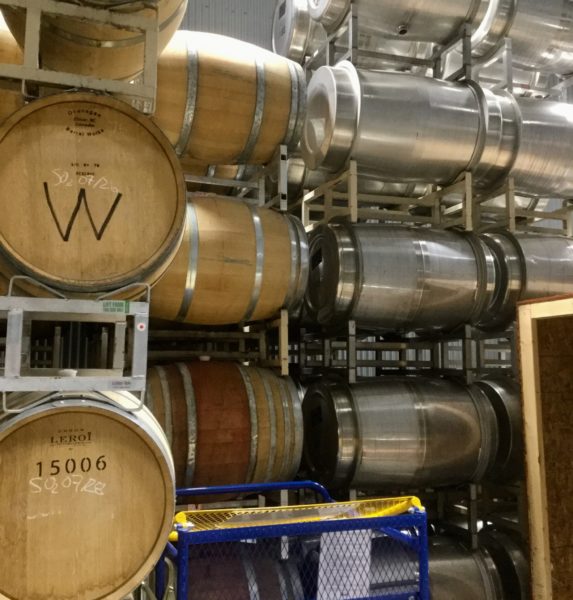 Inside the barrel room, I was intrigued to see stainless steel wine 'barrels'. As Harry explained, there is a very noticeable difference with lees stirring in these 300 litre vessels when compared to traditional oak barrels.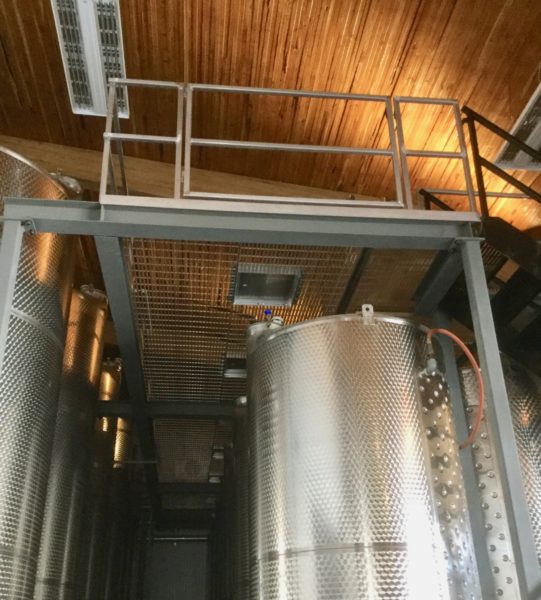 The tank room features an extensive overhead workspace, which greatly improves worker safety and eliminates the need for a tangle of hoses strewn around then floor when wines are being transferred in or out of the tanks. I was impressed with the beautifully restored wooden beams and ceiling. Be sure to take a tour of their facility if you can.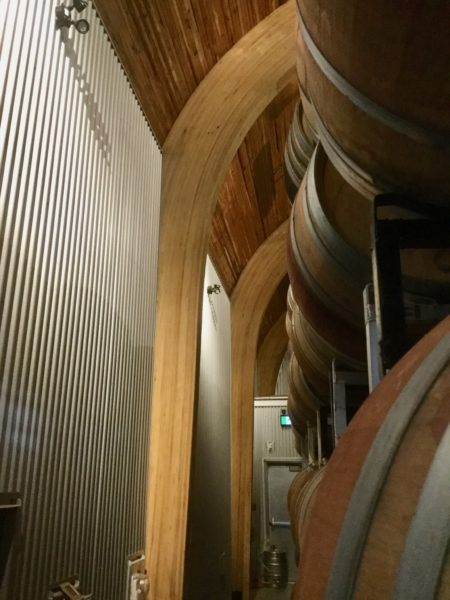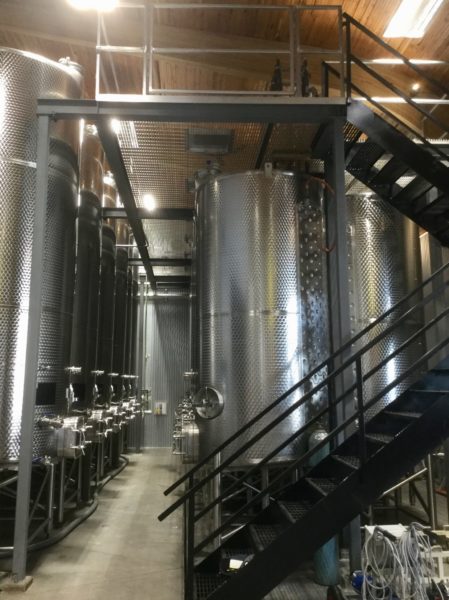 This facility is licenced to accommodate 50 people on the patio, 80 on the crush pad, 114 in the theatre and 135 on the main floor; that's almost 400 people inside and out.
Another innovated feature of this 18 000 square foot modern winery is a heated concrete floor in the barrel room that can be turned on when hosting winemaker dinners and other special events to take a bit of chill off for the guests. In addition, every tank is electronically monitored and alarmed in case anything should go askew. One feature that the employees will especially appreciate is a roof over the crush pad to protect them from the elements.
On the front end, a kitchen will compliment the tasting room/retail shop and offer quests a rotating list of about a dozen or so sharing plates to enjoy with their glass of wine.
The winery has been designed to accommodate a wide range of events, from intimate concerts, films, wine seminars, wine makers dinners to name just a few, so it is safe to say that this new addition to the downtown core is sure to be a busy place all year round and to that end, they will employ a special events coordinator.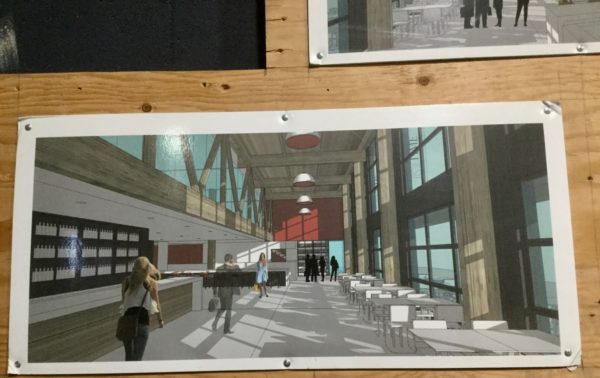 TIME Winery will be a family run operation with Harry McWatters as president and CEO, TIME Winery. Daughter, Christa-Lee McWatters Bond is director of sales and marketing and is chair of the BC Wine Institute and Harry's son, Darren McWatters acts as production manager. Lawrence Buhler remains as the winemaker for all three brands – Harry McWatters Collection, TIME Estate wines and Evolve.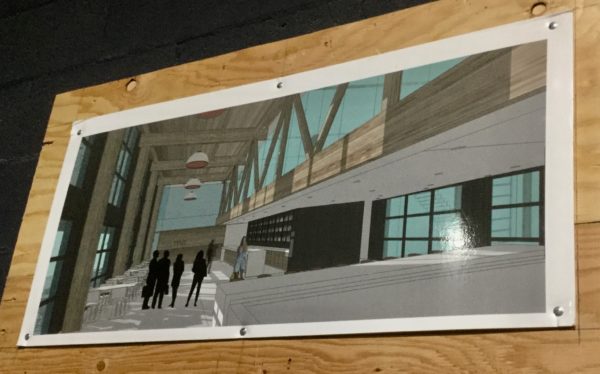 It is fair to say that I am a fan of all styles of wines as long as they are well made. One area that I have felt was missing from the BC industry are wines for after dinner. Sure we do have some top quality dessert and ice wine offerings, but what about Port or Sherry-styled wines? You can imagine the smile that crept across my face as Harry hinted at some plans to develop wines to fill this niche.
The Harry McWatters Collection, which is made from low yield Sundial Vineyard site, is also scheduled to release its first sparkling wine as well, so there are lots of good reasons to keep your eyes peeled on this winery.
I was interested to learn that he has just signed a deal with the Calgary Flames that will see him ship wine that will be served at the various venues in the Saddledome arena. The Flames motto will be added to the bottle's label – "It's Go TIME". Always the astute businessman, word has it that another major sports team has approached Harry to discuss a possible deal with TIME's sister winery, Evolve.
Before leaving I had the opportunity to sample some new offerings including:
Sauvignon Blanc – all by itself for the first time, as it was usually only used as a component in the white Meritage blend. Hints of banana woven into the nose and palate.
Viognier – from Saddle Ridge vineyard. Very impressive with a slight intriguing smoky note.
Riesling – this early picking is bright and racy. Anyone who has ever said, "I don't like Rieslings because they are too sweet," will eat their words after tasting this food friendly example. Only 220 cases have been made so buy lots when you spot it and be sure to set aside a few for ageing. This one is a keeper.
Rosé – purposely made, not a saignée method, from 100% Syrah. A wine with good body, watermelon and strawberry on the nose and palate, citrus undertones on the finish.
There have been several pioneers that have helped BC become the internationally recognized region that it is today, but no one else can lay claim to 50 vintages. That makes Harry McWatters a true legend. He is also a founding member of the BC Wine Institute, VQA Canada and the BC Wine Information Society.
In addition, he has been a recipient of several awards and recognition including:
Spirited Industry Professional Award 2017          Van International Wine Festival
Order of British Columbia 2003
Queen's Golden Jubilee Medal
BC Diamond Jubilee Medal
By the way, if you get the chance to meet Harry when you stop by TIME winery, ask him how much he spent to treat his date to a movie and snacks on his first visit to the theatre.