Joshua Beamish/MOVETHECOMPANY
Saudade
Wednesday-Saturday September 20-23, 2017 at 8pm
Post-show talkback September 21
Scotiabank Dance Centre, 677 Davie Street, Vancouver
Tickets: $32/$24 students and seniors from Tickets Tonight: 604.684.2787 www.ticketstonight.ca
Info www.thedancecentre.ca
The human longing for the unattainable inspires Saudade, a powerful and emotional new ensemble work by acclaimed choreographer Joshua Beamish. The title is derived from the Portuguese word saudade which represents a deep, constant desire for a reality that does not, and probably cannot, exist. Merging elegant balletic lines with street-style dynamism and drive, the work conjures up fleeting intimacies in a series of ghostly solos, duets, and group passages, accompanied by Hildur Guðnadóttir's hauntingly beautiful cello score. Beamish has brought together six outstanding male dancers whose collective credits include leading companies such as Nederlands Dans Theater, Alvin Ailey American Dance Theater, Sasha Waltz & Guests, and La La La Human Steps.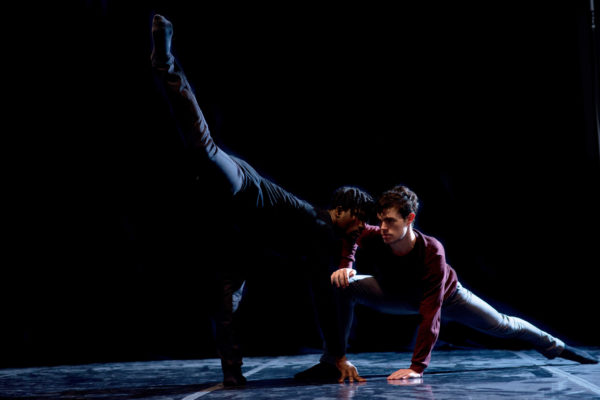 Saudade is a deeply personal work for Beamish: "There are certainly elements of my own past relationships in the piece. I've noticed that as we become more electronically connected, people never truly disappear from our lives. This weighs heavily on contemporary relationships. We have never been more aware of how connected we still are to the feelings that continue to exist after a relationship has ended. Saudade is about the parts of our past that refuse to resolve. It is a reminder that some loves, even those not actualized, may stay with us forever." Saudade premiered in March at Harbourfront Centre in Toronto, and will be featured in October at the Next Wave Festival at the prestigious BAM (Brooklyn Academy of Music) in New York.
A BC native, Joshua Beamish founded MOVETHECOMPANY in Vancouver 2005. The company has performed around the world at venues including London's The Place, Cape Town's Baxter Dance Festival, Montreal's Tangente, Usine C and Studio 303, the American Dance Institute in DC, Singapore's Odyssey Dance Theatre, the International Ballet Festival in Miami and the Quinzena de Danca Festival in Portugal. At home, the company has been presented by the Made in BC: Dance On Tour, the Vancouver International Dance Festival, Dancing on the Edge and the Chutzpah Festival, among others. MOVETHECOMPANY received the distinction of a commission from the Canadian Embassy in Washington, DC, as well as the only choreographic residency ever awarded to a Western Canadian company by the Djerassi Program in San Francisco. The company was presented at World Expo 2010 in Shanghai, China, and toured an ensemble of 24 Vancouver-based artists for a commissioned presentation at Bangkok International Festival for Dance & Music. The company also toured to Nottingham, UK as the Canadian representatives at World Event Young Artist, a satellite of the 2012 London Cultural Olympiad; and opened the 2015 Ballet Festival at The Joyce Theater in New York. Outside of the company, Beamish has created in collaboration with The Royal Ballet, Cape Town Opera, New York City Ballet principals Wendy Whelan and Ashley Bouder, Pacific Northwest Ballet principals Carla Korbes and Lindsi Dec, Martha Graham Company principal dancer Lloyd Knight, The National Ballet of Canada's YOUdance, Compania Nacional de Danza de Mexico, Cape Dance Company/South Africa, the Royal Winnipeg Ballet, Toronto Dance Theatre, Ballet Kelowna, Santa Barbara Dance Theater, students at Purchase College at SUNY and The Juilliard School, Halifax Dance,and  Ballet Jorgen, among others.
Beamish is the recipient of artistic residencies throughout North America, including the Banff Centre, Jacob's Pillow and a term as the National Incubator Artist for the American Dance Institute in Washington, DC. He is an alumnus of the New York Choreographic Institute, an affiliate organization of New York City Ballet and the School of American Ballet, and a Jerome Robbins Foundation grantee. Notable recent presentations include The Joyce Theater in New York, The Royal Opera House in London, Princeton University, London's The Place, New York's Guggenheim Museum, a Jacob's Pillow world premiere, a Fire Island Dance Festival Commission, Chicago's The Harris Theater, and Artists in Action in Mumbai. www.movethecompany.com
Saudade
Choreography: Joshua Beamish
Music: Hildur Gudnadottir
Lighting Design: Mike Inwood
Performers: Sean Aaron Carmon, Graham Kaplan, David Norsworthy, Kévin Quinaou, Dominic Santia, Tim Stickney
Saudade is supported by the City of Vancouver through the Office of Cultural Affairs, and the Hamber Foundation.
Global Dance Connections Contemporary dance series 2017-2018
September 20-23 Joshua Beamish/MOVETHECOMPANY
October 12-14 Compañia Sharon Fridman
January 17-19 Nicola Gunn
February 1-3 Daina Ashbee
April 5-7 WEE/Francesco Scavetta
April 19-21 Rachid Ouramdane
May 24-26 Aeriosa
The Dance Centre was established in 1986 as a resource centre for dance professionals and the public in British Columbia, and has evolved into a multifaceted organization offering a range of activities unparalleled in Canadian dance. Its goal is to support the development of dance and to develop an environment where it can thrive. The Dance Centre offers programs and resources supporting the professional development of artists, presents public performances and events, manages Scotiabank Dance Centre, Canada's flagship dance facility, and works to promote BC dance.
Facebook.com/thedancecentre | Twitter.com/dancecentre | Instagram.com/thedancecentrebc