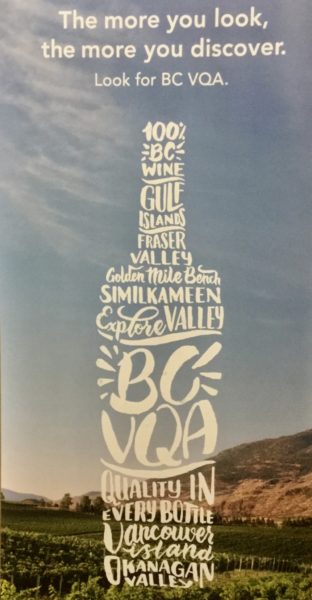 I am not a fan of most sour beers, though many people, (especially women in my experience) are.
As a wine judge, the hardest class of wine for me to wrap my head around for years was dry sherry. I remember clearly, the first time I sampled a fino sherry. Ugh! So oxidized. I was quite glad to spit it out. Medium and sweet sherries were OK, but it took me ten years to finally 'get' finos. It had to do with having the wine slightly chilled and served with the right foods, especially Spanish tapas.
Likewise, I believe in learning the basics of a craft and then experimenting by breaking the rules creatively. Wayne Meadows, very talented home winemaker once did a club presentation where he poured two wines and asked the audience for their comments. The first one was a very well made Riesling that showed good varietal character. The second wine was different, but again, very good. Everyone could guess what it wasn't, but no one had a guess as to what it was. It turned out to be the very same wine, but it had spent some time in an oak barrel. An oaked riesling we chimed incredulously? Sacrilege. Wayne's response was, "I know everyone says you don't oak riesling and I suspect there are very good reasons for it, but I thought what the heck, I'm going to try it and see what happens." That kind of experimenting and breaking the rules is crucial in any field. That's how new discoveries are made. All knowledge comes from experience.
And finally, the wine world has seen the rise of cheap, bulk wines designed for the masses (you know the names of all the likely suspects). These wines tend to be manufactured and overly manipulated with enzyme enhancers, colour additives, reverse osmosis to extract excessive alcohol and sugar additions to make them 'smooth'. With the pendulum has swung so far in one direction, it only makes sense that it was time for correction. The result has been for many winemakers to go in the opposite direction and get back to the 'roots' of winemaking. How did the ancients do it? Well, often they buried clay amphora in the ground, filled it with grapes, sealed the container and then left it. Roughly nine months later, they open the container and drink the resulting fermented grape juice.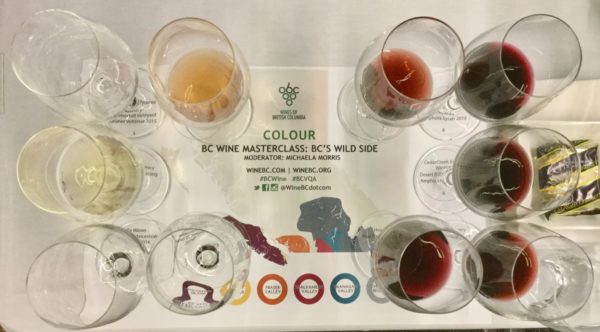 So it was with considerable interest that I attended, "BC's Wild Side", a seminar presented by Michaela Morris, prior to the "Colours' fall release of BC wines.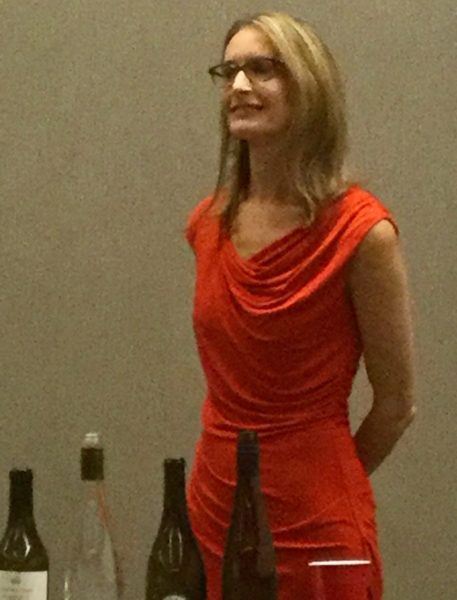 There was a wide range of wines and styles. We tasted through a rosé, two whites, two orange wines and five reds. Some were cloudy, some had a slight haze and a few were quite clear.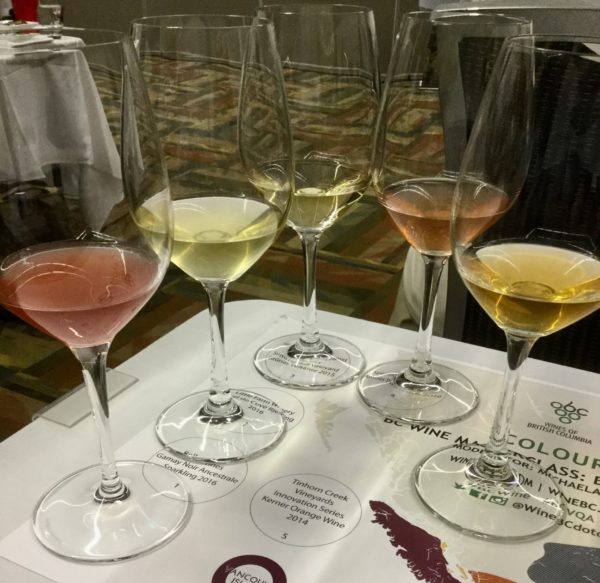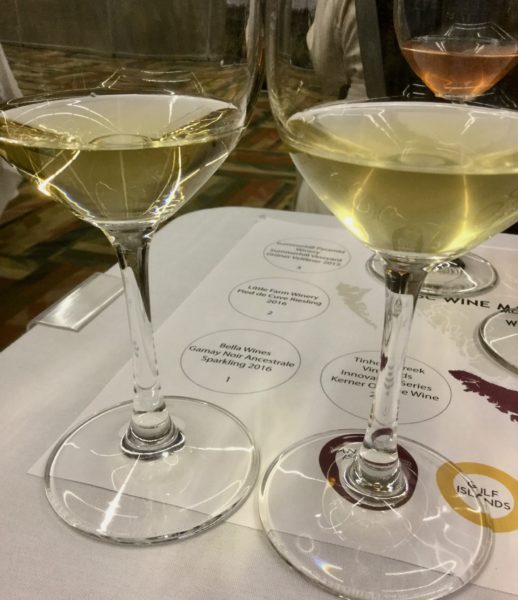 With all of this in mind, (disclaimers/disclosures), I've decided not to include specific notes on each of the wines. Given my comments above, it should come as no surprise that some of my observations were not flattering, though it is fair to say that many in the audience did not share my opinion.
Here are the 'wild wines' we sampled:
Bella Wines Gamay Noir Ancestrale Sparkling 2016   (no photo available)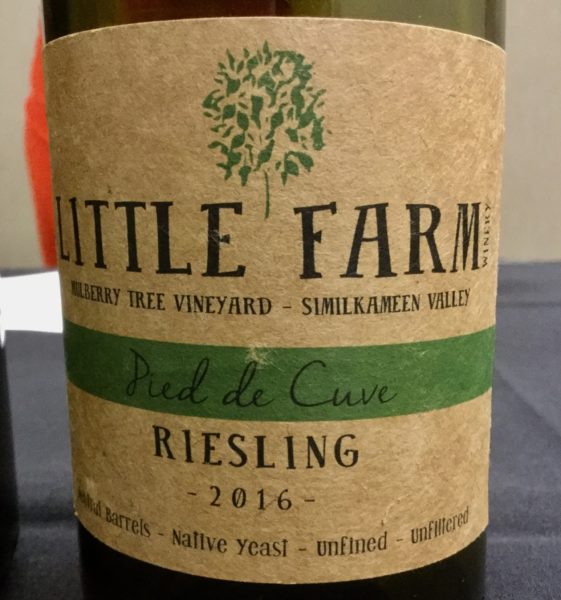 Little Farm Winery Pied de Cuve Riesling 2016
Summerhill Pyramid Winery Summerhill Vineyard Grüner Veltliner 2015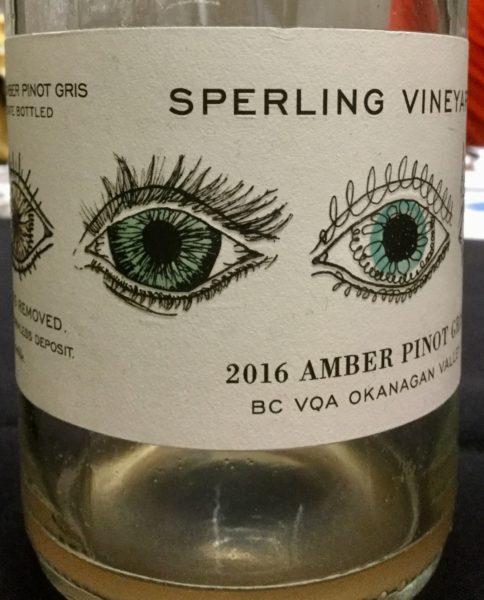 Sperling Vineyards Amber Pinot Gris 2016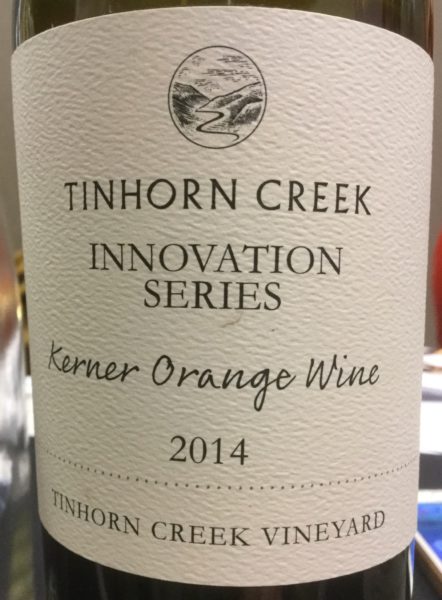 Tinhorn Creek Vineyards Innovation Series Kerner Orange Wine 2014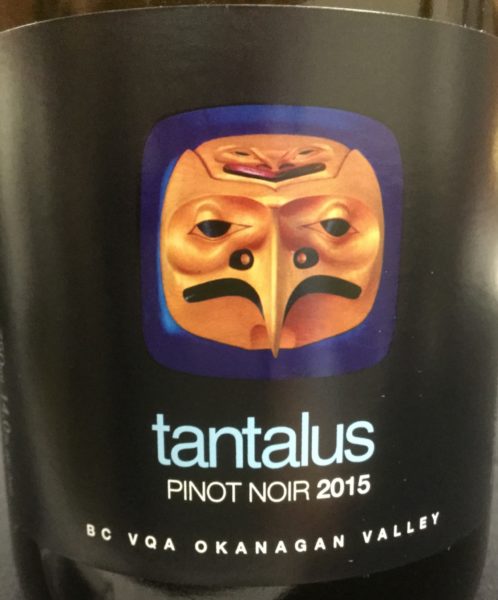 Tantalus Vineyards Pinot Noir 2015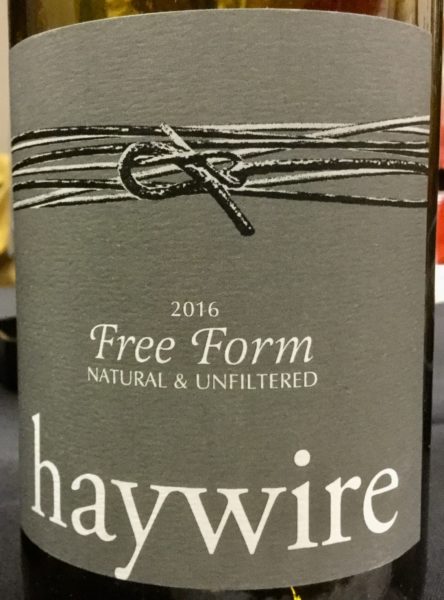 Haywire Free Form Red 2016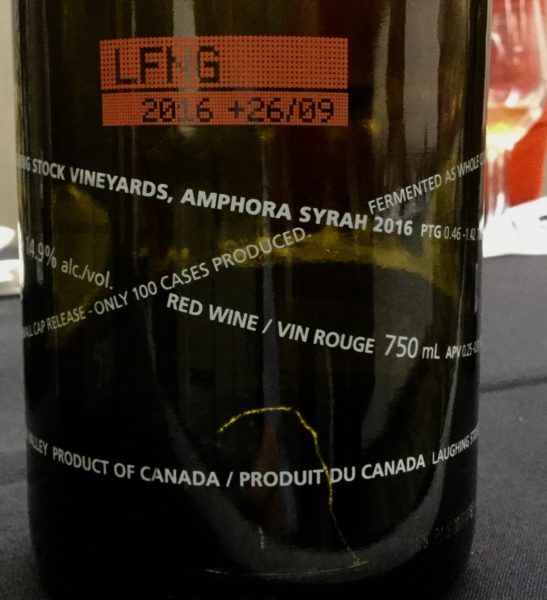 Laughing Stock Vineyards Amphora Syrah 2016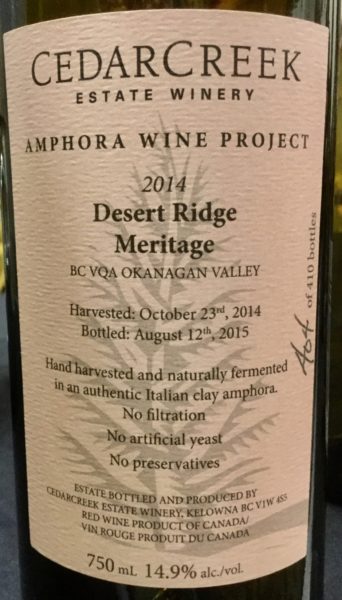 Cedar Creek Estate Winery Desert Ridge Meritage Amphora Project 2014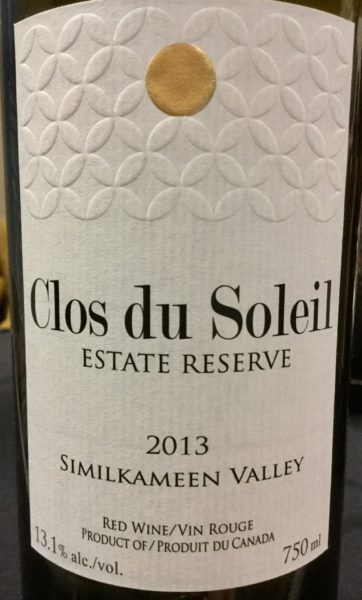 Clos du Soleil Winery Estate Reserve Red 2013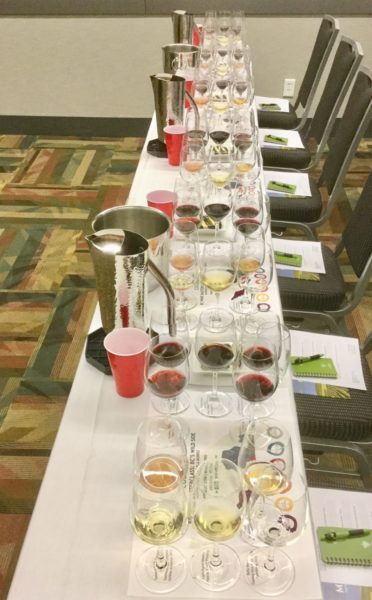 To be clear, I am very happy that our talented winemakers have ventured down this path. Exciting things will no doubt emerge as a result of these experiments. While there are a few 'natural' wines that I like, for the most part, I am not a fan. Not everyone would agree, however. There are many, especially young wine geeks and hipster somms who are intrigued by something new and are eager to share them with others. So step out of your comfort zone, be bold, and give them a try whenever you have the opportunity.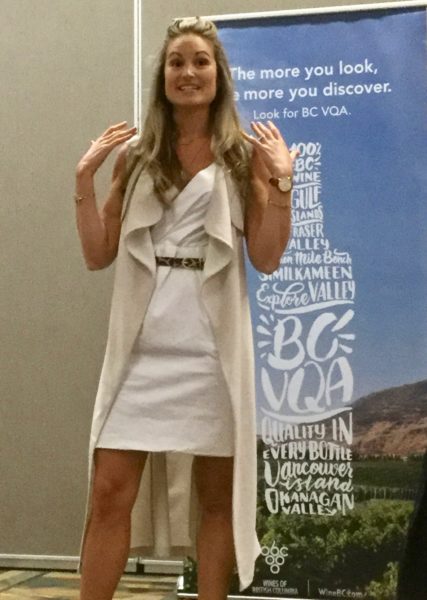 Big thanks to Laura Kittmer of the BC Wine Institute for organizing events like this and helping educate those in the wine trade.
(All photos – Sam Hauck)