BC Wine Studio may make its wine in Okanagan Falls, but its heart is firmly in East Vancouver, and it's proud to support the BC Farmers Market Nutrition Coupon Program with a delicious new Neighbour's Blend which will help raise funds for the outstanding work done by this local food security program.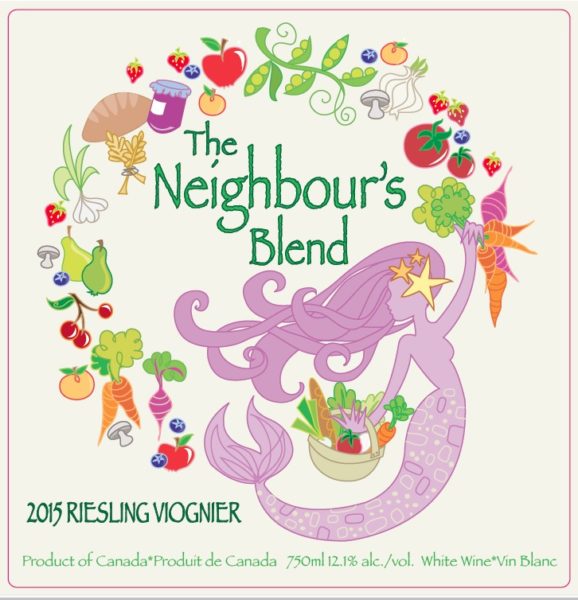 The BC Farmers Market Nutrition Coupon Program offers vouchers for fresh local Farmers Market foods to thousands of deserving BC residents including low-income families, expectant mothers, and seniors. The program began in 2007 as a pilot project operating in each of the five health regions of BC and began receiving funding from the Ministry of Health in 2012. Since then, the program has continued to grow, serving 54 communities and reaching over 3000 households.
To celebrate and support his great cause, BC Wine Studio's Owner/Winemaker Mark Simpson has created a delicious Riesling/Viognier blend which bursts with the flavours of lemon zest and crisp green apple, giving way to a lush tropical finish. With $5 from every bottle donated directly to the BC Farmers Market Nutrition Coupon Program, wine lovers can drink well and do good with every sip.
The bottle has been wrapped in original artwork created by Vancouver artist and Farmers Market manager Lauren Gibson (https://www.instagram.com/lauragibsonart/) who has taken the signature mermaid of BC Wine Studio's flagship Siren's Call wines, and set her amongst a garden of farmers market produce. It's a perfect symbol of this collaboration.
BC Wine Studio is deeply connected to the Farmers Markets not only because of its East Van home and roots, but also because it was also one of the first wineries to take advantage of updated BC liquor laws sell and sample wine at BC Farmer's Markets. Mark has been a familiar face at markets across the Lower Mainland and Whistler with his brands Siren's Call and The Escapist
"BC Farmers Markets are very near and dear to my heart," said Simpson, "and it's been a real pleasure to showcase BC Wine Studio at these markets. I'm immensely proud to be able to support the great work of the Nutrition Voucher Program with this delicious blend which will pair perfectly with so many of the fresh products from the markets.  It is important to support the community where I live and work"
The Neighbour's Blend will be available at the Nat Bailey Stadium market on February 3rd and the Hastings Park market on February 4th. Visit www.bcwinestudio.ca to learn more about BC Wine Studio, and visit http://www.bcfarmersmarket.org/ to learn more about BC Farmers Markets and the Nutrition Coupon Program.
Mark Simpson, Winemaker
Instagram #bcwinestudio
Twitter @bcwinestudio