Good jazz inspires the imagination.
Great jazz inspires the soul.
And the Jazz Epistles with Abdullah Ibrahim and special guest Terence Blanchard inspired and touched our souls on a cold and wintery Vancouver night at the Chan Centre on the University of British Columbia campus.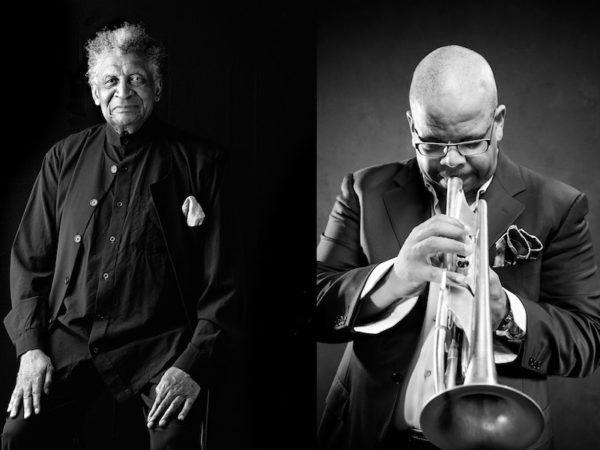 For almost two hours they performed a wide-ranging jazz repertoire  from Cape, to Marabi; all rooted in the South African tradition of finding a voice during the apartheid era when blacks were facing unspeakable conditions under a white regime, to Bebop, a form of jazz developed in the United States in the mid-1940s. – music known for its fast tempo and constant changes of key instruments, all the while improvising.
Marabi is focussed on simple repetitive chords and harmonic patterns, a hallmark of South African music.
Cape Jazz is similar Marabi, but much more improvisational in nature..
And when musical icon, 84-year old Abdullah Ibrahim, the man often called the Mozart of the piano, stepped on to the stage, a saying by Louis Armstrong came to mind – "Musicians don't retire; they stop when there's no more music in them."
And play he did.
For almost two hours effortlessly and continually, even though his fellow musicians took a 15 minute break.
His opening piece – a piano solo – with classical overtones was simple, insightful and spoke of years gone by and years of today.
It set the stage for the rest of the ensemble – eight – to slowly appear one by one one on stage in silhouette.
There was no set program for the show.
The first piece by the group had a soulful quality to it. It started off slowly and quietly, images of the great African plains at night came to mind, and then it progressed to an awakening of the wilderness plains – loud, majestic and dramatic.
Ibrahim continually transitioned from being playful, brash, lyrical and dramatic – evoking emotions that grabbed you.
For the most part his renditions either worked as a prelude to the group's performance or as an accompaniment.
African jazz is not about one performer but rather the sum of all of its parts, each musician adding to the piece by playing solo and then retreating.
So each performer was a star; featured in a solo role – while the rest of the group performed in the background and at the end they all came together as one.
The Epistles were South Africa's first important but short-lived Bebop band but apartheid forced their breakup. Ibrahim – first known as Dollar Brand was mentored and had his records produced by the great  Duke Ellington.
And none other than Nelson Mandela gave him the moniker of  "South Africa's Mozart".
Terence Blanchard, one of the best-known trumpeters, performed with haunting, lyrical and brash music emanating from his trumpet.
A four-time GRAMMY-winning musician the New Orleans trumpeter often had us on the edge of our seats as the piercing almost wailing sounds of his trumpet pierced our inner consciousness to fill us with awe, wondernment and amazement.
At times it was playful and lyrical evoking emotions that grabbed you.
But other pieces had a New Orleans element to it, bold and brassy – a trumpet cutting through .the fog of life.
The audience loved the show with several standing ovations.
At the end the group came back on stage to play one more piece of great jazz – due to to the overwhelming response by the audience..
It was a great evening – our souls filled with great music.
George Froehlich is an award-winning journalist with more than 45 years experience. His career spanned from being a newspaper editor to a T.V. news and sports executive with stints in Ireland, Chile, the United States and Canada. Currently he is host of a podcast, Cool Conversations, writes a newsletter and several blogs. All can be found at: