Assembli's newest location is at 1066 West Hastings. Anyone who is working, shopping or living in the area will be delighted to find the best place to grab lunch on the fly or sit and take it easy inside their bustling pizza and salad shop. You heard right, pizza and salad together. Selling one size pizza (a generous 11″) and two sizes of salads.
The best part is that everything is made to order. You can have it your way for both your pizza and your salad. Or you can order from their menu with all the great options and suggestions. If you're still wondering how to fit both a salad and a pizza into your lunch break you'll be pleased to know you can order ahead to pick up. It's that convenient.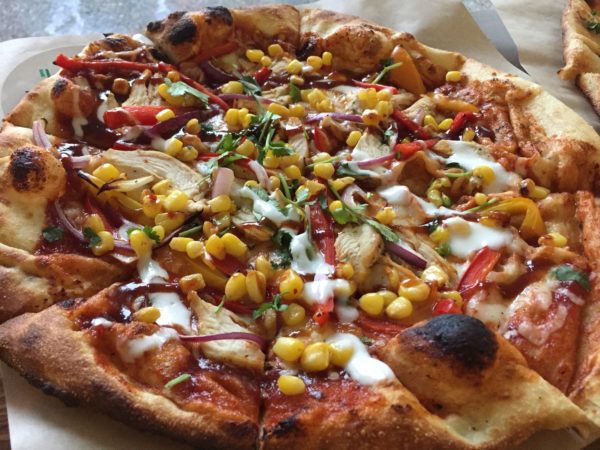 Looking for a little inspiration? Check our their pizza and salad suggestions. Remember pizzas are one size and one price. Yes, one price, that's remarkable. Of course if you have a smaller appetite choose one of their suggested 6″ pizzas from the menu. Yes of course there is also gluten free for a modest up charge.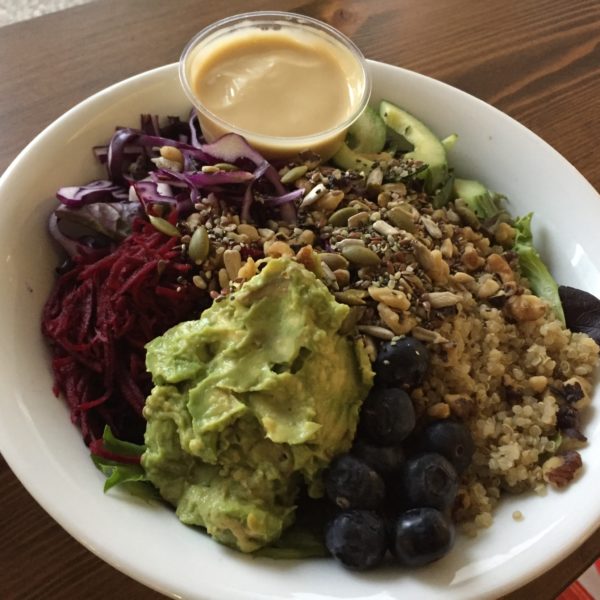 Their three menu salads include a protein for no extra charge, and with ten proteins to choose from the biggest challenge may be making up your mind which one protein to choose.
I know I'm a bit fussy so it is great to be able to say: I'll have that and that and that, but not that without judgement. Pizzas and salads can be from the menu list or exactly what you want. You can order online and "build your own" that's waiting for you to take away or enjoy on the spot with a custom or menu suggested salad (in two sizes).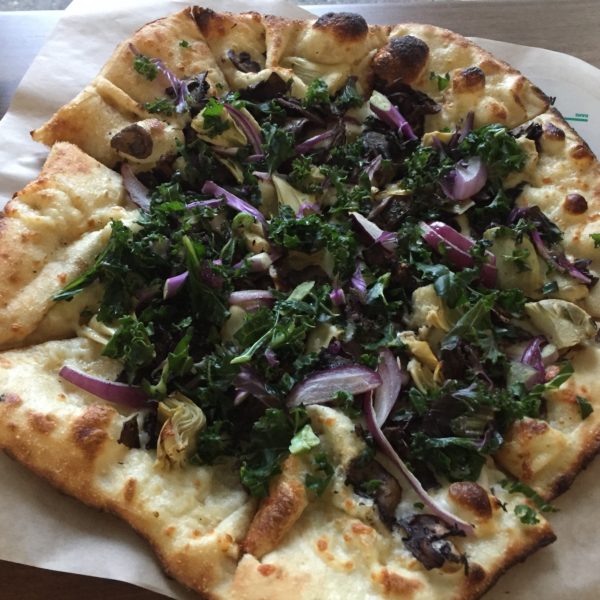 On my most recent visit I had so much fun walking the counter picking choosing exactly what I like to add to my humongous salad. No more maneuvering around anything you don't like because if you don't like it then it doesn't go into your bowl.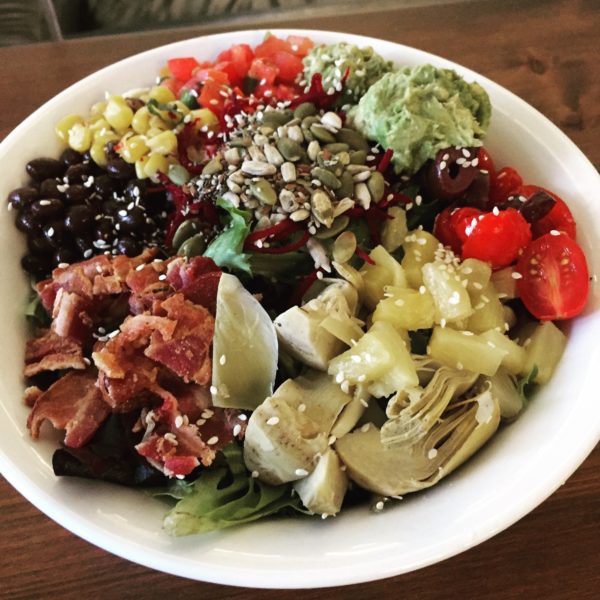 This was one fabulous salad and included: salad mix, romaine, kale, pineapple chunks, parmesan, goat feta, mozzarella, bacon, avocado, artichokes, tomatoes, two kinds of salsa, black beans, sunflower seeds and sesame seeds. Out of this world, topped with sugar free lemon and olive oil dressing. I felt very full and pleased that I had a completely no carb dinner. It was great! I think I could eat at Assembli everyday.
There so many choices for both the freshly made salad and the freshly baked pizza you might have trouble making up your mind.
Enjoy a Red Truck beer with your salad or pizza. It's cold and tasty and makes a great addition to your meal.
Assembli makes it so easy. Order online, or in store if you prefer, select what you want on your pizza or in your salad. Or choose from their popular suggestions. One set price with options and fresh, good for you, quality ingredients. "Build your own", they make it simple.
The Assembli story:
"After spending one too many lunch hours hunting for the Holy Grail—a meal that's fresh, fast, and as good as it is good-for-you—we decided to do something. Bring lunch from home. But also put our heads together to create a fast-casual restaurant like no other. We started with salad and pizza, and then we stopped, because who doesn't love salad and pizza?"
Assembli on Twitter @myassembli
Facebook Assembli
Instagram myassembli