Have you ever wished your wine touring offered a more personalized experience? Most wineries will accommodate special requests or private tastings if you have made arrangements in advance, please note these will often mean an additional cost. Many of the fine wineries in BC have a restaurant or bistro which allows you to enjoy a wonderful culinary experience along with your BC wine. Did you know that a select number of BC wineries also offer accommodation? Ranging from shared guest houses to self catering apartments or opulent villas with sumptuous breakfasts winery accommodation is found in all the regions of British Columbia wine country.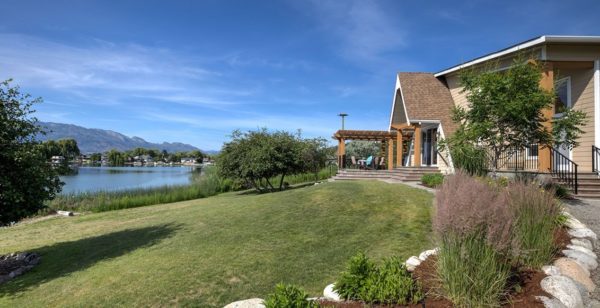 A number of winery guest houses are adult oriented but many, like the impressive The Lake House and The Nest at Quails' Gate, are family friendly. At Quails' Gate your family will enjoy a lakefront chalet with three bedrooms and a loft, or an exquisite four bedroom and  loft  guest house with a private dock for your water craft. Both The Nest (3 bedroom) and the Lake House (4 bedroom) accommodate families and feature outstanding lake vistas to enjoy while you relax on your sunny patio or deck.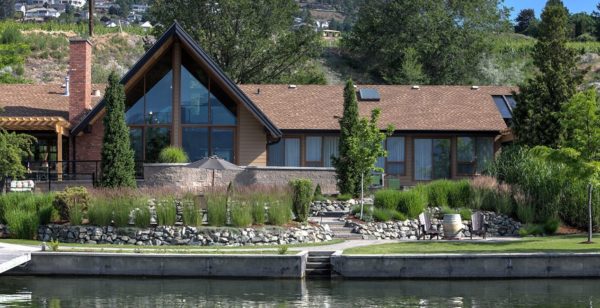 The Old Vines Restaurant located next to the Quails' Gate Tasting Room is open for lunch and dinner daily, and offers a kids menu. With the well equipped gourmet kitchens you will enjoy breakfasts your way or pack a picnic lunch and take advantage of the on site picnic area with a playground for the little ones. Sunday brunch is a family affair and for the grown-ups a happy hour (Monday – Friday available until April 27). New this year Old Vines now celebrates High Tea with seatings at 2:00 and 3:30 on Saturday and Sunday afternoons (reservations highly recommended).
Looking to get away sans children? The Villas at Hester Creek Estate Winery are spacious, with Italian inspired decor with tile floors, heavenly king size bed with luxurious linens, a bathroom featuring a soaker tub big enough for two, separate shower, geo-thermal air conditioning, your own private patio with take your breath away views of the surrounding vineyards. Each room has an efficiency kitchen with coffee maker, bar fridge (with a pleasant surprise inside) and a microwave. A delectable, healthy breakfast is included and served al fresco on a common patio just steps from your room. Spend the day on site and enjoy their beautiful Tasting Room and a picnic with items available to purchase from the deli. For dinner we recommend Terrafina at Hester Creek by RauDZ just a short stroll down the hill from the villas located in the vineyard and housed in the former tasting room. Chef Jenna Pillon will delight you with her signature dishes and excellent wine list. Seating indoors or on the patio, reservations highly recommended.
Guest houses are very popular and book up quickly. The list below is well worth checking out. A few wineries have links on their websites to a calendar to check for availability, most   provide pricing and contact information via email or directly by phone.
West Kelowna
Summerland
Naramata
Therapy Vineyard & Guest House
Elephant Island Orchard Winery
Penticton
Oliver
Pipe Dreams Vineyard and Estate Winery 403 660 2363
The Villas at Hester Creek Estate Winery
Spirit Ridge Resort (at Nk'Mip Cellars)
BC WINE REGIONS
Okanagan Valley
Similkameen Valley
Fraser Valley
Vancouver Island
Gulf Islands
Featured image: Quails' Gate The Nest