Quails' Gate is a large, family owned winery located in West Kelowna. The family has farmed the land since 1956 and opened a winery in 1989. True to their word standards and integrity are maintained by the family who established the winery. The winery is an example of what comes of hard work, focus and respect of all who work here and the land it occupies. Quails Gate Winery strives for perfection in every facet of the industry. They are rightly proud of their accomplishments. I recommend a visit to Quails' Gate to anyone travelling in the area that wants to taste a selection of outstanding BC VQA wines.
"We are true pioneers, with more than sixty years of viticulture experience. As a family, we take pride in now having three generations involved in the winery.
As one of Canada's foremost family-owned estate wineries, we've shaped the development of the wine industry for over six decades, focusing on making the Okanagan Valley a true culinary destination.
Quails' Gate Winery has built its reputation on three pillars: providing consistent high-quality wines, delivering an exceptional visitor experience and ensuring excellence in customer service.
The Quails' Gate Winery Tasting Room is very welcoming. It is always a good idea to book your tasting in advance to be sure you enjoy the best experience. Wineries can be very busy and booking ahead avoids disappointment.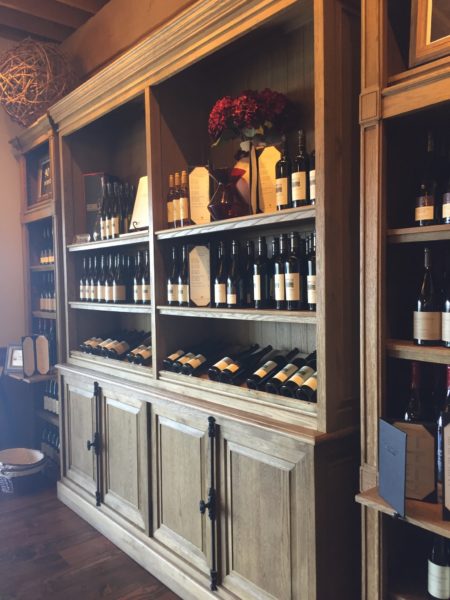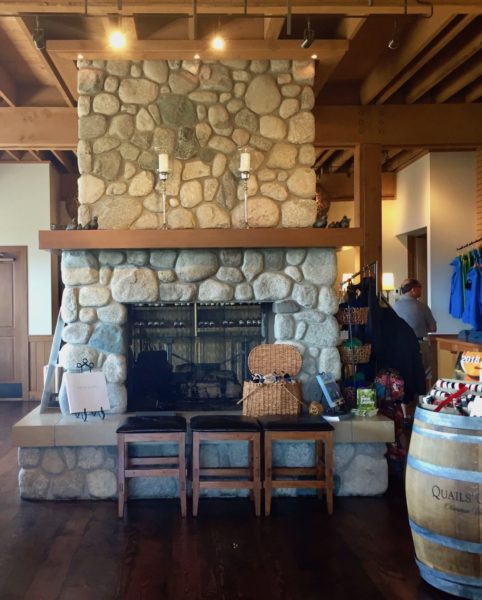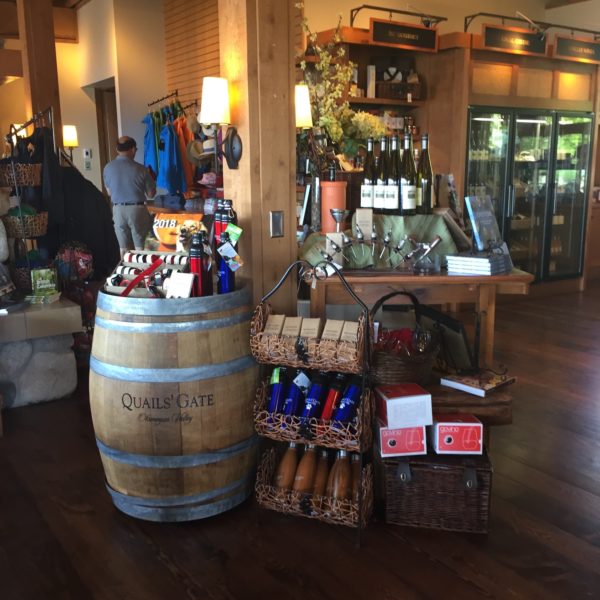 When we arrived for our visit Lindsay (Communications and Marketing Manager at Quails' Gate) greeted us warmly with sincere pleasure to be introducing us to the winery. Asked which tour I would prefer I did mention I had previously done the basic vineyard and bottling tour so Lindsay suggested something a little different for us.
We started at the Allison House formerly the home to Susan Allison the second wife of John Allison. The Allisons settled there in 1873 and stayed for 8 years eventually moving to Princeton to make their living as cattle ranchers.
The house remains and has been lovingly looked after over the years, a testament to the care and thought of the Stewart family. Generations can now appreciate the humble beginnings of the West Kelowna area and today enjoy the ambience of the special structure that once housed a family, later the original tasting room that now pays homage to the winery's founding family. There is a wall in the main room with pictures of the Stewart family members with a brief history. At the time of our visit, there was some consideration to making the adjoining lounge available to wine club members for meetings and tastings, such a nice idea.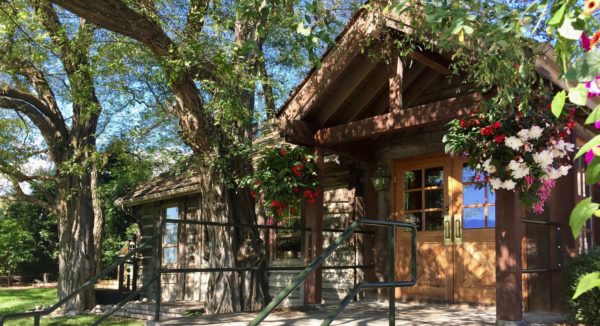 The Allison House which still boasts the very same trees planted by Susan Allison so many years ago also sits on a well tended portion of land that includes a play area for children and picnic tables so the whole family can enjoy a picnic on the grounds. Beautifully kept the property is definitely worth a visit if you haven't been before.
Following is an excerpt from the Quails' Gate Winery website outlining their history:
"We planted our first vines in 1961, but our love affair with the soil goes back to 1908 when Richard Stewart Sr. (affectionately known as "Poppa Dick") settled in the area. From working the land, he would go on to establish one of the valley's most successful nurseries. Six decades later, his son, Dick, switched over to growing grapes. With the help of Dick's eldest son Ben and his wife Ruth, Quails' Gate Winery was founded in 1989. Over the next two decades, the entire family became involved in making the company one of the leading producers of premium BC VQA wines."
Now it's time to taste the wines.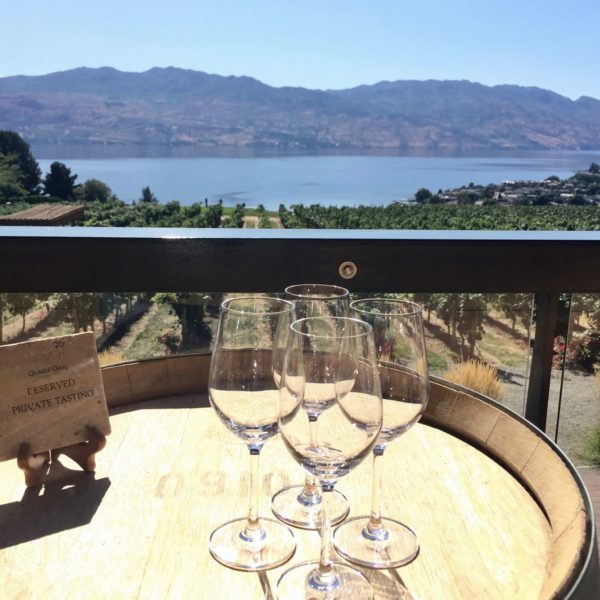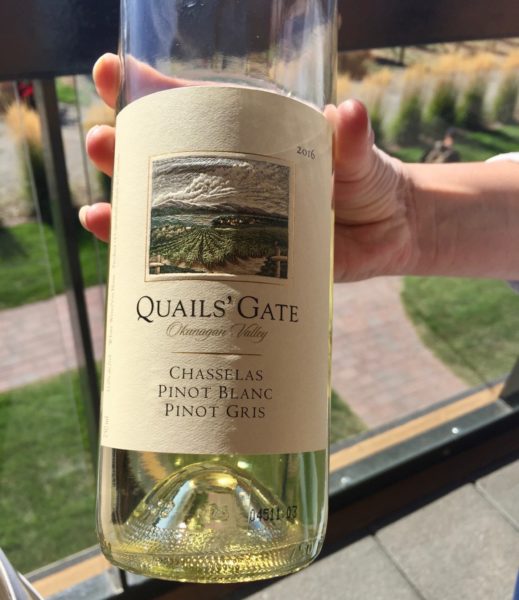 Quails' Gate Pinot Gris was light and crisp, an excellent value at $17.99
The 2016 Chasselas-Pinot Blanc-Pinot Gris offers soft notes of spring meadows and white flowers, along with fresh orchard fruit notes, including apples, pears and nectarines. Known for its versatility, you can enjoy this wine chilled on its own, or alongside lighter dishes. Fish tacos, summer salads with fresh fruit, sweet onion soup, or shared plates, are some of our favourite pairings.
This year's blend has a crisp freshness with 60% Chasselas, 20% Pinot Blanc and 20% Pinot Gris. The three varietals were hand harvested, then cold fermented in separate stainless steel tanks – creating the wine's aromatic and intensively fruity characteristics. Blending is conducted post fermentation. Winery Tasting Notes.
Vintage: 2016
Wine Type:White Wine
Varietal:Chasselas- Pinot Bl- Pino
AWARDS:
90 Points John Schreiner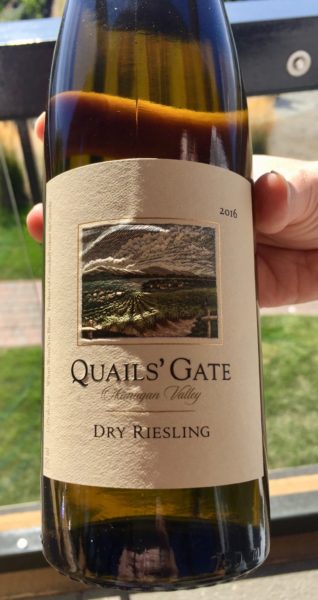 As a committed Riesling fan, I can recommend the Dry Riesling that had a fruity and slightly sweet finish as well as the prerequisite "diesel" scent I always look for in a  Riesling. At $15.99 you can keep more than one on hand.
The palate bursts with lime and green apple flavours that bring a young freshness and racy acidity. These mingle beautifully with rounder warm stone fruit notes, giving it a lifted character and a wet stone finish. Ceviche, crab cakes topped with apple and fennel slaw, salmon sashimi, chicken picatta or summer salads with citrus vinaigrette are some of our favourite pairings.
With the Okanagan's steady warm summer, our Riesling was selectively harvested with a combination of early and late pickings from our East and West Kelowna vineyards. The young fruit helped bring acidity and freshness, whilst the grapes from the second pick created a rounder peach and tangerine to its profile. The wine was whole cluster pressed and racked and then underwent a long, cool, controlled ferment for over 4 weeks. This slow ferment and the use of stainless steel tanks have enhanced the aromatics and vibrant fruit flavours in the finished wine. Enjoy now, until 2022. Winery Tasting Notes.
Vintage: 2016
Wine Type: White Wine
Varietal:Riesling
AWARDS:
91 Points John Schreiner
Silver Medal OKWFS Best of Varietal Awards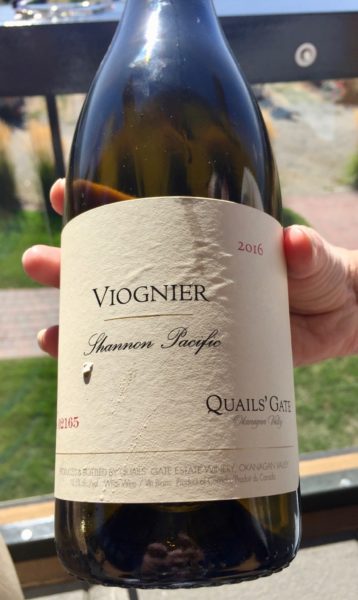 Not always a Viognier fan, especially when it has a strong perfume taste. I found this Viognier was pleasant and should satisfy most at $23.99
Anticipate perfumed notes of jasmine, honeysuckle and orange blossom. The palate bursts with flavours of ripe nectarines and peach, hints of ginger spice, balanced with a charming orange finish and a velvety mouthfeel. BC halibut and other rich seafood dishes, mild creamy curries, Moroccan chicken tagine with spiced couscous and chicken salads with apricot, peach or mango are some of our favourite pairings. We also recommend pairing with local creamy cheeses.
Sourced from the Black Sage Bench near Oliver in the South Okanagan, the sandy soils of the bench and the South Okanagan sun create perfect conditions for intense, expressive, full-bodied wines. The fruit was whole cluster pressed and fermented in neutral oak prior to being stirred in the barrel (battonage), giving the finished wine an opulent mouthfeel. Enjoy now until 2019. Winery Tasting Notes.
Vintage: 2016
Wine Type:White Wine
Varietal:Viognier
AWARDS:
92 Points David Lawrason
This Chardonnay does not overpower, it is smooth and balanced with an excellent price point at $22.99.
The wine opens with notes of peach and nectarine notes with hints of melon and pineapple. The influence of oak adds subtle notes of toast and vanilla and enriches the mouthfeel of this delightful wine. We suggest serving this wine between 8 to 10 °C, slightly warmer than you would for most white wines.
This is a very versatile food wine and we recommend roasted loin of pork, scallops, clam chowder, white fish dishes and soft creamy cheeses.Our Chardonnay is a blend of reputable French clones including clones 95, 96, 277 and 809 grown on differing terroirs on our estate. We make this wine using a combination of stainless steel tanks and French oak barrels.
In this vintage 70% was kept in stainless tanks and the reminder in quality French oak of differing ages. The portion of barrel fermented wine gives roundness and weight to the palate while the tank portion allows the bright, intense fruit to shine through. Winery Tasting Notes.
Vintage: 2015
Wine Type:White Wine
Varietal:Chardonnay
AWARDS:
Silver MedalOKWFS Best of Varietal Awards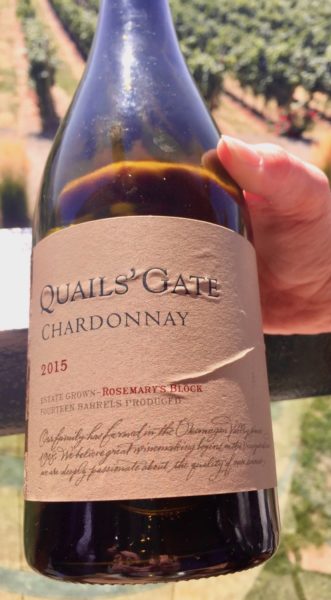 For the true Chardonnay fan, buttery and with a slight oakiness and good finish. $44.99
Burgundian in style, the 2015 Rosemary's Block Chardonnay entices you with an intriguing array of aromas – from white flowers and brioche, to citrus and quince. The palate is complex with toasted hazelnuts, a stony minerality and a luscious long finish. Our recommendation is to serve this Chardonnay at 10 to 12°C, slightly warmer than most white wines. We suggest pairing with shellfish, roasted chicken, pork in a cream sauce with mushrooms or mustard and many French cheeses.
Hand-harvested from two of our finest Chardonnay blocks located just above the winery, the grapes were whole-cluster pressed and fermented in new and old French oak barrels for 11 months. Full malolactic fermentation occurred and was left to age on its own lees with regular battonage (stirring) before racking and blending. These winemaking techniques gave the finished wine a rich, opulent mouthfeel. Enjoy now or until 2022. Winery Tasting Notes.
Vintage: 2015
Wine Type: White Wine
Varietal: Chardonnay
AWARDS:
92 Points John Schreiner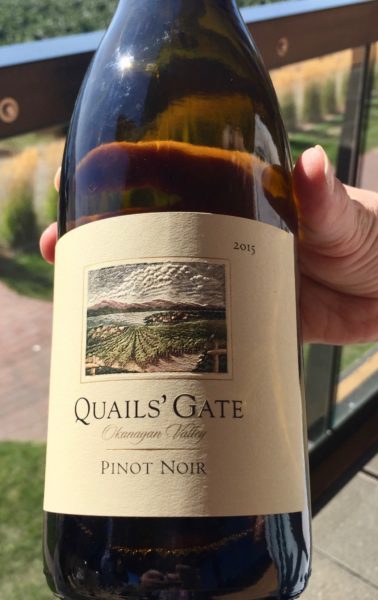 An anytime light and flavourful Pinot Noir at $26.99 this is terrific value for a Pinot Noir.
The 2015 Pinot Noir is medium bodied and shows great complexity and length with attractive, juicy red berried fruit and subtle oak influence.Classic Pinot Noir, with notes of cherry, raspberry and plum fruit with allspice, earth, dried herbs and savory notes. The balance of fruit, acidity and light tannins make this a very versatile food wine.
We suggested roasted chicken, grilled BC salmon and duck dishes. For vegetarians, beet, mushroom and French lentil dishes make great pairings. We recommend serving at around 15°C to enhance your tasting experience.The fruit is sourced from various vineyard parcels on our estate. After crush there is a five-day cold soak prior to ferment. This extracts all the colour and flavour from the grapes without imparting too much tannin. After approximately three weeks fermentation is completed and the fruit is pressed and aged in quality French oak barrels
(approximately 25% of which is new) for 10 months before being blended and bottled. Enjoy now, or cellar for 3 to 5 years. Winery Tasting Notes.
Vintage: 2015
Wine Type: Red Wine
Varietal: Pinot Noir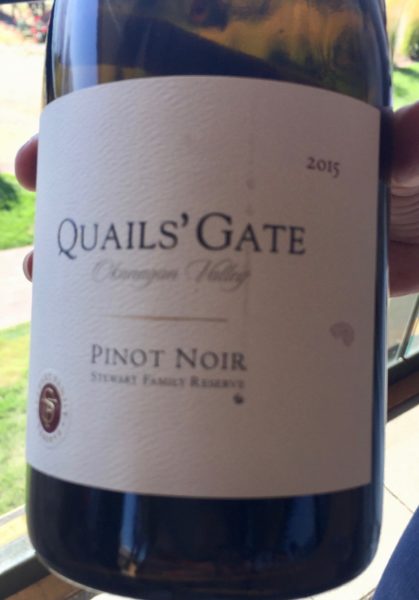 A high quality Pinot Noir at $44.99 an excellent choice to pair with turkey, it makes a perfect hostess gift at Thanksgiving, Christmas, or anytime.
Expect an inviting mix of ripe red fruits, such as cherry, raspberry and plum that lift the palate, along with sweet spice aromas of allspice, clove and nutmeg. The tannins are evident and will soften beautifully with time. Suave, with an effortless elegance, we recommend serving at 15°C to enhance your tasting experience. Try pairing with duck, Thanksgiving turkey, pork, seared BC salmon and mushroom-crusted rack of lamb served with a ragout of French lentils.
The warm season resulted in very ripe grapes. A blend of different blocks and clones of Pinot Noir grown on estate with some of the vines being 30 years old, fermentation takes place in stainless steel tanks using a combination of indigenous and French cultivated yeast strains. After fermentation, the wine is aged in French oak barrels (40% new and 60% 1 & 2 years old) for 11 months before blending and bottling, giving depth and character to deliver a powerful yet supple wine. Enjoy now until 2025. Winery Tasting Notes.
Vintage: 2015
Wine Type:Red Wine
Varietal:Pinot Noir
AWARDS:
Bronze MedalInternational Wine & Spirit Competition
Bronze MedalDecanter World Wine Awards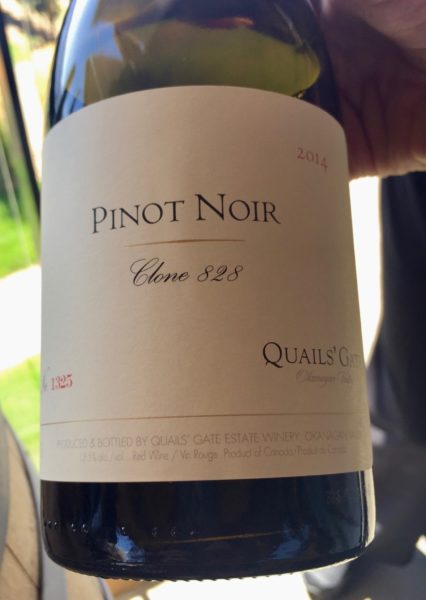 A Reserve wine for the discriminating Pinot Noir wine lover.
With a reputation as an industry innovator in viticulture, the Clone 828 Pinot Noir represents our latest quest for excellence. The internationally renowned 828 clone is known for producing full flavoured fruit of exceptional quality and unique growing attributes, and as we found, matched ideally with our soil and terrior. During elevage it became clear that this Pinot Noir demanded the Stewart family's approval for Reserve status and an independent, small batch bottling was done. Winery Tasting Notes.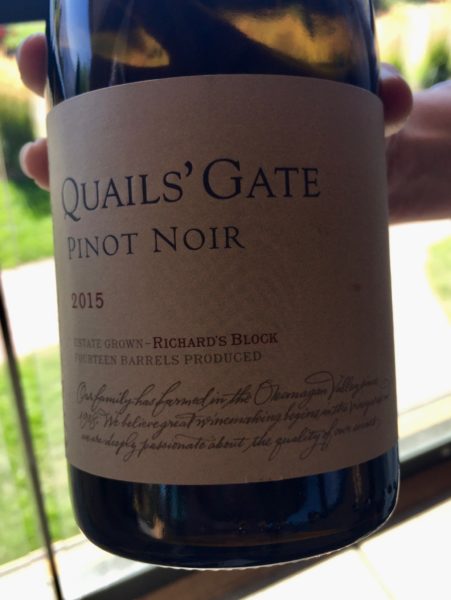 A very enjoyable Pinot Noir especially fine for a special occasion at $54.99
Complex and multi-layered with aromas and flavours of violets, cherry and raspberry fruit, exotic spice, as well as notes of forest floor and earth. The mouthfeel is beautifully structured with polished tannins and a very long finish. We recommend serving this wine at 15°C to fully enjoy your experience. Pair alongside duck, venison, grilled BC salmon and dishes that include beets or wild mushrooms.
The 2015 vintage was particularly warm, so picking dates had to be monitored meticulously to ensure the grapes were harvested at the optimal time. This wine is a blend of 4 different world-renowned Dijon clones, 115, 667, 777 and 828. Each block was handpicked and vinified separately in stainless steel tanks using a combination of indigenous and French cultivated yeast strains. After fermentation the wine was aged in quality French oak barrels for approximately 10 to 11 months with around 30% of the barrels being new. Enjoy now until 2025. Winery Tasting Notes.
Vintage: 2015
Wine Type: Red Wine
Varietal: Pinot Noir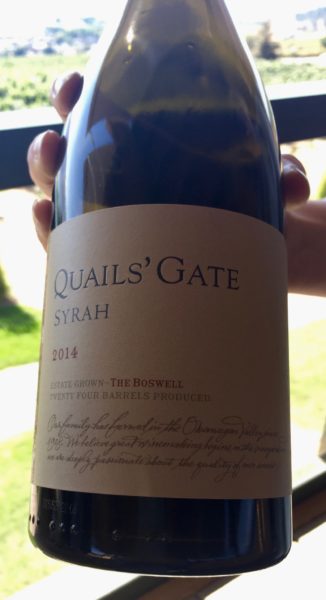 Rich and lush this wine is meant to pair with your favourite company dishes. $54.99
The 2014 Boswell is a wonderfully complex and intensely flavoured wine reminiscent of the Syrahs grown in the Northern Rhone Valley of France. The glass is filled with aromas of jasmine, ripe black berried fruits, clove, white pepper and smoked meat notes. The palate is smooth, rich and full bodied with a delicious mouthfeel and smooth polished tannins which linger seductively on the finish. We suggest pairing with an array of grilled red meats, braises, stews and aged hard cheeses.
The vineyard where our Syrah is grown is perfect for this varietal, the natural air-conditioning of the Okanagan lake to cool the ripening grapes each night create a perfect balance in the finished wine. The wine was aged 18 months in French oak and shows great varietal characteristics. Enjoy this wine today or cellar until 2022. Winery Tasting Notes.
Vintage: 2014
Wine Type: Red Wine
Varietal: Syrah
AWARDS:
94 PointsJohn Schreiner
93 Points Daenna Van Mulligen
91 PointsTreve Ring
"At Quails' Gate Winery, we're committed to sustainability and environmental stewardship. Our philosophy has always been to do more with less and we achieve that through the application of low-impact viticulture practices."
After our tasting, we strolled through the vineyards and enjoyed a beautiful sunny day with clear skies and a pleasant breeze. The vistas are nothing less than spectacular.
We were ready for lunch and headed off to the Old Vines Restaurant. Considered one of the best restaurants in the Okanagan taking advantage of those fabulous views. a sunny patio and great food paired with wonderful Quails' Gate wines.
We paired our lunch dishes with the Quails' Gate Chenin Blanc which was the perfect choice.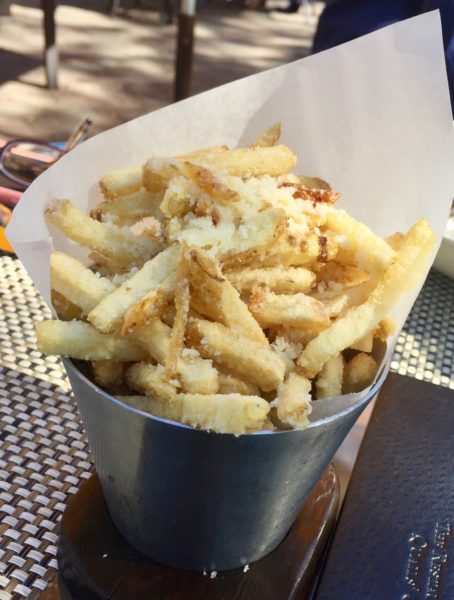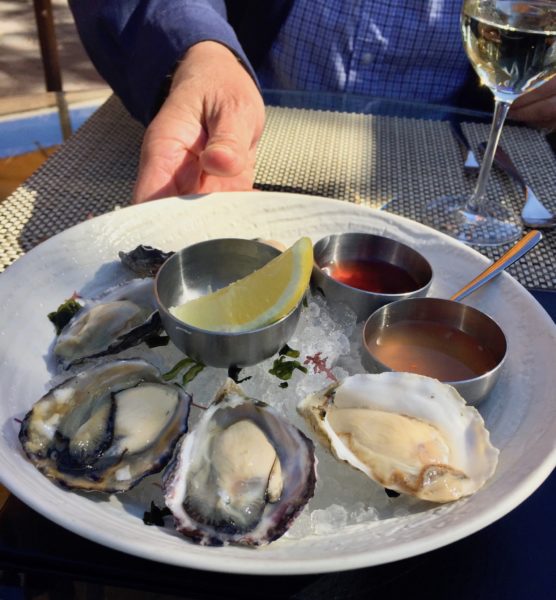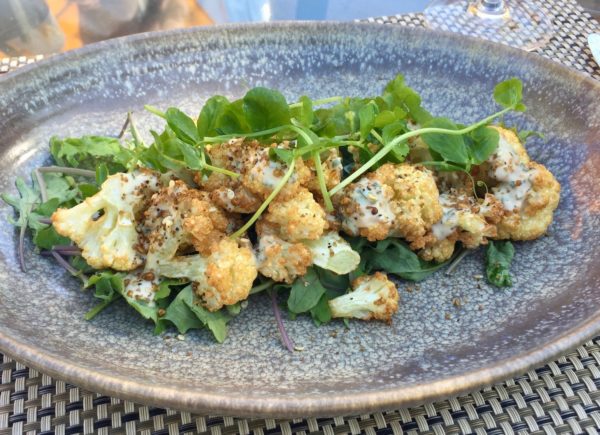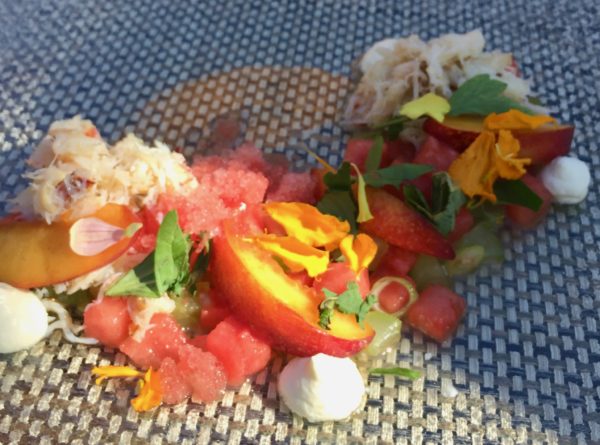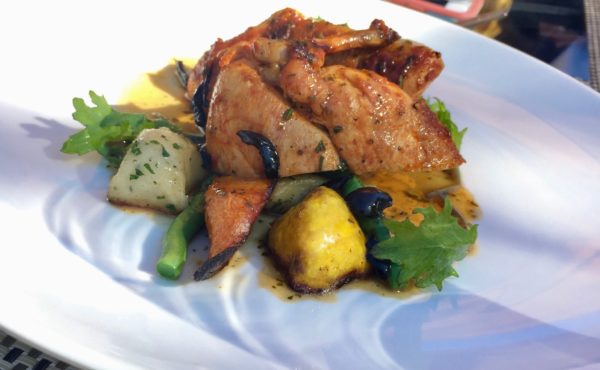 Lunch was excellent and I highly recommend you give yourself enough time to enjoy the experience that is Quails' Gate Winery. You will not be disappointed. The day was delightful and informative. It taught me to never approach anything with preconceived notions. Everything about the day exceeded our expectations.
Quails' Gate Winery 3303 Boucherie Rd, Kelowna, BC V1Z 2H3
Before you go: Do your homework and a bit of research about the wineries you wish to visit. Check the winery website to find out their months, days and hours that their Tasting Room is open. Know if you need to book your tasting in advance of your visit. Many wineries are now so busy there may be times that they are unable to accommodate you. It will be a much better visit if you have a confirmed appointment. Be on time. Expect to pay for your tasting, some, but not all wineries refund all or a portion of the fee if you purchase wine. Plan ahead for a designated driver or use the services of a wine tour company. Limit the number of wineries you visit in a day. A more leisurely timeline will increase your enjoyment. For the best overall experience, I like to limit my daily visits to three, maximum two wineries if a winery lunch is on the agenda.
We received a private tasting and lunch at no charge in order to facilitate this review. All opinions are my own.