Dive deep into the caverns of your mind for trivia night at After Hours on Friday, Apr 20 at Vancouver Aquarium®, an Ocean Wise® initiative. This adults-only event is the perfect night out for trivia buffs, ocean lovers, and the big kids at heart.
With a drink in hand, refresh your marine memory as you explore the Aquarium's many galleries, take in the new Shark: A 4-D Experience, and enjoy special programs like 'Meet a Penguin' and an adults-only puppet show. Then put that aquatic knowledge to the test as you play a round or two of trivia. Belly up to a table with your pals (or soon-to-be pals) and put your heads together to answer a series of fun and fascinating ocean-themed questions. Submit your responses at the end of the round and enter to win fin-tastic prizes.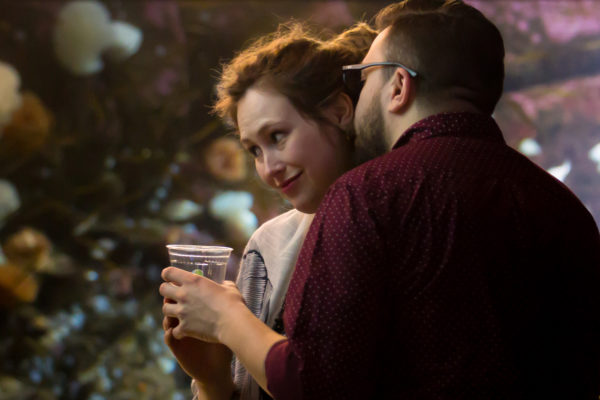 When you're not showing off your sea smarts at trivia, there's just so much to see and do:
Enjoy discovering more than 50,000 animals as you tour the Aquarium's many galleries
Embark on a sensory adventure as you watch the thrilling new film Shark: A 4-D Experience
Get up close with our sharply-dressed feathered friends when you 'Meet a Penguin'
Take in an 'Adults Only Puppet Show' that will leave you and your pals in stiches
Roll up your sleeves and experience hands-on learning with marine invertebrates like sea stars, sea urchins, and more in our mobile Wet Lab
Enjoy beer, wine, and cocktails as well as munchies from the Aquarium Café, including Ocean Wise executive chef Ned Bell's sustainable (Sea)Weed Brownies
Where:                Vancouver Aquarium (845 Avison Way)
When:                  Friday, Apr 20 from 6 to 10 p.m.
What:                   Adults-only access to Vancouver Aquarium, all galleries, and the 4-D theatre. Food, wine, and beer will be available for purchase.
Tickets are only available online at vanaqua.org/afterhours. Purchase your tickets early to avoid disappointment as the event often sells out. Tickets are $27 for members and $35 for non-members.
Located in beautiful Stanley Park, there are a number of scenic, safe, and sustainable transportation options for After Hours guests including walking or biking and taking public transportation. For details, visit www.vanaqua.org/visit/location.
After Hours is a 19+ event. Photo ID is required for entry. All ticket sales are final. Membership cards will be required for member-priced ticket holders.
Vancouver Aquarium
Vancouver Aquarium®, an Ocean Wise® initiative, is one of the world's leading accredited aquariums, dedicated to the conservation of aquatic life.www.vanaqua.org
Social Media: @VanAqua | #AfterHoursVA