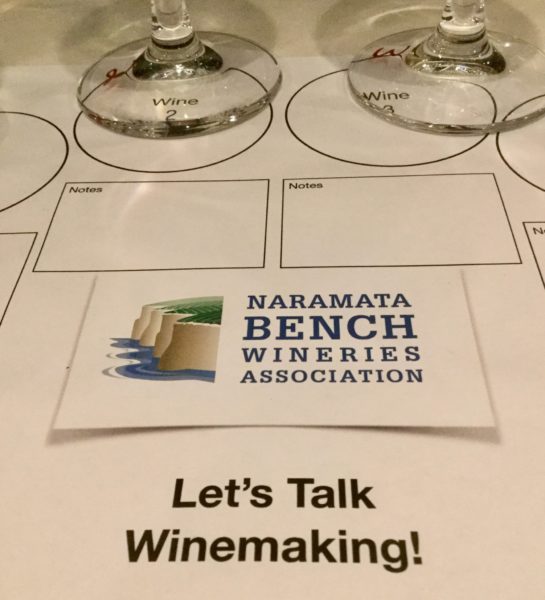 I began this event with an informal session on terroir. We were presented with four wines made from four Naramata Bench winemakers – Val Tait from Bench 1775, Gavin Miller from Upper Bench, Stefan Arnason from Poplar Grove and Elephant Island's Del Halladay. The task was to match each wine to the description given by the winemaker. Pretty easy right?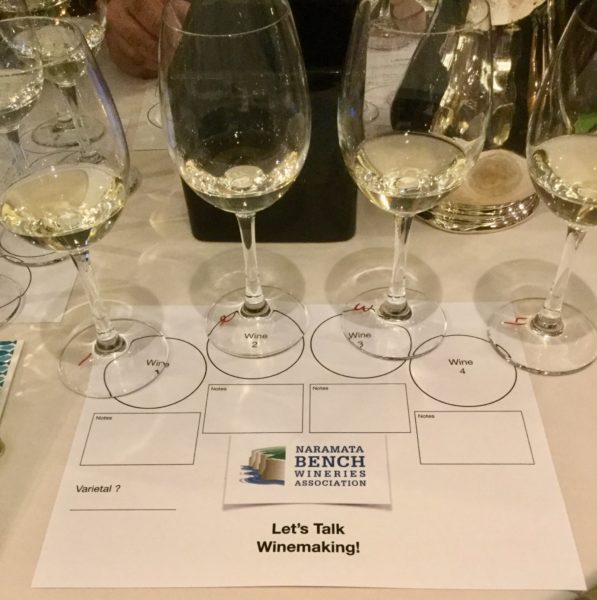 Were the wines Chardonnay or were they Pinot Gris? We were told that they were all the same variety. After an initial quick sniff and sip of each one, I confirmed that they were all Chardonnay. What seemed to be an easy task, quickly became more difficult as each winemaker spoke about their wines.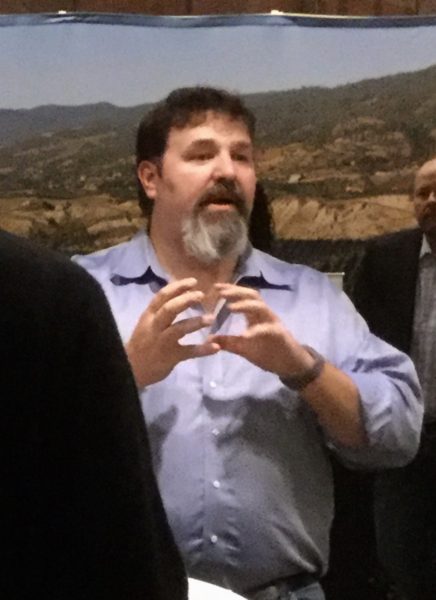 Our host, Jay Drysdale of Bella Wines, spoke about the idea behind this project and then introduced the participating winemakers.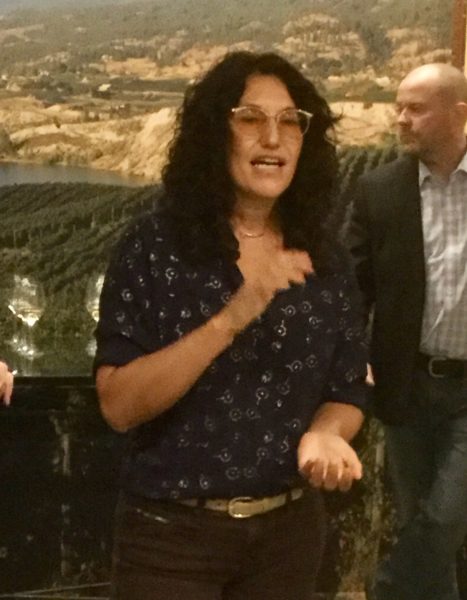 Val Tait, from Bench 1775 mentioned that her grapes came from an ancient lakebed vineyard in Naramata with low nutrient levels but high calcium levels, which contribute to a brightness and minerality in the wine. There was a lot of sun to help ripen the grapes, but heat can also be a problem, so they opted for a protected canopy with no leaf removal. The wine was a 2015 vintage, which was pretty hot, so while normally she likes to do multiple picks, that year the ripening happened so quickly that they made two picks only days apart, rather than several spread over many weeks.
She is fastidious about keeping oxygen away from the juice so she keeps it very cool and blanketed with dry ice. Val lets one batch ferment on the wild yeast and once it starts fermenting and generating heat, she then inoculates with cultured French yeast. With the second batch, 50% went in as whole clusters and were not crushed. This one had a long slow ferment. A portion was added to oak barrels for some aging.
So the clues here? Hot year, cool ferment, partial barrel fermentation and partial ml. OK, I think I know which wine this one is.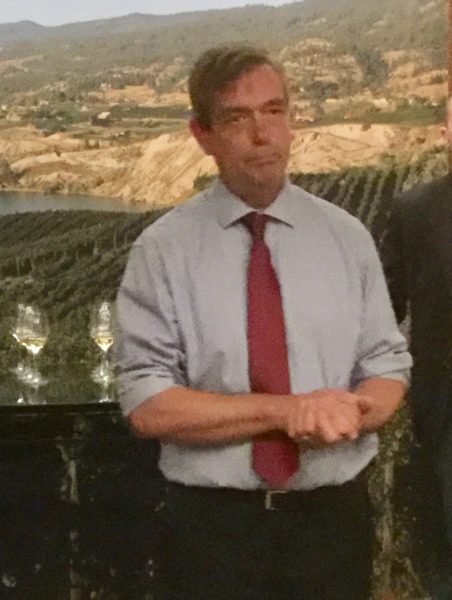 Gavin Miller from Upper Bench presented a 2016 wine. This was, in contrast to 2015, an early year and all indications were it would be a stellar year, but it soon became quite cool. However, for Chardonnay, this is ideal. The grapes come from three vineyards, one from the top of the Naramata Bench, one from the middle and the other from his own vineyard at the southern end of the bench. He picked on separate dates and usually starts with the estate grapes. He then moves north up the bench. Each batch is processed separately. The wines start to ferment on wild yeasts. Sometimes half of one batch gets some overnight skin contact. Half of each batch goes into new oak barrels for three months and because he prefers not to do ml, he cannot use second-year barrels because they will have naturally developed some degree of ml bacteria. Lees stirring happens in both tanks and barrels. Finally the batches are all blended together.
The take away with this wine? A long and cool year, three vineyards, some skin contact new oak for a short term and no malolactic ferment. Hmm, I think it could be this wine or that one.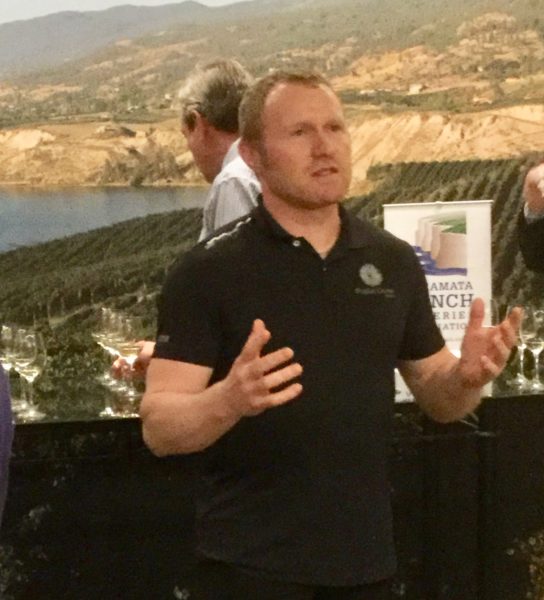 Next up was Stefan Arnason from Poplar Grove. His wine was also from 2016. A portion came from a sandy soil vineyard in Osoyoos. These grapes come in earlier, around the first or second week of September. The majority of the fruit comes from the Naramata Bench. There was one month between the Osoyoos and Naramata picks. Twenty percent of each batch went into new oak for three or four months.
In 2016 the wines were re-inoculated twice as the ferment was slow so there was a lot of lees contact. After cold fermentation the batches were blended in March. A small percent from their sparkling stock was added to balance the acidity. The Osoyoos fruit contributes fatness and tropical fruit while the Naramata fruit has the structure and acidity to balance the wine.
Clues – cooler year, two sites, one warmer one cooler, overnight skin contact, small percent new oak, no intended ml (some almost always happens). Maybe it is this glass.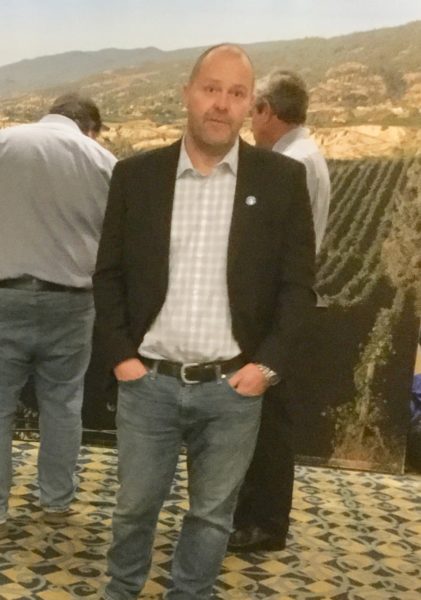 Elephant Island's Del Halladay was the final winemaker to speak. Although the winery has been around for about 20 years, they have only recently started making Chardonnay. This wine is from their third vintage and the fourth is in the tank. The fruit comes from one vineyard in Naramata formally used by Hillside Winery. These are old vines that have been planted on vinifera rootstock, which means that they tend to ripen a bit later, which can be a definite plus in a good year, but there can be ripening issues in marginal years. The soil is comprised of glacial sediments and loam soils with some gravel as well. There are two clones, one which produces small berries and open clusters, and the other with larger berries in tighter packed clusters. They picked the 2-½ acres in one day. The grapes were crushed and de-stemmed and soaked overnight on their skins. Half the wine went into new oak for barrel fermentation and sur lees aging for three months. Del doesn't do ml fermentation except in very cool years. This 2016 ended up being an averge for the grapes from this vineyard.
Clues – one vineyard, mid-north Naramata region, cold soak, 50% new oak, barrel fermentation, lees aging, no ml.
One glass left now, so this must be it. Or if I am wrong about that other wine, it will be that one.
In response to a question from the audience, it was mentioned that all wines were screw capped so there were no differences due to the type of closure.
OK, now this is getting complicated and I may need to refigure my guesses. After listening to all four winemakers, I had about three guesses for each wine. Then wines were unveiled one by one.
#1 – Upper Bench – Yes! Got that one right on my first guess
#2 – Bench 1775 – Correct on my first guess.
#3 – Poplar Grove – Right!
#4 – Elephant Island – Full pull!
In the end there were some definite surprises. I thought it was a very interesting exercise, though it should have been conducted prior to the main event as I was left with only a short time for the regular tasting.
Here are my brief notes.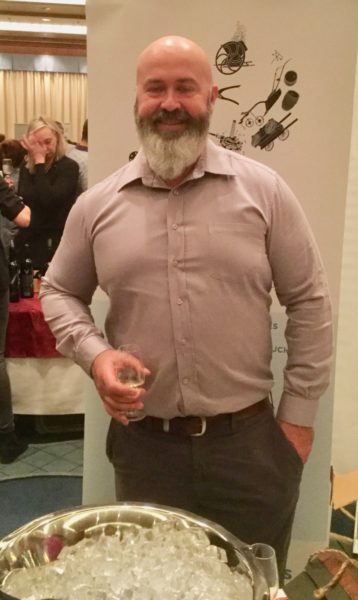 Daydreamer
2016 Viognier
11 months in French oak, 1/3 of which were new, natural fermentation, lees stirring, single vineyard in Naramata. Very good, well structured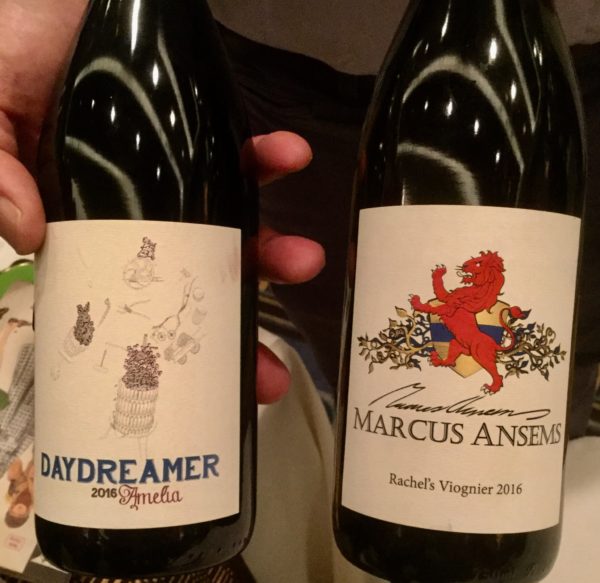 2016 Amelia
Single vineyard, big nose, fruity and inviting, smoky note. 90% Syrah and 10% Viognier. I am a big fan of this wine.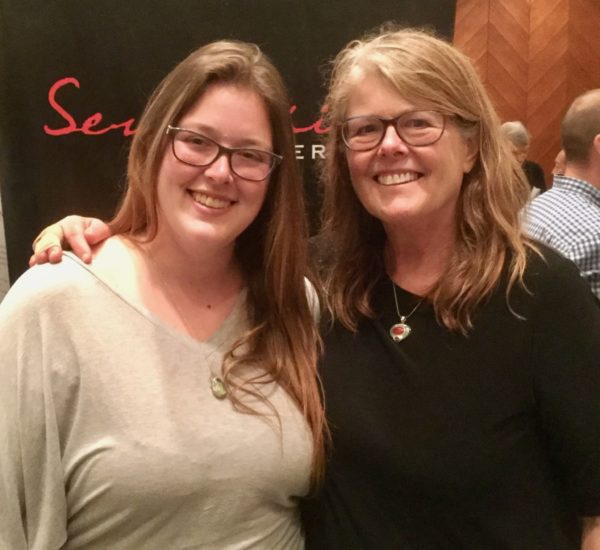 Serendipity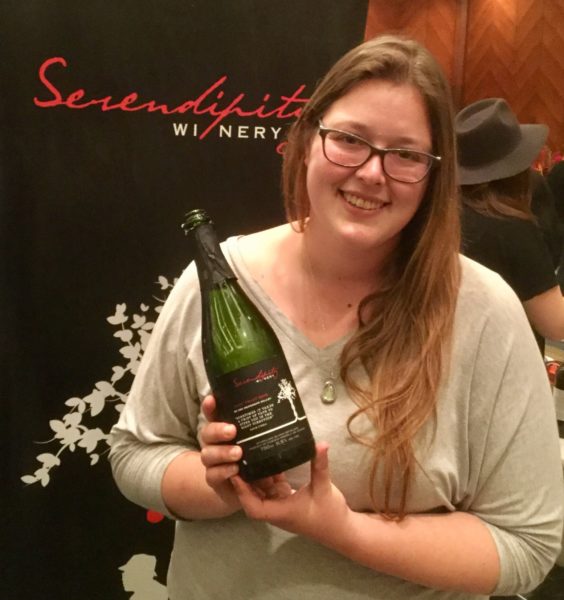 2016 Plot Twist
11.5% new sparkling wine that is bright, clean and refreshing.
Viognier
Fruit driven rather than leesy character. Peach, honey citrus and a hint of melon.
Next Step 2012
Pinot Noir based with Cabernet Sauvignon and Merlot rounding out the blend. Wednesday night pizza wine. Quite yummy.
Pinot Noir 2014
Love this Pinot which shows classic varietal character including cherry, strawberry, and forest floor. Spot on.
* Katie O'Kell, Serendipity winemaker, informed me that they were opening a restaurant at the winery in late May. Owner, Judy Kingston, a former lawyer, is also a trained chef and will run the restaurant.
Perseus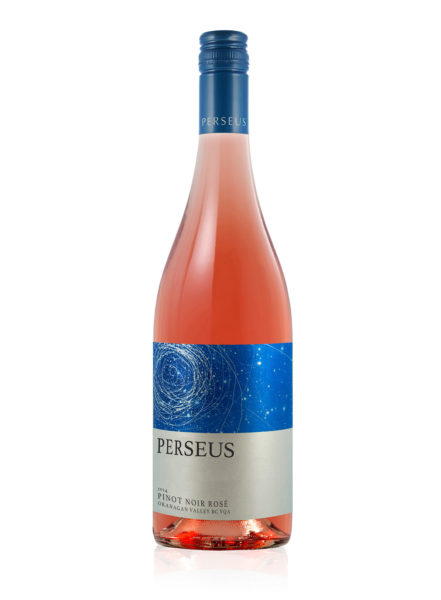 2017 Rosé
Excellent, 100% old vine gamay noir from Mount Boucherie. Absolutely delicious.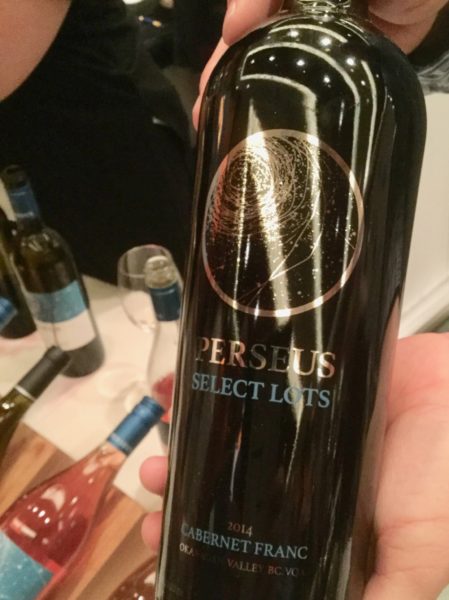 2014 Cabernet Franc
The fruit came from the south Okanagan, a desert valley vineyard near Black Sage, new and neutral barrels for 18 months and 10 months in bottle before release. Wow! Depth and concentration of aromas and flavours. Red and black fruit, meaty.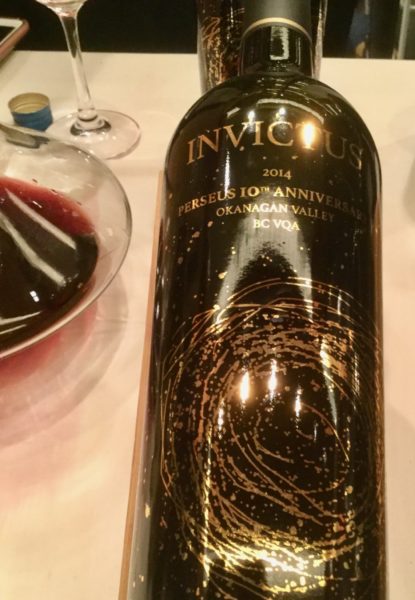 2014 Invictus
Wonderful rich and layered, with flavours and aromas of blackberry, licorice, chocolate and pencil shavings, complex, one of the Icon BC reds.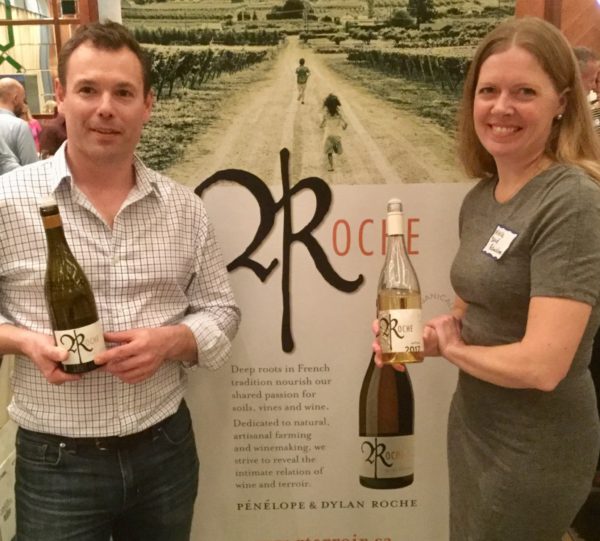 Roche
Rosé
97% Zweigelt and 3% Schönburger. This unique blend works very well. Delicious and refreshing.
Arome
Made from Schoenburger (alt spelling), this is fruity, aromatic with tropical fruit, delicious and dry.
Pinot Gris 2016
Good fruit, classic varietal character, dry, medium-plus finish, stainless steel fermentation
2015 Pinot Gris
Barrel aged in neutral barrels, creamy texture, delicate tree fruit and vanilla, interesting contrast with the 2016, this year warranted the barrel aging.
2016 Pinot Noir
Stainless steel, 10 months in new French oak, grapes from the Naramata Bench, ruby red colour, with medium-intensity, bright red fruit, cherry and forest floor.
La Frenz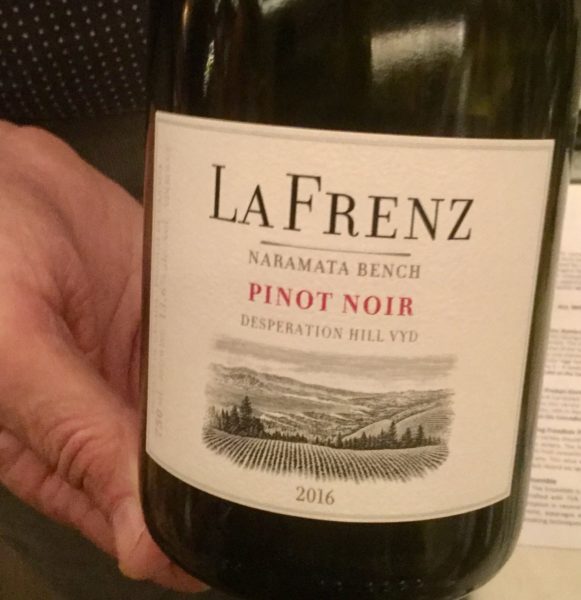 2016 Pinot Noir
Bright fruit especially cherry and plum, flavours follow the nose, medium-plus finish.
With over twenty=five wineries on this short stretch of land, just east and north of Penticton, the Naramata Bench is worth several days, if not a week or more, of your time. Be sure to visit them soon.
(All photos – Sam Hauck)