Nestled atop a quaint knoll in the bucolic south Langley, just two stone throws from the US border is Blackwood Lane Winery. Unknown to many in the Lower Mainland, this winery opened its doors in 2007 and soon garnered critical acclaim for producing wines of the highest quality. Their 2007 Reference, a Bordeaux-styled blend has been the highest rated BC wine.
The winery has recently added a terraced brick patio which faces south overlooking the vineyard with Mount Baker looming on the horizon. Inside, where they often hold special long table winemaker dinners, they have room for fifty people, while outside they can accommodate two hundred. This is an ideal place for weddings or other special events with its stage, pizza oven and Tiki bar.
Blackwood Lane's philosophy is summarized in the company's motto: "Bonus Vita et Bonus Amici" (Good Life and Good Friends). Carlos believes in finding the very best grapes possible to make his wine and then he simply babysits them. He brings a judicial, minimalist approach to winemaking and prides himself on knowing how to deal with each variety to bring out its best qualities.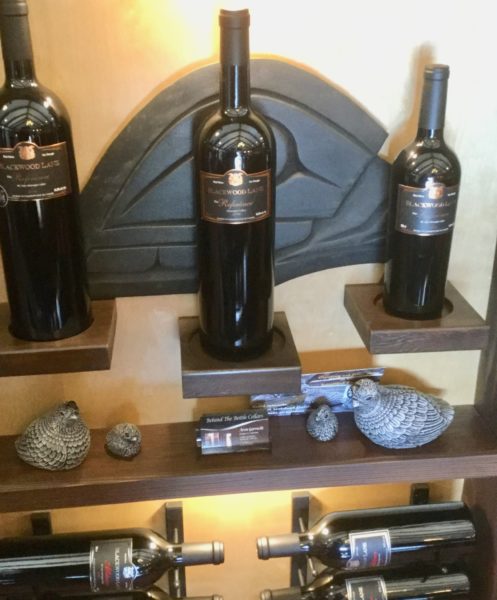 As wine lovers, they realized that people in the Greater Vancouver area had to travel to the Okanagan Valley in order to acquire the best wines of the province, so they decided to bring the wines to them. Accordingly, they set up their boutique winery in the heart of the Fraser Valley's wine corridor, only minutes from Vancouver, on 12.2 acres of the most beautiful south facing slopes in the area.
Blackwood brings most of their grapes down from the Okanagan. Some come from Osoyoos and others from the Naramata bench. A few – Bacchus, Pinot Noir, Baco Noir and the just replanted Chardonnay come their 2-acre estate vineyard.
The Blackwood Lane team consists of:
Carlos Lee                  President & CEO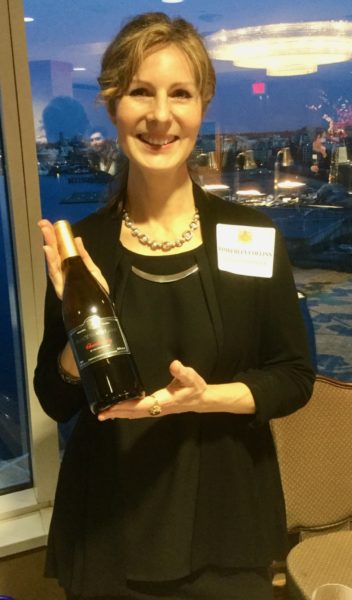 Kimberley Collins      General Manager
Daniel Lee                  Cellar Manager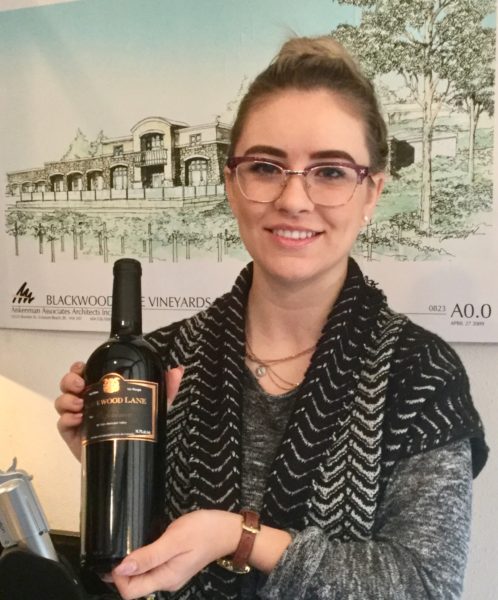 Kelli Kling                  Product Administration
Currently, the Blackwood line up includes the following (the tasting notes are the winery's):
2016 Viognier
"Our 2016 Viognier was harvested from a vineyard in the Naramata Bench. Beautiful aromas of juicy stone fruits, honeysuckle and fresh rose. On the palate, this wine is perfectly balanced with medium acidity and body. Flavours of tangerines and peach with a long finish. This wine pairs amazingly with herbed grilled chicken, saffron rice, and baked halibut with dill sauce."
My take – mouth-watering and bursting with flavour. Carlos claims to have a special trick to bring out the best in Viognier. After tasting this one, I have to agree.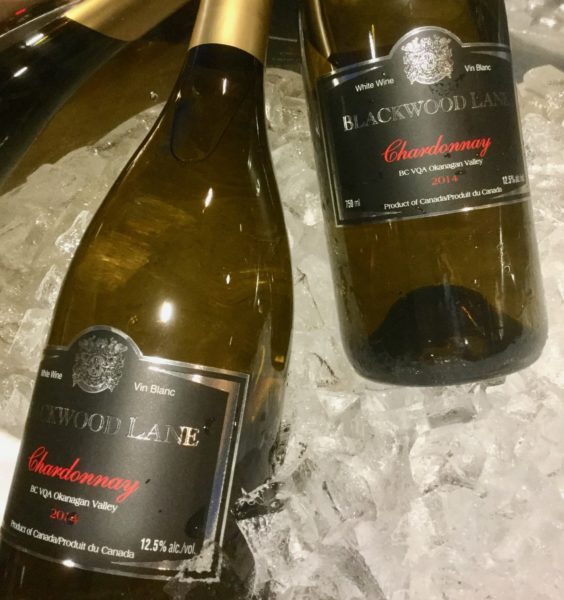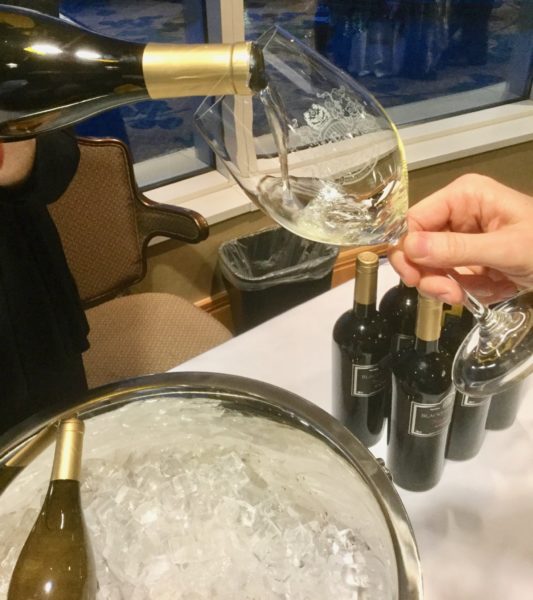 2014 Chardonnay
"Our 2014 Chardonnay is a beautiful, golden straw colour, perfectly balanced with medium acidity and body. This wine was aged in Burgundian French oak barrels for 24 months. The nose is buttery with floral aromas, as well as aromas of lightly toasted walnuts, pine nuts, golden delicious apples, citrus, and vanilla. A long finish with flavours of nectarine, lemon, and apple butter. This wine is delicious paired with Alfredo pasta, cooked shellfish, and creamy garlic risotto."
My take – the light touch of French oak strikes just the right balance of fruit and oak creating an elegant California styled wine with a lingering finish.
2014 Sea Buckthorn Riesling
"Join the millions of people who have discovered Sea Buckthorn! This super fruit was infused into our late harvest Riesling for those who want to enjoy wine and feel good about their health. Amber in colour, with aromas of apricot, caramelized pineapple, and golden raisins. Full body and off dry. A bit of botrytis – along with good acidity – rounds out this wine, offering a full citron, quince, and golden fruit mid-palate, with a juicy finish of tamarind, apples, and Sea Buckthorn. Sea Buckthorn berries are considered to be a super food with high amounts of vitamins, minerals, and essential fatty acids (3,6,9 and the rare 7)!"
My take – you won't find a wine like this anywhere else. Almost mead-like with a dry finish, this unique wine has a very appealing nose and is the perfect match for Asian foods.
2015 Angelina Rosé
"Made from Fraser Valley grown Pinot Noir, Siegerrebe, and a small amount of Madeleine Angevine, our 2015 Rosé offers fruity aromas and flavours of white peaches, pink grapefruit, and strawberries. This beautiful pink cherry blossom-coloured wine has a fresh, clean acidity, a full mid-palate, and finishes with flavours of fleshy pink grapefruit."
My take – the Siegerrebe adds aroma and flavour without dominating the Pinot Noir and is mouth-watering on the palate.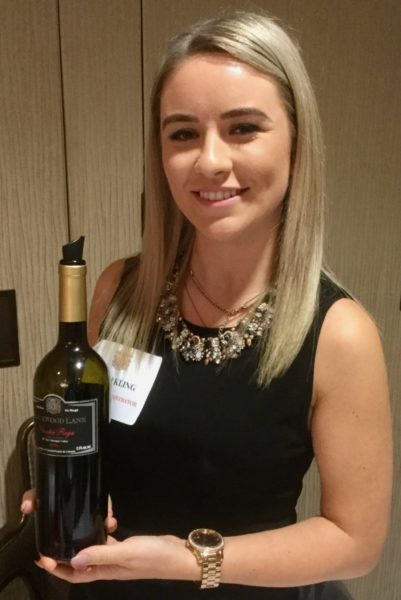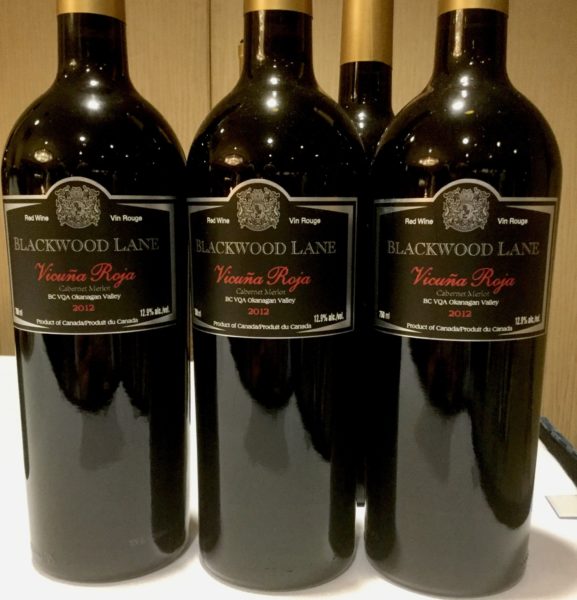 2012 Special Edition Vicuña Roja
"The 2012 Special Edition Vicuña Roja is our signature house red Bordeaux-style blend. We think you'll fall in love with it! This vintage is a foodie's delight having a bouquet of chocolate, licorice, blackberries, cassis, violets, and soft nutty, nutmeg aromas. It begins with flavours of ripe plums, blackberries, and cherries, develops into a complex blend of fruit, minerals, chocolate, and spice, leading to a slight pepperiness and finishes long as a blend of all of these succulent flavours."
My take – one of the best vintages ever. I love this fifty /fifty blend of Cabernet Sauvignon and Merlot and walked out with several bottles. Layered with blueberry, game, sweet spice, ripe cherries and berries.  Big with soft silky tannins and a medium-long finish.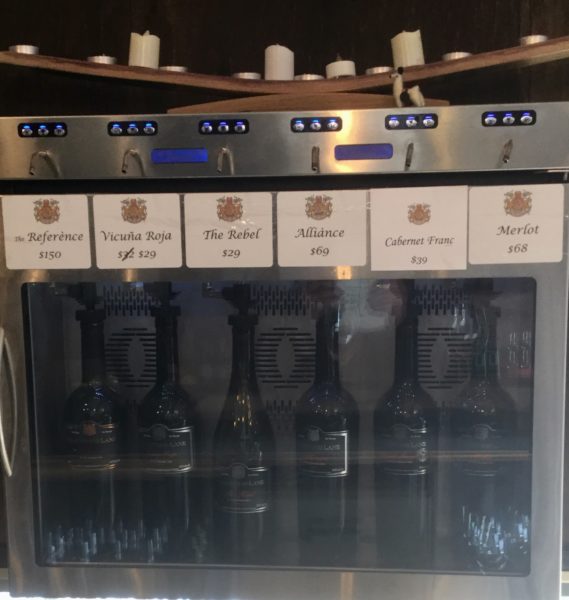 2013 Cabernet Franc
"A bright and cheerful wine! Elegant earthy aromas and flavours of sweet plums, black currants, raspberries, gooseberries, spicy peppers, violets and nutmeg. Finishes long with bright, slightly piquant fruit. A very versatile red that can pair lovely with cedar plank salmon, or earthy dishes with olives and feta. Try it with stuffed Portobello mushrooms, grilled red peppers, or turkey with cranberry sauce. The possibilities are endless with this delicious wine!"
My take – intense and concentrated. Loved the violets on the nose. No wonder people rave about BC Cabernet Franc.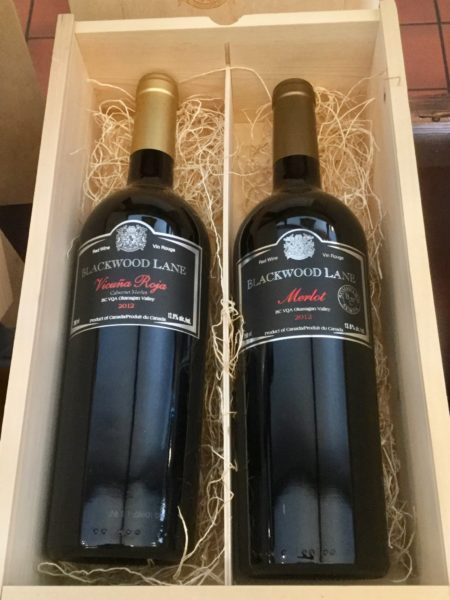 2012 Reserve Merlot
"Only 14 cases of this Reserve Merlot were bottled! Soft, smooth, well balanced and full-bodied, with luscious rich black fruit. A velvety long finish. Intense aromas and flavours of vanilla and black currants. Blackberry, plum, and liquorice. This is a crazy merlot! Limited number of bottles remaining!"
My take – Velvety smooth and silky on the palate.
2012 The Rebel Syrah
"Our 2012 vintage of Syrah was harvested from a vineyard close to Okanagan Lake. Soft aromas of black pepper, green pepper, licorice, flowers, chocolate, herbs and black olives. Bursting with red berry fruit, bright acidity, and papaya and red currants. Nutty vanilla notes, gentle tannins and a long gripping peppered raspberry, meaty finish. Can be enjoyed with beef and veggie kabobs, barbecued chicken, steak tartar, minted lamb, bruschetta, herb and tomato pasta dishes."
2010 Cabernet Sauvignon
"A rich and luscious wine with soft, fine tannins and aromas of blackberry jam, black currant jam, black plums, slate, fresh tarragon, and bell peppers. Very smooth and jammy; full-bodied and juicy, with silky flavours of sweet black plums and black cherries. Very luxurious mouthfeel and finish. "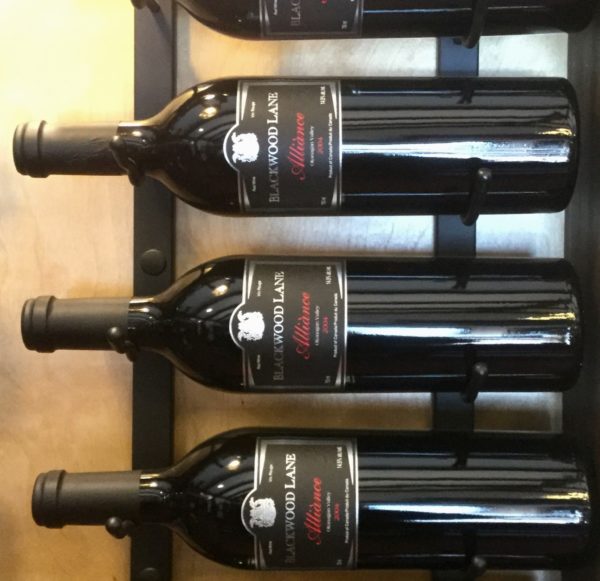 2009 Alliance
"A blend of Cabernet Sauvignon, Merlot and Cabernet Franc, this is Blackwood Lane's Signature wine. Full-bodied, complex and very juicy, with a cornucopia of flavours and aromas that make it a delightful sipping or food pairing wine. Aromas of spiced cherries, raspberry, cassis, violets, sweet oak, wet stone and cocoa. Bright, rich flavours of cherry, raspberry, graphite and cassis, with a strong mid-palate and an extra-long finish of cherries with a hint of cocoa."
My take – Wow! Silky smooth and elegant with tons of flavour.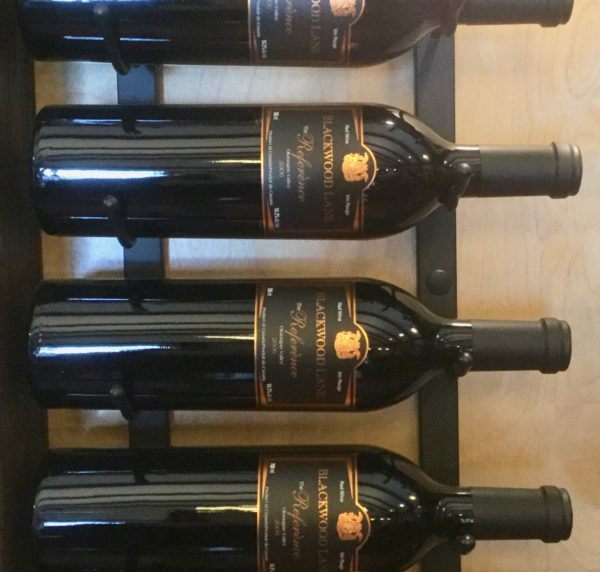 2009 The Reference
"A blend of all five Bordeaux varieties – Cabernet Sauvignon, Merlot, Cabernet Franc, Malbec and Petit Verdot. Deep ruby in colour with a high-toned, savoury-spicy nose of black plums with vanilla oak and note of graphite. Medium to full-bodied, rich and full on the palate, with plum, dark chocolate and oak spice flavours; Creamy mouth-feel and ripe tannins."
"A New World take on Pomerol." – Tony Aspler
My take – my absolute favourite Blackwood Lane wine. Somewhat similar to the Alliance but bigger and with more structure. Very happy to have a couple bottles of this remarkable wine in my cellar.
2013 Portànce
"Portànce is a name we came up with for our new Port style wine, in line with our trade names "Alliànce" and "Referènce". This is a Vintage Port-style wine, fortified with brandy that was distilled from Blackwood Lane wine. Our fortified 2013 Merlot was aged in a fine French oak barrel for two and a half years. It has a soft and sensuous mouthfeel that delivers a rich impact of mixed berry flavours from the mid-palate to the finish. Sophisticated flavours of sweet black cherries, raspberries, plums, vanilla, and tamarind. You can cellar Portànce for years or enjoy it now after dinner with a savoury blue cheese, aged cheddar, cheesecake or dark chocolate."
My take – the perfect way to cap an evening or a wonderful tasting experience at Blackwood Lane.
You can visit Blackwood Lane's tasting room daily from at 25180 8th Avenue in Langley.
Note – Some of these photos were from a special 'invitation only' event held during the wine festival.
(All photos – Sam Hauck)