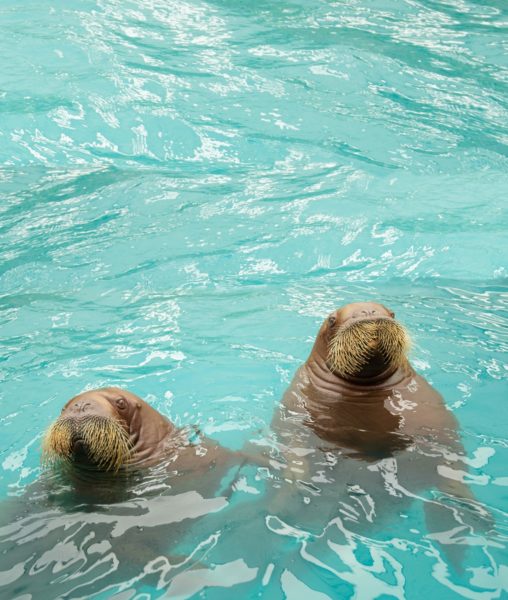 NEW! Walruses
Meet charismatic and curious young walruses – Lakina and Balzak –  for the first time ever! Visitors can get up close with these iconic Arctic mammals at the new Research Outpost while learning about their cool-climate adaptations like their thick blubber, long tusks, impressive whiskers, and surprising vocals. (As early as this weekend, visitors can see the walruses and their trainers settling into their new space at Research Outpost; the exhibit officially opens on June 25.)
(Tip: Prepare yourself. Walrus charm is catching and may rival your current pick for 'favourite animal ever'.)
NEW! Research Outpost
In another first, Vancouver Aquarium is opening up the doors to its research centre and giving guests a look into the ground-breaking research taking place behind the scenes. See the walrus, Steller sea lion, and Northern fur seal research assistants work alongside trainers and scientists to help their ocean counterparts in this intimate presentation setting.
NEW! Vortex by Douglas Coupland
Immerse yourself in Vortex – a radical art installation by internationally acclaimed author and artist Douglas Coupland – on now for a limited time only. Take an imaginative journey to the Great pacific garbage patch and come face to face with our ocean plastic pollution crisis in this provocative, emotive, and inspiring exhibition. Learn more at www.vanaqua.org/vortex.
(Tip: Truly immerse yourself by joining the global movement to #BePlasticWise. Sign the pledge and take the challenge to curb your single-use plastic consumption at www.ocean.org/pledge.)
AquaCamps
For parents whose little one just can't get enough of the Aquarium experience, AquaCamps might be the answer. Open to ocean lovers ages 4 to 12, AquaCamps are a great way to continue learning through the summer months while having fun and spending time outdoors. Hands-on experiences, crafts, and animal observations are just some of the activities campers will cover. For older, environmentally-minded children, the Youth Environmental Leaders Camp enables them to interact with scientists and experts and dive deeper into the world ocean health. Registration for all programs is now open at https://www.vanaqua.org/learn/camps/aquacamps.
After Hours
Celebrate the Pride Season at the next adults-only After Hours on Thursday, August 9. During this evening event, guests will share drinks and laughs over outrageous aquatic subject matter. Look forward to drag performances, animal training sessions, and more. Costumes are encouraged! After Hours tickets sell out; get yours at www.vanaqua.org/after-hours.
(Tip: After Hours is the perfect opportunity to check out Douglas Coupland's Vortex in a kid-free environment.)
Starting Saturday, June 23, Vancouver Aquarium is extending its hours and opening from 9:30 a.m. to 6 p.m. (and to 8 p.m. on Mondays) giving guests more time to explore. Tickets are available at www.vanaqua.org and support Ocean Wise's ongoing ocean research, education, and conservation initiatives.