City of Vancouver supports Vancouver Mural Festival, running August 6-11, for third year in a row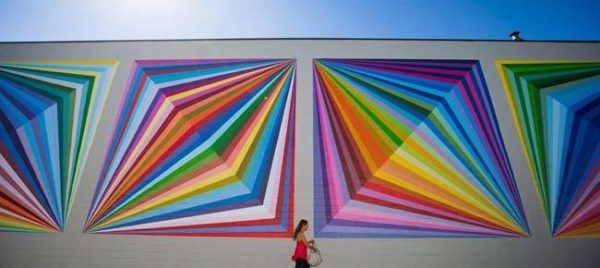 Continuing its commitment to enlivening the streetscape and maintaining and enhancing Vancouver's arts and culture scene, the City of Vancouver is supporting next week's Vancouver Mural Festival, which celebrates the work of 40 artists from both the Lower Mainland and around the world.
Throughout the summer these artists have come together to create 37 new murals, that have an average life span of two to three years, across Mount Pleasant, Strathcona and more.
"The City of Vancouver is proud to support Vancouver Mural Festival as an opportunity to showcase both homegrown and international talent," said Mayor Gregor Robertson. "Vancouver is home to a vibrant arts scene and the Mural Festival is a great chance for people to get out there and enjoy public art in our community."
The Mural Festival includes works by many local and international artists. Local artists include Luke Ramsey, Zak George and Ciara Havishya. Running until August 11, the festival concludes with it's Mount Pleasant Street Party featuring music, art and more, as well as a concert in Jonathan Rogers Park.
Funding of Vancouver Mural Fest is part of the City's commitment to supporting public art. This year, the City allotted just over $150,000 to the Mural Festival through engineering and public art boost contributions.
From 2016 to 2018, the City committed $1.5 million in funding for grants and partnerships with non-profit organizations as part of a public art boost. These funds supported public art projects at a range of scales across the City, from a new Musqueam crosswalk design in Marpole, to a partnership with the Contemporary Art Gallery to fly a banner by Feminist Land Art Retreat across English Bay. The public art boost funding is in addition to the City's existing commitments to commission original works of public art across Vancouver through its Civic Program, Signature Fund projects, and private development requirements.
The City supported 129 projects last year, partnering with 46 organizations and over 110 artists through commissions from Engineering Services' Mural Program and Cultural Services' public art program. The City is on pace for similar numbers in 2018 and includes an artist call for Indigenous artists, Chinatown Artist Call, and art wraps for local commercial streets.
For more information about creating murals, visit vancouver.ca/parks-recreation-culture/make-an-outdoor-mural.aspx
For more information on the City's public art program vancouver.ca/publicart