Hitchcock-style Chamber Opera offers a daring and imaginative journey into the
subconscious, performed to a dramatic jazz score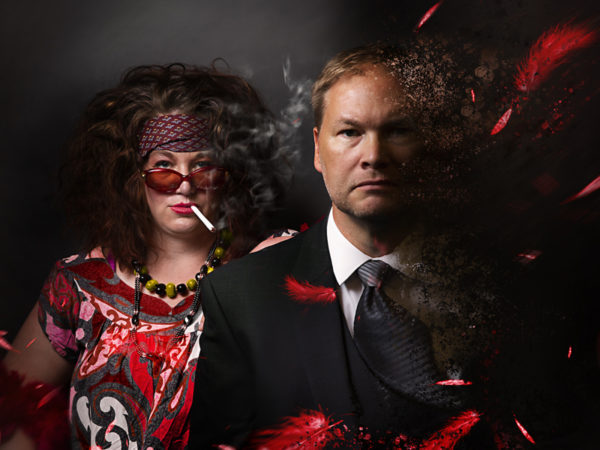 City Opera Vancouver presents the astonishing and macabre operatic thriller, Nigredo Hotel, on September 20 – 22, 2018 at 8pm at The Cultch Historic Theatre. This one-act chamber opera directed by Alan Corbishley, with music by Nic Gotham and libretto by distinguished Canadian author and playwright Ann-Marie MacDonald, tells the tale of an encounter between a beautiful but crazed hotelier and a brain surgeon who seeks refuge after a traumatic car accident. Internationally renowned opera stars Tyler Duncan and Sarah Vardy will perform a brilliant Jungian-inspired combat between two of the most unusual characters in 20th century opera, backed by a four-player jazz combo.
"Part psychological thriller and mystery, both sarcastic and sweet, witty and strange, Nigredo Hotel is nothing like City Opera Vancouver has ever presented before. This deeply moving, emotionally and intellectually charged work is full of suspense, broad comedy, and great surprise," says Charles Barber, Artistic Director, City Opera Vancouver. "Vancouver audiences will be mesmerized by MacDonald's highly evocative libretto and Gotham's brilliant score that beautifully conveys the complex relationship between two strangers as they embark on a dark spiritual journey. This celebrated opera is an intellectual tour de force and one of the most remarkable works in the Canadian opera canon."
Commissioned by Tapestry Opera, Gotham's Dora Award-winning Nigredo Hotel originally featured only the single character of Raymond (Duncan). After approaching MacDonald in 1988 to write the libretto — the first and only opera libretto she has created to date — Gotham was convinced to introduce the powerful female proprietress, Sophie (Vardy). The story follows Raymond who escapes to a decrepit hotel after his car crash. He fears he may have harmed a child. Stressed and confused, Raymond is further disoriented by Sophie's strange and combative nature and the fact that she seems to know a great deal about him.
Raymond's descent into crisis is depicted through MacDonald's brilliant libretto full of riddles and half-remembered stories. She draws on Carl Jung's "nigredo," a theory that souls are led to suffer through a dark night to reach enlightenment, and revelations of the dream state. The two characters hold a complicated psychological relationship and share three remarkable stories: his, hers, and  — ultimately — theirs. Gotham's haunting score bridges the continent between jazz and classical music, combining traditional operatic components of overture, recitatives, and arias with improvisational jazz rhythms and harmonies. Gotham's score calls for an extraordinary twenty-one percussion instruments. The unsettling nature of Raymond's madness is punctuated with an extensive use of bass instruments and percussion, which evoke the brooding quality of film noir. Although categorized as an opera, Nigredo Hotel is often described as a dramatic jazz piece that will appeal to lovers of both genres alike. This balance crescendos to lyrical heights in Raymond and Sophie's beautiful duet For Love is strong as Death.
Internationally renowned Canadian baritone Duncan returns to the Vancouver stage to make his City Opera debut as Raymond after his breathtaking performance at EMV's 2017 Vancouver Bach Festival. Praised for his "powerful voice and dramatic conviction" (New York Times), Duncan is a multi-award winning vocalist widely known for his performances of art song, oratorio and operatic roles across North America, Europe, and South Africa.
Joining Duncan on stage is gifted Canadian dramatic soprano, Vardy, in the role of Sophie. In 2014, Vardy's stunning City Opera debut as Eva Johnson in Margaret Atwood and Tobin Stokes' Pauline was met with critical acclaim. Hailed for her "emotional yet unaffected quality of performance with a true clear voice" (Saskatoon Star Phoenix), Vardy has delighted audiences in Canada, Europe, Mexico, and China.
Directed by the esteemed Corbishley, the stellar vocalists will perform without a conductor – accompanied on stage by a four-player combo featuring François Houle, clarinet; Laurence Mollerup, bass; Martin Fisk, percussion; and Roger Parton, keyboard. The lighting and set design by John Webber will include a large model of a human mind as the focal point for Raymond's decline into madness, and Barbara Clayden will design the costumes.
A multi-award winning Canadian novelist, playwright, actor, and broadcast journalist, MacDonald reached international acclaim for her first novel Fall On Your Knees. The epic story won the Canadian Booksellers Association Libris Award for Fiction Book of the Year, the Commonwealth Writer's Prize, and was selected for Oprah Winfrey's Book Club. Additionally, MacDonald won the Governor General's Award for her first solo-authored play Goodnight Desdemona, a work for which Gotham composed the incidental music and sound effects.
Gotham (1959 – 2013) was a gifted saxophonist and composer who studied music at the University of Western Ontario and York University. He performed with Fred Stone's improvising ensemble as well as with his own jazz groups in the mid-1980s, and was an active figure in the Canadian jazz scene until the 1990s. Throughout his illustrious career, Gotham composed two chamber operas: Nigedo Hoteland Oh Pilot!, with libretto by his Latvian-Canadian playwright wife Banuta Rubess, which premiered in 2007 with the Latvian National Opera. Gotham passed away in 2015, leaving an eclectic legacy in both Canada and Latvia.
The world premiere of Nigredo Hotel was performed by Tapestry Opera on May 13, 1992 at the Tarragon Theatre in Toronto. The production toured Canada, was presented at the Glasgow Mayfest, remounted in Toronto in 1995 and 2005, and premiered in Australia in 2006.
About City Opera Vancouver (cityoperavancouver.com)
City Opera Vancouver is a professional company that commissions, creates, re-discovers and presents chamber opera. City Opera Vancouver was organized in 2006 in tandem with efforts to restore the century-old, 650-seat Pantages Theatre in the Downtown Eastside. The company specializes in small forms, intimate eloquence, Canadian themes and artists, and through music tells memorably bold, vivid stories that are relevant to our time and people. City Opera regularly commissions and premieres new Canadian chamber opera, including Fallujah (2012), The Lost Operas of Mozart (2016), and Missing (2017). In 2014, City Opera gave the world premiere of Margaret Atwood's first opera, Pauline, with music by Tobin Stokes. The company is a registered non-profit society with federal tax status, governed by an elected Board of Directors. City Opera Vancouver is a member of the Community Arts Council of Vancouver, and a Community Partner of the Canadian Music Centre.
LISTING INFORMATION
City Opera Vancouver presents Nigredo Hotel
Dates:
September 20 – 22, 2018
Ticket Prices:
From $22.25
Address:
The Cultch Historic Theatre
1895 Venables Street
Vancouver, BC, V5L 2H6
Tickets & Info:
TheCultch.com
Website:
cityoperavancouver.com/nigredo-hotel