Harry McWatters is a 49 year veteran of the thriving British Columbia wine industry who needs no introduction. We are going to let his wine speak for itself. This is a wine you will be proud to give this holiday season. Be sure to put the McWatter's Meritage high on your list of gift suggestions. 
Tradition, Legacy, Benchmark
Harry McWatters launched his namesake wine brand in 2011 with a red Meritage blend and Chardonnay. These wines are the two pillars of the McWatters Collection, crafted from premium grapes grown in the south Okanagan Valley. More than a name, this small portfolio is a testament to McWatters' dedication and perseverence of spirit in helping create a world-class wine growing region in British Columbia.
Our recommendation for your special gift recipients is the McWatters Collection 2016 Meritage.
McWatters Collection 2016 Meritage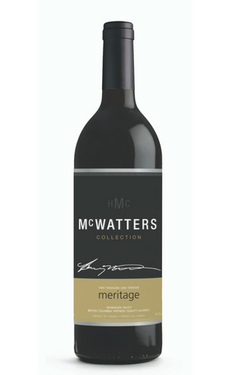 Bold and elegant, with velvety tannins, well-balanced fruit and oak characteristics with blackberry and cassis overtones. 
Visiting BC Wine Country
Before you go: Do your homework and a bit of research about the wineries you wish to visit. Check the winery website to find out their months, days and hours that their Tasting Room is open. Know if you need to book your tasting in advance of your visit. Many wineries are now so busy there may be times that they are unable to accommodate you. It will be a much better visit if you have a confirmed appointment. Be on time. Expect to pay for your tasting, some, but not all wineries refund all or a portion of the fee if you purchase wine. Plan ahead for a designated driver or use the services of a wine tour company. Limit the number of wineries you visit in a day. A more leisurely timeline will increase your enjoyment. For the best overall experience, I like to limit my daily visits to three, maximum two wineries if a winery lunch is on the agenda.
Tasting notes and bottle shot courtesy of Encore Vineyards Ltd. I received a complimentary bottle of wine to facilitate this article.