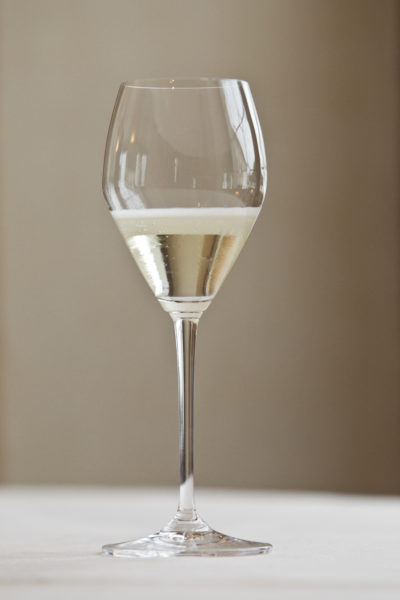 Prosecco is a popular sparkling wine and you are sure to see a bottle or two at any party or social gathering.  These Italian sparklers are light, fresh and zesty with aromas and flavours of white flowers, tree fruits (apples, pears) and stone fruit (apricots, peaches).  It's best served icy cold.  It is a pleasant bit of fizz on its own, though drier ones are well suited to a range of foods including fresh fruit or charcuterie.
Prosecco has lower alcohol levels than most wines, ranging from 10.5 – 11.5 ABV.  Sweetness vary from 00 to 02, making them appealing to anyone.  And finally, they are very affordable – from under $15 to $30, with the majority under $20.  There are also many organic options.   What's not to like?
However, I would suggest that it is well worth looking for those labeled 'Superiore', in particular, Conegliano Valdobbiadene Prosecco Superiore DOCG.  Go for the best.  Why?  Let me tell you a little more about Prosecco.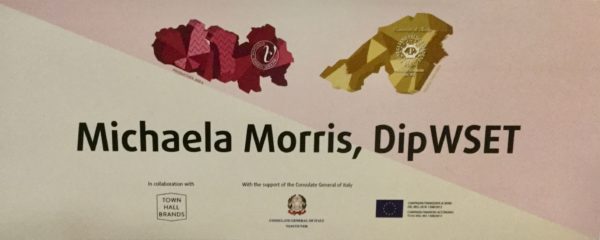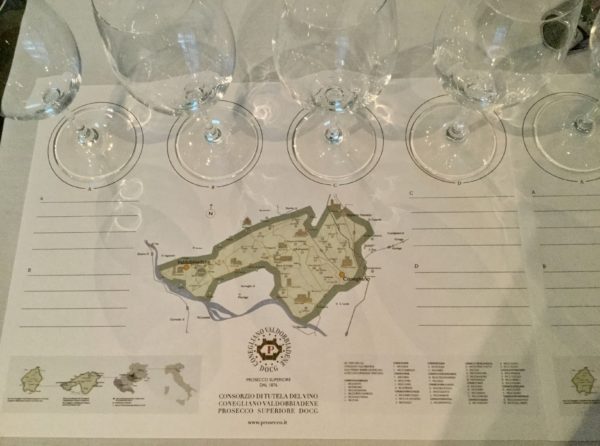 A while ago I attended a Prosecco Master class led by Vancouver wine pro, Michaela Morris, who was just back from a trip to Veneto, the land of Prosecco, in northeastern Italy.  It is a beautiful region steep rolling hills with diverse soils. tucked between the mountains near Lake Garda and Venice on the Adriatic Sea.   The land creates many 'micro climates' each with their own altitude, aspect and soil structure.  It is steeped in history and culture.  The local winemaking school dates back to 1876.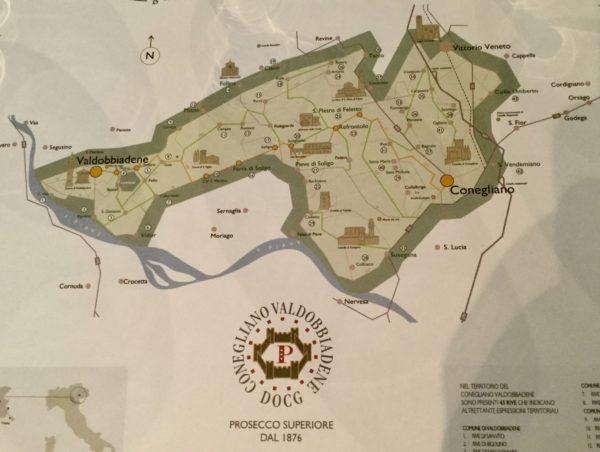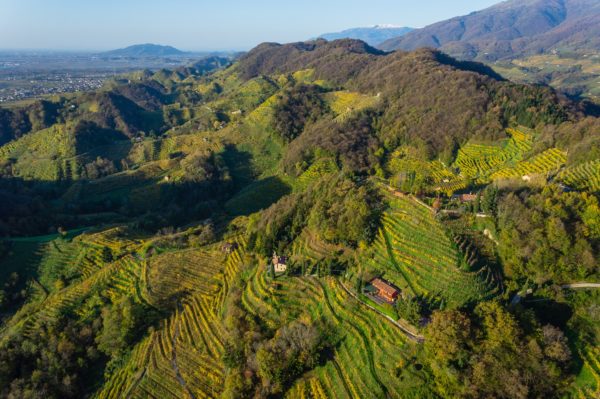 Glera is the main grape used and must make up 85% of the wine with small amounts of other native grapes such as Bianchetta, Derera and Glera Lunga, Pinot Grigio, Pinot Blanco and Chardonnay also allowed.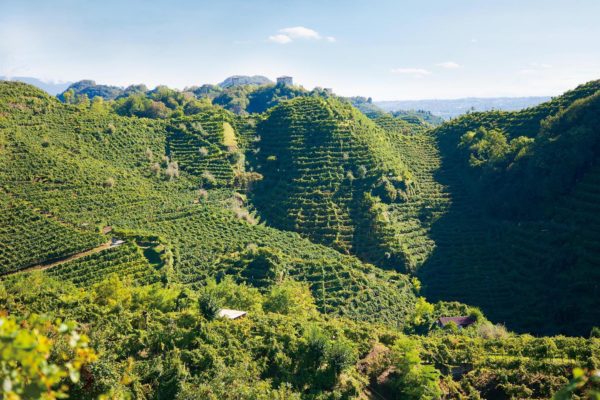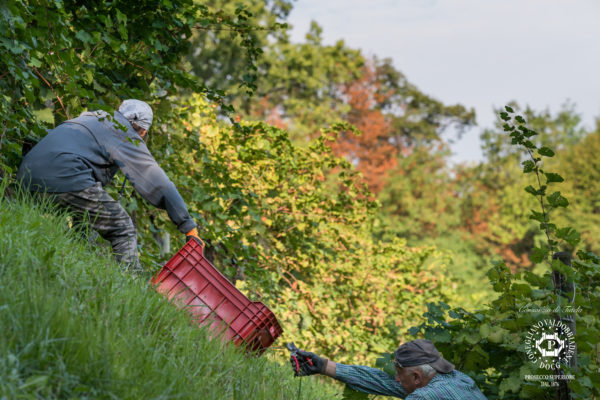 Prosecco Superiore is much more labour intensive.  The vineyards are smaller in size and yields are restricted.  The slopes average 45°, though some can be as steep as 70° so you'll find little mechanization here.  It is hand farmed and hand harvested.  This makes harvesting the grapes, very tricky and pickers need to use safety equipment to prevent them from tumbling down the mountainside. The vines here can be centuries old.   Small bins are used to help protect the fruit.  Here it takes between 600 to 800 hours per hectare to work the vineyards.  On the plains below, it is much easier and only takes 150 hours per hectare.  On average, the region produces 90 million bottles per year, though with the better conditions in 2018 production will likely reach 100 million bottles.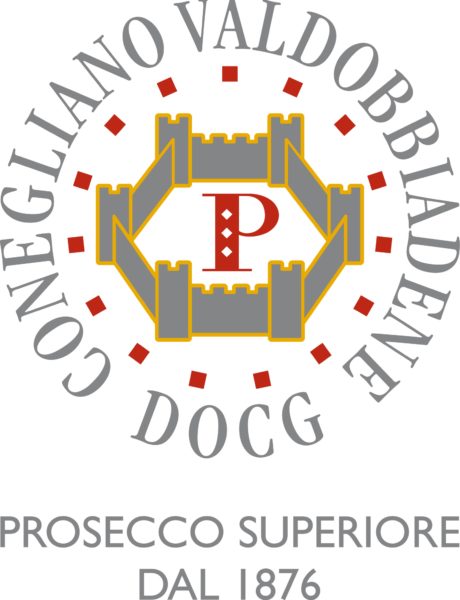 The Consortium for the Protection of Prosecco Superiore or Consorzio Prosecco di Conegliano-Valdobbiadene dates back to 1962 and their special designation, DOC (Denominazione di Origine Controllata – a designated wine region) followed in 1969.  In 2009 that was elevated to DOCG (Denominazione di Origine Controllata e Garantita – DOC with additional requirements to guarantee quality levels).  Prosecco is now more than just an agricultural commodity, it is now a wine of place.  In 2008 the region applied for UNESCO protected status – for the unique culture and history.
There are two key cities, Conegliano, the culture capital of the region and the smaller town Valdobaddene.  Of the 20 000 hectares, 30% is covered in forest and 40% are planted in vineyards.   The hills run east to west and vineyards face south.  The region gets a lot of rain (1200 mm) and even snow in the winter, but the soil is well drained.  There are five types of soil consisting mostly of compact clay and clay mixed with limestone.  Some sites contain iron oxide, some sandstone and others marl, all of which contribute to the wines character.  The tank or Charmat method is used almost exclusively for making these distinctive sparkling wines and stainless-steel tanks are typically used.  In Italy it is referred to as the Marinotti method as Federico Marinotti patented the method at the School of Oenology in Conegliano at the end of the 1800's.  A few years later Eugene Charmat tweaked it and developed his own patent and gets all the credit.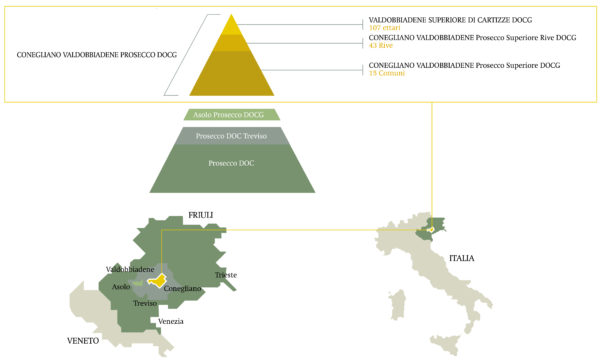 These are the different levels of quality for Prosecco:
Prosecco DOC
From the designated region in north eastern Italy
Entry level
large area – 14 000 hectares
production – 500 million bottles
picked at 18 tonnes per hectare
Conegliano Valdobbiadene Prosecco Superiore DOCG
Higher quality specifications
There is a natural border (road) where the quality level increases.  This is where the fog and the frost stop and the hills begin.
Production – 90 million bottles
yields under 13.5 tonnes per hectare
Conegliano Valdobbiadene Prosecco Superiore Rive DOCG
Better sub regions
43 Rive (communes with steeper slopes)
13 tonnes per hectare
hand farmed and harvested
vintage shown on the bottle
Valdobbiadene Prosecco Superiore di Cartizze DOCG
One exceptional commune – Cartizze
top quality – only 107 hectares,
100 owners
expensive land (4 – 7X more than on the plains)
yields restricted to 12 tonnes per acre
These levels may seem high, but if Glera was cropped lower, it would produce too strong a flavour and be unsuitable for sparkling wine. In recent years, the Consorzio has worked hard to educate growers in the region to move towards sustainable practices to protect the health and quality of the grapes and the reputation of the wines.
Here is how the Corizone describes the different styles:
"BRUT – The Brut version is the most contemporary one, and the one most in line with international tastes. It offers aromas that are rich in citrus-like hints and vegetal notes, along with an attractive crusty bread note, and has a lively vibrancy on both the nose and palate.  The fine perlage ensures that the flavour is long, and leaves your mouth feeling fresh. It is ideally served at 6-8°C, with even quite elaborate fish- and vegetable-based hors d'oeuvres, seafood pasta or rice dishes, oven- baked fish or, as is common in the production zone, throughout a meal.  The residual sugar is between 0 and 12 g/l.
EXTRA DRY – The Extra Dry version is the most traditional one, which combines the aromatic qualities of the variety with a tanginess that is enhanced by the bubbles. Its colour is a bright straw yellow, enlivened by the perlage.  Fresh and elegant, it has rich scents of fruit (apples and pears), with a hint of citrus fruit that shades into floral tones.  The wine is mellow yet dry, thanks to its crisp acidity. Excellent as an aperitif, it is ideal – served at 6-8°C – with pulse and seafood soups, pasta with delicately-flavoured meat sauces, fresh cheeses and white meats, especially poultry. The residual sugar is between 12 and 17 g/l.
DRY – Dry is the least common style, and highlights the wine's floral fruitiness.  It has a pale straw yellow colour; a delicate, fruity fragrance, with hints of citrus fruits, white peaches and green apples; and a tangy, fresh, mellow taste on the palate, thanks to its elegant medium-sweet note.  To moderate its sweetness, serve it very cool, at around 6°C.This is a style that is suitable for some quite unusual pairings, from dry pastries to the spicy foods of fusion cuisine.  The residual sugar varies between 17 and 32 g/l."
More than half the Prosecco produced is consumed in Italy, with the remaining 42% exported primarily to:
Germany
United Kingdom
Switzerland
United States
Austria
Benelux – Belgium, the Netherlands, and Luxembourg
Canada
Here are the wines we tasted and the people who spoke about them: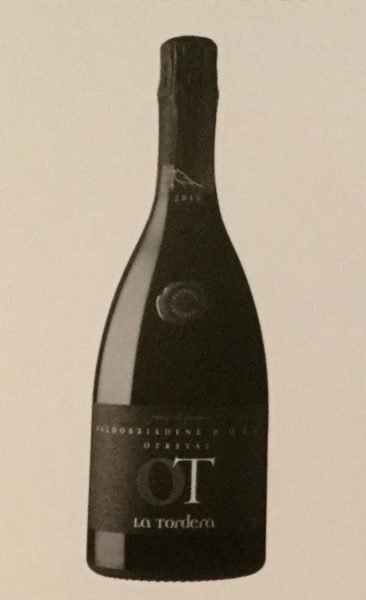 La Tordera
Brut Zero Otreval Rive di Guia 2017.  The Rive is close to Cartizze, highest vineyard in the region.  They have a 100-year history of growing grapes.  In 2001 they started bottling their own wine.  Only 1500 bottles of this particular wine were made which is available in BC.  Dry, fresh and fruity with some floral notes, clean and well balanced.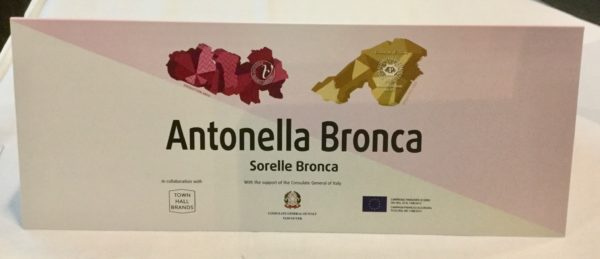 Sorella Bronca Antonella Bronca
Brut Particella Antonella runs winery with sister.
This wine had a more pronounced nose and palate with pear and white flowers. A medium-plus finish.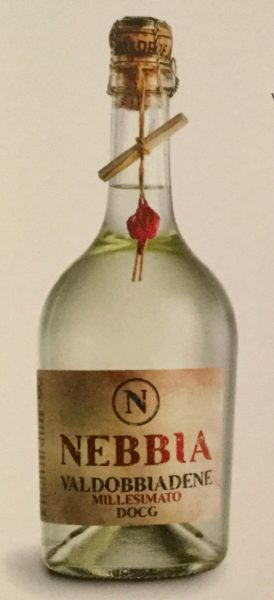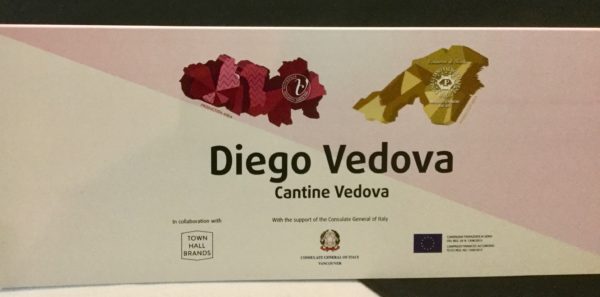 Cantine Vedova Diego Vedova
Brut Nebbia Rive di San Pietro di Barbozza 2017
They are leaning toward drier styles of Prosecco.  The Rive is close to Cartizze at 200 – 350 metres above sea level.  The winery was started by his father in 1970.  Pleasing on the palate, good structure, well integrated flavours on the palate, nose – fresh, clean and inviting.  My favourite.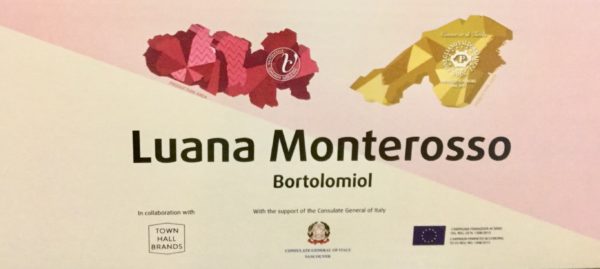 Bortolomiol Luana Monterosso (export manager)
Founded in 1949.  They make drier wines – Brut and zero dosage.  Moved away from traditional styles in the 1960's and towards a drier international style.  Citrus, floral and tree fruit, good structure.  My second favourite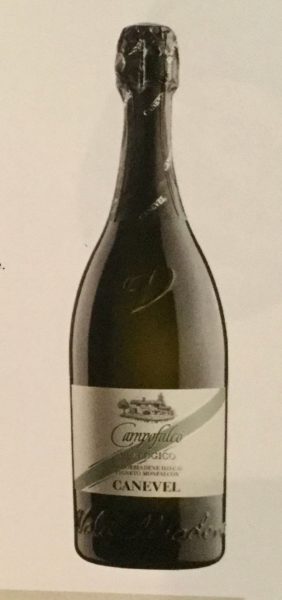 Canevel
The name means small cellar, though they have grown significantly, now producing     800 000 bottles per year.  Partly owned by Masi now.  Floral and fruity, big on the palate.  My third place.
La Contesse
Extra Dry, 15 grams per litre residual sugar.  Clearly a different style – fruitier, more pronounced, more flavour, less crisp, a blend of vineyards, a crowd pleaser party wine.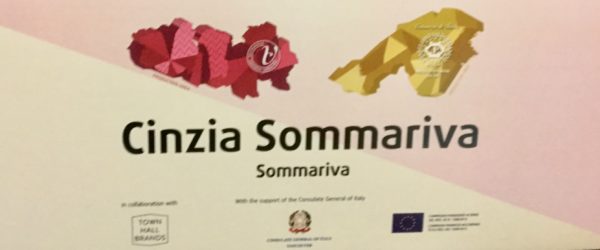 Sommariva Cinzia Sommariva (third generation owner)
Cinzia runs the winery with her parents.  Extra dry to balance the acid, earthy, smoky, better than #6, more elegant, integrated and elegant.  Iron soil.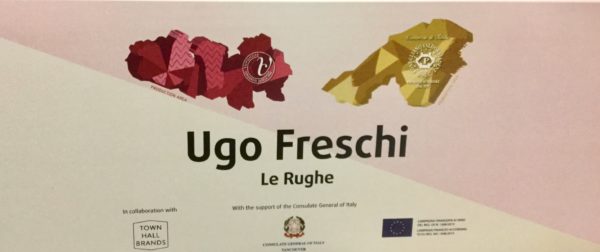 Le Rughe Ugo Freschi (export manager)
Started in 1961 and now producing 500 000 bottles per year, 16 grams per litre to balance the acid and keep freshness.  Extra Dry, delicate nose, soft on the palate.   They also make a Brut version with 8 grams per litre.
Finally, big thanks to Michaela Morris for the bonus Italian lesson at the end of the session.
Conegliano – Co – neh – yayh – no
Valdobbiadene – Val- do-bia-day-neh
(All photos, except as noted courtesy of Consorzio Prosecco di Conegliano-Valdobbiadene)