First of all, there is more to Beaujolais than Beaujolais Nouveau, that once-wide-spread young, simple fruity red wine (more of a juice/wine) that is traditionally released on the third Thursday of November in the year that it was made.  So very much more.
OK, full disclosure, I am a fan of the Gamay grape, whether from France or one of our own local BC offerings.  Gamay is a kissing cousin of pinot noir, medium-bodied, often lower in alcohol, but simply packed with flavour – think of floral, fruity and earthy with aromas and flavours of violets, peony, cherry, raspberry, blackberry pomegranate and plum.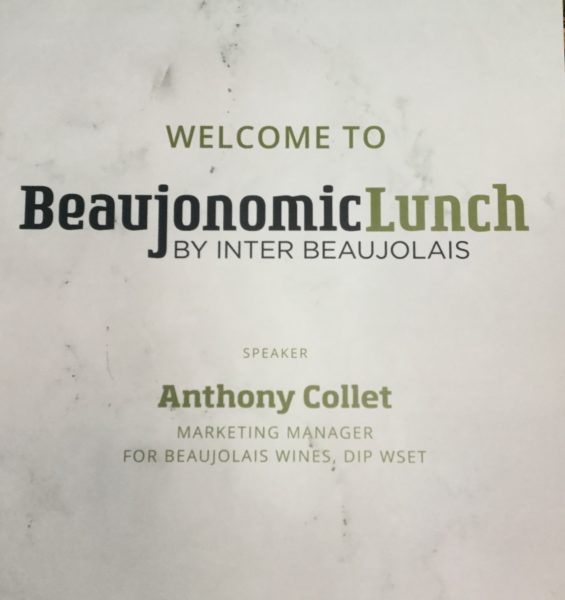 Some time ago, I had the great pleasure to meet Anthony Collet, Marketing and Communication Director for Beaujolais wines to learn more about the wonderful wines of Beaujolais, which lies south and east of Paris.  This land has a winemaking history that stretches over 2000 years.  It is a land of varied landscapes and soils which produce many styles of wine.
The region is home to twelve Controlled Appellations and ten Crus.  The wines are made from 98% Gamay for the red and rosé wines, while the remaining 2%, is made from chardonnay for their limited white wines.  Beaujolais is home to more than 150 magnificent Chateaux that date back to the middle ages.
Contrary to what some believe, wines from Beaujolais can age for decades and are one of the most versatile food wines because they tend to be lower in alcohol and tannins and higher in acidity.  They are ideal summer sippers for those who prefer reds especially when served with a slight chill.  You can even serve them with fish!  That's why they are acclaimed by prestigious wine critics such as Robert Parker, Beppi Crosariol, Tim Atkin, Jancis Robinson, Eric Asimov and many others.
These wines are clearly appreciated by the locals as 60% of their sales are domestic.     Of the remaining 40% Japan, the US, UK and Canada are the top importers.  Half of all the Gamay grown in the world comes from Beaujolais.
Gamay noir and chardonnay are both crossings of gouais blanc and pinot noir.  Traditionally, gamay bunches are fermented as whole clusters and not crushed, like most grapes.  Today, however, it is not uncommon to find wineries using both techniques to add complexity to their wines.
Despite being inland, the region is influenced by three climatic influences – oceanic, Mediterranean and semi-continental, which translates into cold winters, mild and rainy weather in spring with warm and dry weather in summer and fall.
The hills are between 20 and 50 metres in height and are steeper than other regions in France.  The rolling hills demand hand picking at harvest time.  The region is often referred to as 'The Little Tuscany'.  This means that there are hundreds of unique terroirs, with varying climates which produce a great range of styles.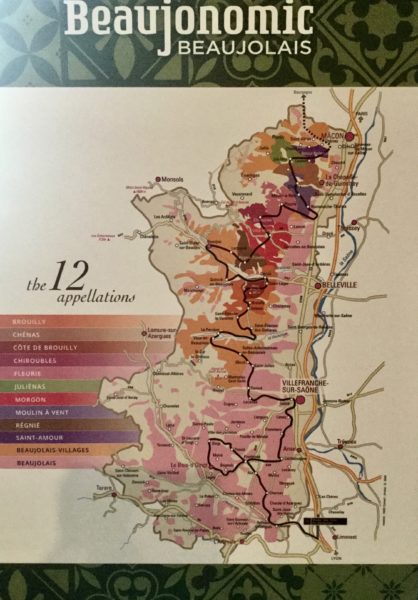 Of all wines, 34% is marketed simply as 'Beaujolais', 28% as 'Beaujolais Villages' and the other 38% some from one of the ten Crus
Note:
AOC = AOP. Not too long ago, the French government officially announced that the long standing AOC (Appellation d'origine contrôlée) system for wine is being replace by a new quality ladder with the top step being AOP (Appellation d'Origine Protégée).
AOP Beaujolais
the appellation is made up of 72 villages
makes red, white and rosé wines
gamay and chardonnay
50% Beaujolais Nouveau
50% Beaujolais
the region is comprised of chalk, clay, limestone, sandstone, volcanic rocks, granite and alluvial soils.
These are easy-drinking and approachable wines that are lively, fruity and aromatic.  Suitable for drinking year-round.
AOP Beaujolais Villages
38 communes can use this appellation
From the steep vineyards surrounding the 10 Crus
gamay and chardonnay
25% is sold as Beaujolais Villages Nouveau
soils are poor and include granitic and sandy with sedimentary rocks.
The wines are juicy, smooth and structured with aromas of dark and red fruit.  They can be enjoyed when young and are suitable for a few years of aging.
The 10 Crus
from north to south

St-Amour
Juliénas
Chénas
Moulin-a-Vent
Fleurie
Chiroubles
Morgon
Régnié
Brouilly
Cote de Brouilly

all situated in the north of Beaujolais
each cru has its own character and appeal
only red wines
the wines are complex, with great structure and a lot of aromatic intensity. They can be drunk relatively young when fruity, but will improve with age – up to decades.
The good news is that top quality Beaujolais wines are comparatively affordable.
The flight we tasted included: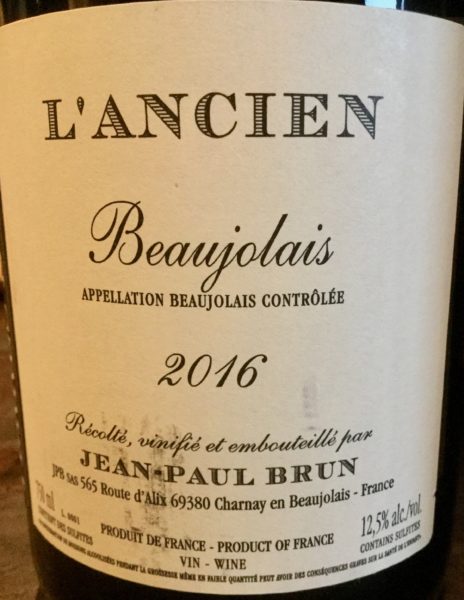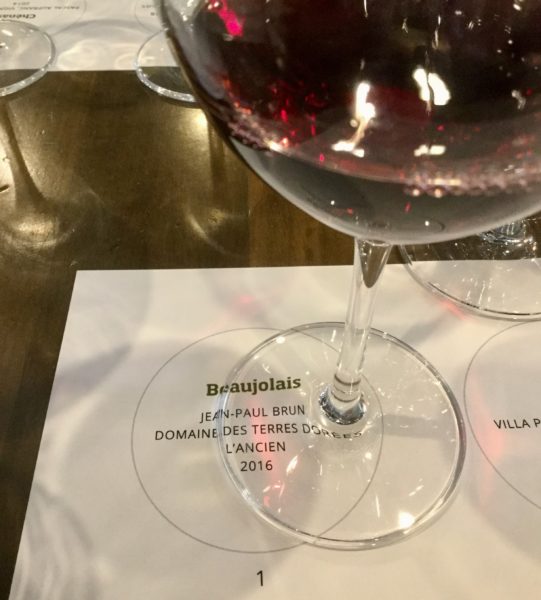 Beaujolais
Jean-Paul Brun Domaine des Terres Dorées L'Ancien 2016              $24.49
"Purple ruby in colour with aromas of red berries, licorice and white pepper.  A harmonious wine, light in alcohol with good acidity and soft tannins.  A gamay as it was formerly produced."  Decant when consumed young.
Serve with: "Pork tenderloin with cinnamon and cranberry, roast chicken, cheese and cold cuts.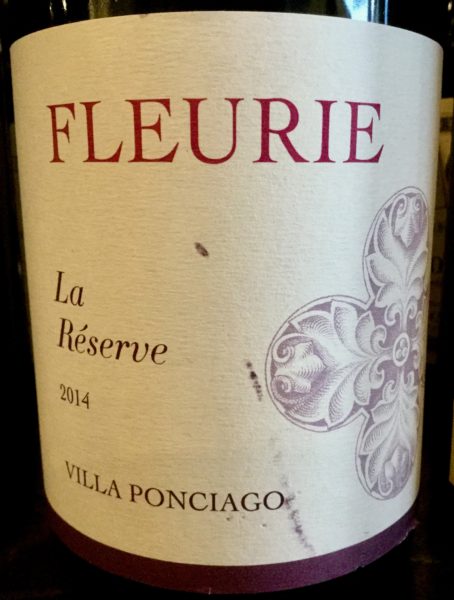 Fleurie
Villa Ponciago, La Réseve                    2014                                        $26.99
"Bright brilliant colour, reflecting garnet and violet nuances.  The bouquet is fine and elegant with notes of cherry and blueberry.  The palate is extremely expressive, with a freshness highlighting the balance between structure and aromatic richness.  Serve between 16-17° C."
Serve with: "Roasted poultry and white meats."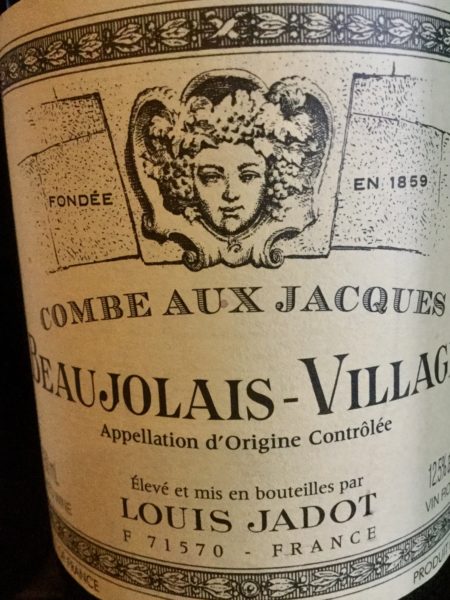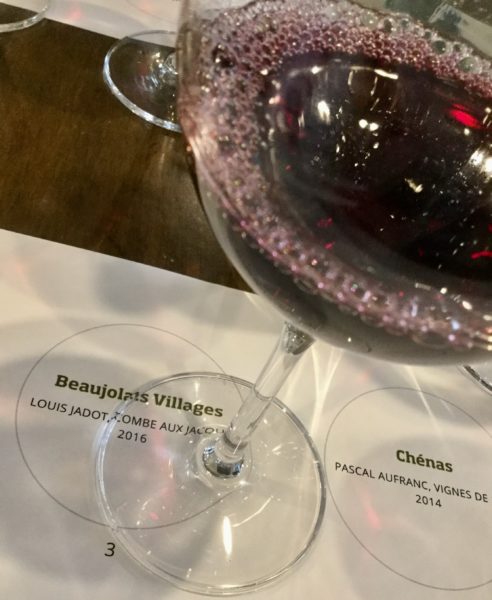 Beaujolais Villages
Louis Jadot, Combe Aux Jacques        2016                                        $22.99
"Serve slightly chilled in order to protect the delicious aromas of fruits and the delicate freshness which is the signature of this wine."
Serve with: "Delicatessen and Italian foods."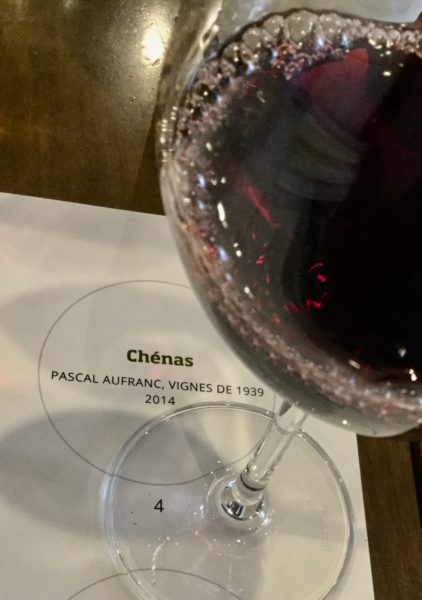 Chénas
Pascal Aufranc, Vignes de 1939          2014                                        $26.99
"Dark garnet hue with blue tints.  The nose displays black fruit and spicy notes such as cinnamon.  A very round and generous palate marked with soft tannins and a long, bright finish.  Serve at 13 °C"
Serve with: "Red meat, wild game cooked with mushroom sauce, paté, charcuterie and goat cheese."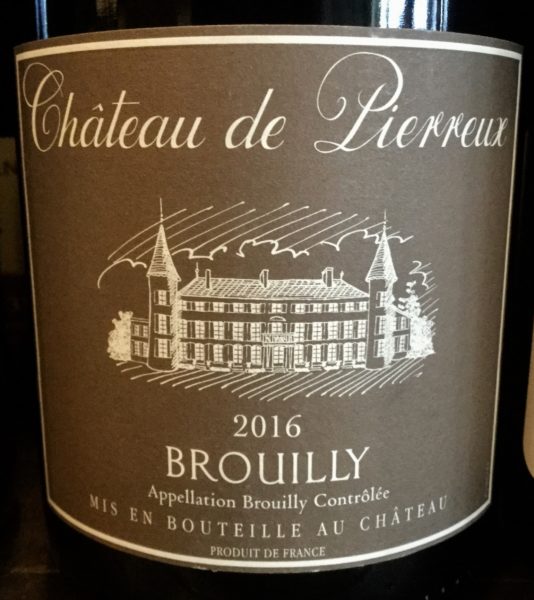 Brouilly
Chateau de Pierreux                           2016                                        $19.99
"With a brilliant purple colour, this Brouilly displays aromas of Morello cherry, blackcurrant and hints of spice.  The palate is complex, full and aromatic, and reveals notes of wild strawberries, violets and coffee.  The finish exhibits silky tanins and exceptional length."
Serve with: "Red meats and cheeses."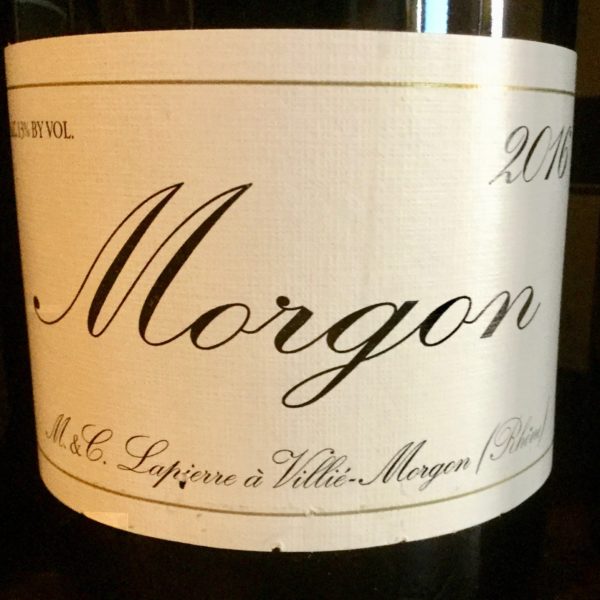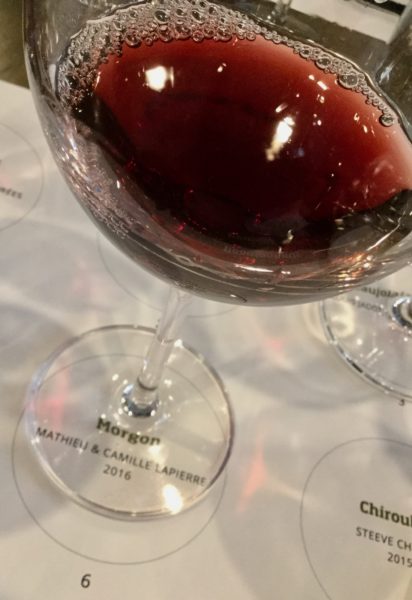 Morgon
Mathieu & Camille LaPierre               2016                                        $44.99
"Bright, vibrant aromas of cherry, licorice and violet."
Serve with: "Red meats and cheese."
My favourite.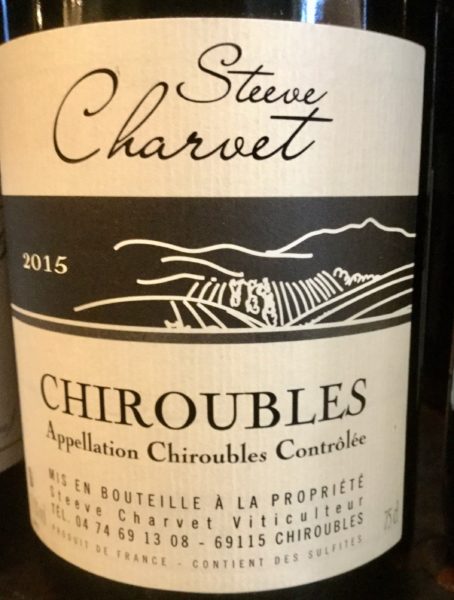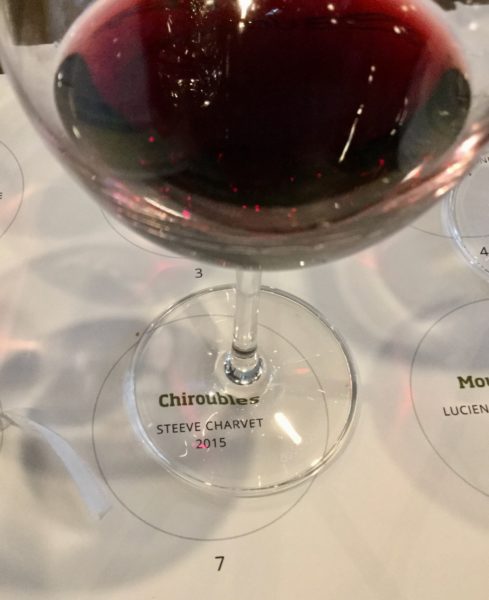 Chiroubles
Steeve Charvet                                    2015                                        $29.99
"Deep ruby red in colour, the 2015 Steeve Charvet Chiroubles reveals intense aromas of black fruit and spice with round and juicy tannins.  Very well-balanced on the palate and a long, satisfying finish.  Serve at 13°C"
Serve with: "Grilled or roasted white and red meats, poultry and game, cheese, pasta, rice, tomato sauces, steamed vegetables, and fish."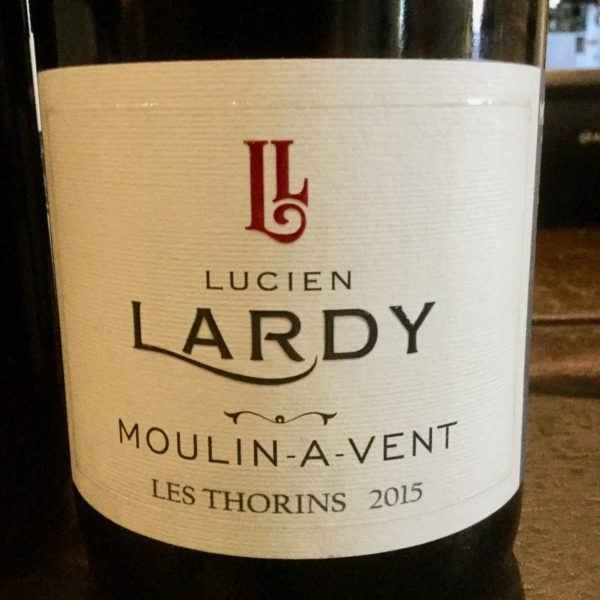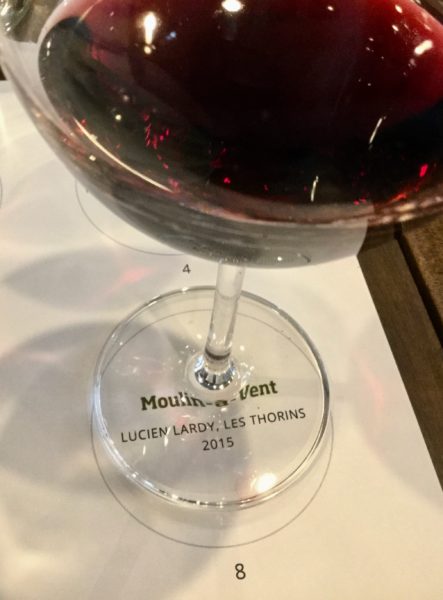 Moulin-a-Vent
Lucien Lardy, Les Thorins                    2015                                        $30.99
"Red crimson hue.  Complex and spicy notes with blueberries and violet flowers.  A rich wine, musky and mineral, characterized with a silky and round finish.  Serve at 13°C."
Serve with: "Cassoulet, duck confit, game, lamb and roasted chicken."
A very close second for me.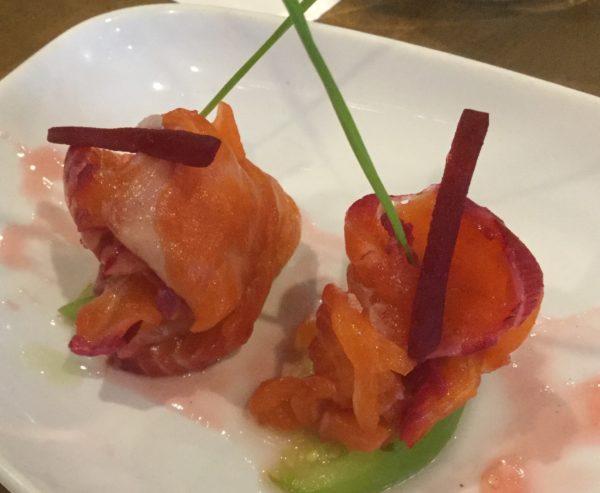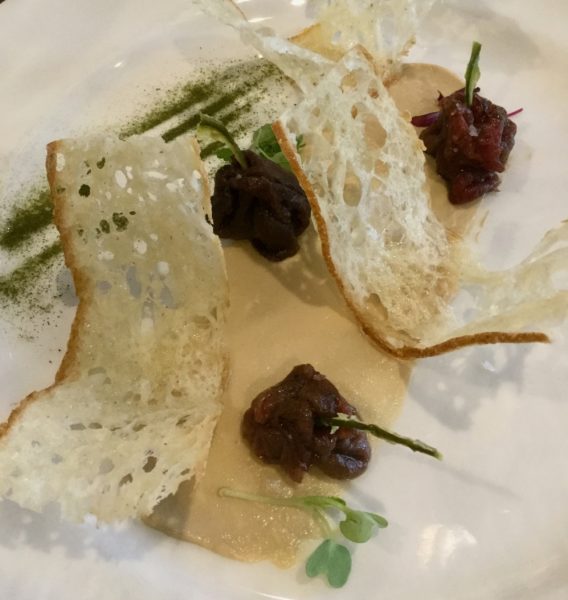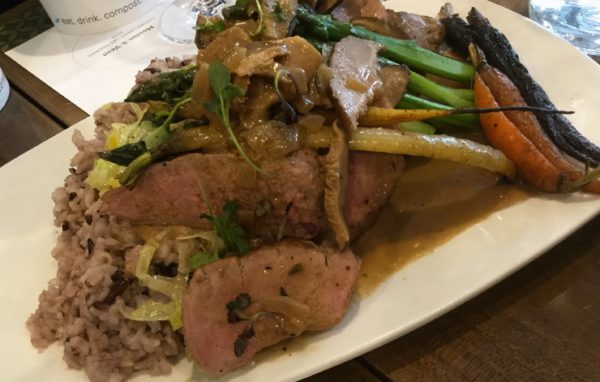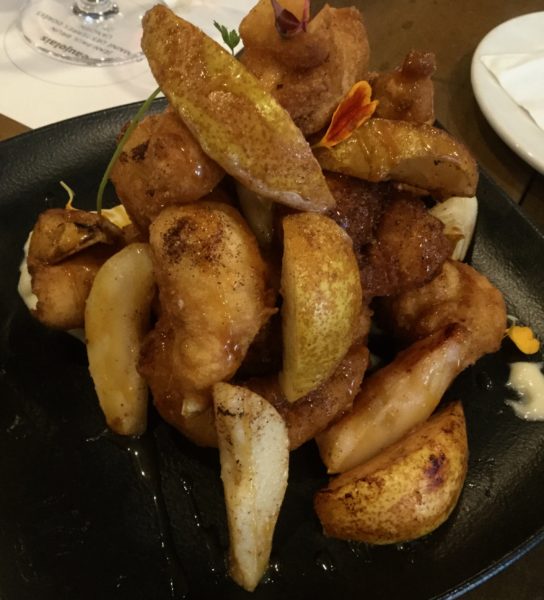 Perhaps it goes without saying that all these wines showed best when paired with food and each one seemed to be the right match for certain dishes.
Recent historic years include 1976, 2009, 2015 and 2017 with 2003, 2005 and 2011 being close behind.  Beaujolais wines are expressive, aromatic, lively, delicious and juicy.  Not sure which Cru to try?  Use this as a guide to help you decide:
Tender, supple, fruity and generous
Chiroubles
Brouilly
Régnié
Perfumed, delicate, elegant and smooth
Fleurie
Saint-Amour
Cote de Brouilly
Powerful, intense, structured, complex with great ageing potential
Juliénas
Chénas
Morgon
Moulin-a-Vent
Go Gamay Go!
Cheers!
(All photos – Sam Hauck)