Welcome to the 4th Vancouver Foodster Coffee Drink Challenge. Cafes from all over the city were invited to enter a newly created Coffee based drink into this challenge. Each place will be featuring their coffee drink creation on their menu now through to February 3, 2019.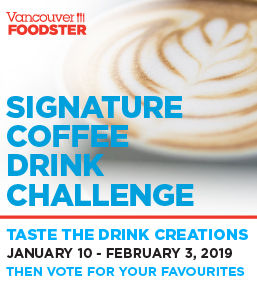 Media Judges for this challenge are: Andrew Chan, Jacqueline Chui and Regina Ip.
Here are the unique creations:
Origo Club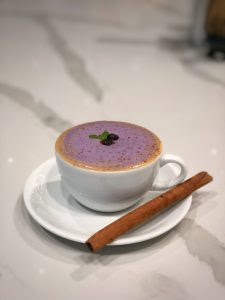 Once in a Blue Moon
Price: $6
Description: It's a cappuccino! We use phantom from moving coffee to make this drink. It's a single origin guatemala espresso. Nutty and fruity!  Its sweetness other than the blueberry pure, comes from condense milk, and to finish the drink we shave dark chocolate and cinnamon. The drink is served not super hot since the acidity of the blueberry will split the milk if it's done too high. The foam is quite thick due to this as well.
Created by: Karen Lim
Offered: It's offered only from 11 am until 5pm.
Origo Club
110-6888 River Road, Richmond
Phone: (604) 285-8889
Instagram @origoclub
Storm City Coffee
The Tempest
Price: $5.70
Description: The Tempest is inspired by Storm City's favourite pastry and the  wintery weather in Vancouver. We have created a black sesame and white  chocolate mocha and topped it with whipped cream and a miniature version  of our famous matcha cream puffs, which we make fresh in house every morning.
Created by: the team
Offered: all the time
Storm City Coffee
3403 West Broadway, Vancouver
Phone: (604) 428-9585
Web: https://stormcitycoffee.com/
Instagram: @stormcitycoffee
Kings Café

Kings Mocha Madness
Price: 12oz – $5, 16oz – $5.5
Created by: Kings Team
Description: "Like dessert in a mug!" This Chocolate & Espresso concoction is elevated with Salted Caramel and Cinnamon.
Kings Cafe
2223 Kingsway, Vancouver
Tel: 604.434.5764
Web:
Instagram: @kingscafe.winebar
Sweet Somethings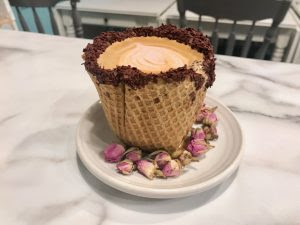 Cupids Coffee
Price: $6.95
Created by: Emma Irvine
Description: Rose milk latte served in a coffee infused eatable waffle cup that has been filled with 70% Callebaut dark chocolate.
Available: all the time
Sweet Somethings
4321 Dunbar Street, Vancouver
Tel: (604) 842-0261
Web: https://www.sweetsomethingsvancouver.com/
Instagram @sweetsomethingsvancouver
Angus T
Purple Rush
Price:
Created by:
Description: It's a single shot of medium roast espresso with taro flavoured steam milk.
Offered: All the time
Angus T
1036 Mainland Street, Vancouver
Tel: 604) 559-5989
Web:
Instagram: @angust_vancouver
The Garden Strathcona
The Garden Cookies and Cream Affogato
Price: $6.50
Created by: The team
Description: Cookies and Cream Ice Cream by Say Hello Sweets served with a double shot of Agro Roasters Equinox Espresso and topped with our signature Salted Chocolate Chip Cookie and an espresso cocoa drizzle. Made with organic ingredients and 100% Vegan.
Offered: All the time
The Garden Strathcona
868 E Hastings Street, Vancouver
Tel:(604) 255-2299
Web:https://thegardenstrathcona.com/
Instagram: @thegardenstrathcona
Here are the complete details for this challenge
http://vancouverfoodster.com/2019/01/10/vancouver-signature-coffee-drink-challenge-3/
We will announce the winning cafes and their coffee drink creations on February 4, 2019.
About Vancouver Foodster
Vancouver Foodster is is Vancouver's premier online "Essential Food & Drink Intelligence" guide. Launched in 2009 by Richard Wolak, the blog explores the local food scene through reviews, tastings, interviews, and more.  VancouverFoodster.com features new stories daily, as well as restaurant reviews, and articles. Vancouver Foodster also runs a series of food and drink challenges with restaurants, chefs and bartenders throughout the year!  As well. we present a series of tasting tours in neighbourhoods throughout the city of which include Tasting Plates, Noodle Mania, Food Talks, Brunch Crawls and others. All are a division of CMI Chat Media Inc.
Media release and images provided by Richard Wolak, Vancouver Foodster.