The Vancouver Convention Centre is proud to be the first convention centre in North America to be granted exclusive Corporate Affiliate membership to the most prestigious international organization of concierges in the world. Les Clefs d'Or Canada, a chapter of the international association, is an elite group of hotel concierges dedicated to the achievement of exceptional service and represents over 4,000 top concierges in over 45 countries, including 150 Canadian members.
"Congratulations to the Vancouver Convention Centre for becoming a Corporate Affiliate Member of Les Clefs d'Or Canada!" said Yuki Fournier, BC Regional Director, Les Clefs d'Or Canada. "Les Clefs d'Or follows the guiding motto of 'In Service through Friendship' and this has been exemplified by the Convention Centre's amazing staff and quality of service. Represented by Manager of Guest Experience Bryan Ralphs, this partnership will enhance the communication and services offered to our guests from around the world."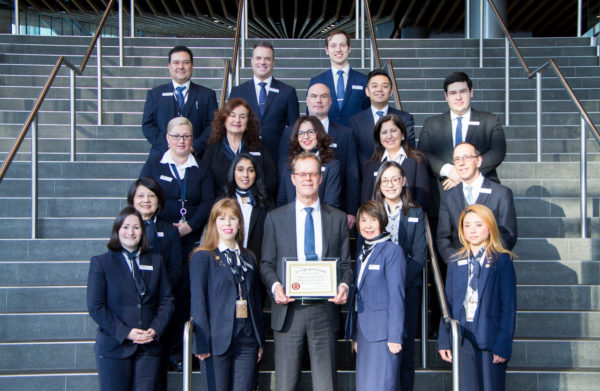 Les Clefs d'Or (The Golden Keys) is a name familiar to national or international travelers accustomed to staying in grand hotels around the world. Membership is granted exclusively to those who have consistently demonstrated an unsurpassed knowledge of their respective communities, and demand excellence of themselves when meeting the needs of their guests.
"I'm incredibly proud of this achievement, which is a testament to our talented and dedicated team who uphold the Vancouver Convention Centre's reputation as a premier global meetings destination," said Craig Lehto, General Manager, Vancouver Convention Centre. "Our goal has always been to create inspiring experiences for our guests, our team and our community and we are thrilled to now have the opportunity to share in the valuable support and resources of the top concierges in Canada and the world."
The pillar of the Convention Centre's award-winning service program is the Guest Experience Ambassador team that provides a warm greeting to all guests attending the 500-plus events hosted at the facility each year, as well as goes above and beyond to make guests feel valued and provides event-specific services when required. They are also destination ambassadors, providing direction and information about Vancouver and local attractions.
Inclusion into this illustrious association is another proud achievement to add to the Vancouver Convention Centre's growing list of accolades. In 2018, the Convention Centre received the honour of 'Best Convention Centre Service in North America' for the second consecutive time by the Watkins Research Group in its Meeting Planners report that surveys nearly 1,000 North American meeting organizers. The Convention Centre was also the recipient of the Gold award for Best Convention Centre, International in the industry 2018 Prevue Visionary Awards.
About Les Clefs d'Or Canada
Les Clefs d'Or Canada is an elite fraternity of hotel Concierges dedicated to the achievement of exceptional service by connecting, educating and inspiring our members to constantly exceed guest expectations. Our not for profit association has been a member of Les Clefs d'Or International since 1976. We began with six members in Toronto and now are proud to have one of the largest member Sections in the world, found from coast to coast in seven regions: British Columbia, Alberta, Ontario, Niagara, Montreal, Quebec City and Atlantic.
http://www.lesclefsdorcanada.org/index.html
About the Vancouver Convention Centre
Located on Vancouver's downtown waterfront with a dramatic mountain backdrop, the world's first double LEED®Platinum certified convention centre offers one of the most beautiful settings in the world. The award-winning Vancouver Convention Centre features two connected buildings with a combined total of 466,500 ft2 (43,340 m2) of flexible meeting, exhibition, ballroom and plenary space. The facility is committed to environmental sustainability as well as unparalleled service, technology offerings and culinary excellence.
www.vancouverconventioncentre.com
Media release and images provided by Sunil Suvarna, HK Strategies.