L'ABATTOIR WINS PLATINUM AT THE VANCOUVER INTERNATIONAL WINE FESTIVAL'S WINE PROGRAM EXCELLENCE AWARDS
Restaurant General Manager and Wine Director, Kristi Linneboe and her team received top honours at this year's festival
L'Abattoir has prided itself on their wine program since they opened nearly 9 years ago and have once again been recognized at a Platinum level at the Vancouver International Wine Festival's Wine Program Excellence Awards.
Kristi Linneboe, Restaurant General Manager and Wine Director, is the lady at the helm of the wine program at L'Abattoir.  Kristi, who has been with L'Abattoir since 2016 and took on this role last summer, has been working tirelessly with her team on the wine program to provide guests with, not only some of the best wines to select from but also with a knowledgeable team to help all levels of diners understand and appreciate what is being offered to them.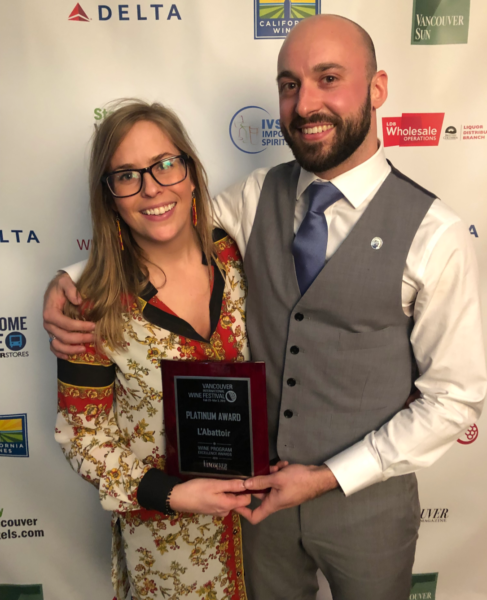 "We love our guests to try new wines or enjoy something off the beaten path that they wouldn't have otherwise tried." say Kristi of the program that she continues to build and evolve with every new wine that is added.
Long before the restaurant opens every evening, you will regularly find the team at L'Abattoir being lead in wine seminars and knowledge sharing workshops.  This culture of learning is the keystone on which L'Abattoir is built, not only in their wine program but across the kitchen and bar teams as well.
Diners can reap the benefits of this knowledge and the award-winning wine list seven days a week for dinner.  Guests shouldn't miss the opportunity to come for weekend brunch where they will be introduced to the Bubbles at Brunch program where 'grower' bubbles are the focus — wines produced by the same estate that owns the vineyards from which the grapes are grown.
ABOUT L'ABATTOIR | Located in the heart of historic Gastown since 2010, L'Abattoir is situated in a refurbished 19th­ Century heritage brick and­ beam building that pays homage to its history as the site of Vancouver's first jail in the city's main meat­packing district. Today, L'Abattoir has staked its claim as one of Canada's best restaurants with a diverse array of French­-inspired West Coast fare focusing on locally sourced, seasonal ingredients along with an ever­ changing selection of classic and signature cocktails and a broad list of BC and imported wines. Whether in its front­ of­ house bar and lounge, elevated dining room or glass­ and­ steel­ accented atrium, L'Abattoir offers dinner from Sunday to Thursday from 5:30 pm to 10 pm and Fridays and Saturdays from 5:30 pm to 10:30 pm, weekend brunch on Saturdays and Sundays from 10am to 2 pm, Happy Hour daily from 5:30 pm to 6:30 pm and bar service until midnight seven days a week.  L'Abattoir also offers 1200 square feet of beautifully appointed private dining facilities that are completely separate from the restaurant dining room and are available to book for corporate events, weddings or other celebrations.
217 Carrall Street, Vancouver, BC  V6B 2J2 | 604.­568­.1701 | labattoir.ca
Facebook: /labattoir | Twitter: @LABATTOIR_VAN | Instagram: @labattoir_van