St James' Music Series presents The Choir of Clare College, Cambridge
St James' Music Series presents The Choir of Clare College, Cambridge, UK, directed by Graham Ross, one of England's most respected choral ensembles at St James' Anglican Church, March 22 2019 at 7.30 pm.
The thirty-two voices-strong ensemble of the Choir of Clare College give a complete performance of the celebrated Requiem of 1605, Tomás Luis de Victoria's final composition, a work of beguiling beauty and splendid simplicity interwoven with English and Spanish Passiontide motets by Tallis, Byrd, Victoria, and others.
Victoria's Requiem can be seen as the summation of both his art and the Spanish Renaissance tradition. The beautiful plainsong on which it is structured can be heard arching through the texture, forming a delicate and flowing line throughout.
This will be the first time the choir performs on Canada's west coast as they embark on a tour to Canada, USA and Mexico with 'A Lenten Sequence'. Further, this will be the third vocal group from the UK that St. James' has welcomed within the past year. The Royal Holloway Choir and The Gesualdo Six from London made their Vancouver debuts at St. James in March and July 2018 with rousing success. St. James anticipates a full house on March 22nd.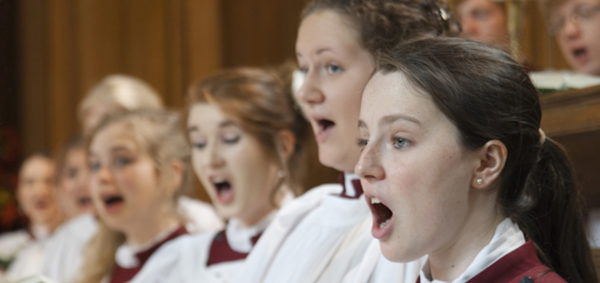 Since the founding of the mixed voice choir in 1972, the Choir of Clare College has gained an international reputation as one of the world's leading university choirs. In addition to its primary function of leading services three times a week in the College chapel, the Choir keeps an active schedule recording, broadcasting, and performing. Former directors have included John Rutter and Timothy Brown. Under the direction of Graham Ross, Director of Music since 2010, it has been praised for its consistently thrilling and outstanding performances worldwide. Recent engagements include Handel's Messiah with the Orchestra of the Age of Enlightenment, Mozart's Requiem with the Manchester Camerata, Mahler's Symphony No 8 and the world première of Alexander Raskatov's Green Mass with the London Philharmonic Orchestra, Fauré's Requiem with the Malaysian Philharmonic Orchestra, and concerts in Notre Dame Cathedral, Évron Basilica, the Howard Assembly Room and across the USA.
The Choir's 2018/19 schedule includes Bach's Christmas Oratorio, Britten's War Requiem in King's College Chapel, Cambridge, performances in Westminster Cathedral, St John's Smith Square's Christmas and Holy Week Festivals, Barcelona's Le Palau, and tours of the USA, Canada, Mexico and Spain. In addition to live performances, the Choir has produced an impressive discography of more than forty recordings. Their recordings under Graham Ross on the Harmonia Mundi label have been released to great critical acclaim, earning praise for exceptional singing and immaculate performances' a Le Choix de France Musique and a Diapason d'Or award, and garnering a Gramophone Award nomination. The Choir's nine-disc series of Music for the Church Year has received numerous 5-star reviews in the national and international press.
This concert is arranged through Knudsen Productions, LLC the exclusive North American representative for the Choir of Clare College, Cambridge. For more information about The Choir of Claire College visit clarecollegechoir.com
ABOUT ST JAMES' ( stjames.bc.ca )
St James' Anglican Church is a unique church building designed by Adrian Gilbert Scott, the brother of Giles Gilbert Scott who designed the iconic British red telephone box. The church's design is a combination of Art Deco, Romanesque Revival, Byzantine Revival, and Gothic Revival architecture. The building was constructed between 1935 and 1937. Even though this was in the midst of the Great Depression, St James' was able to raise money for a three-manual Casavant organ which was installed in 1938 – a testament to the importance of music at St James'. Music continues to be the warp and woof of the fabric of St James', as today it is one of the few places in western Canada where the glorious mass settings and motets by Palestrina, Tallis, Byrd, Gabrieli, Fauré, Stanford, Willan, Howells and Duruflé may be heard throughout the year in its traditional liturgical context – as they are meant to be heard.
Just over 10 years ago, the James' Music Academy was established to enrich the lives of Downtown Eastside children through music. The Academy provides free, high quality music instruction in piano, guitar and violin to more than 200 students, along with a choral component that involves all students.
In 2017, an additional element to its vibrant music tradition was added by means of a music series which offers a diverse range of concerts that feature highly accomplished artists and allow audiences to appreciate the church's marvellous architecture and superb acoustics.
LISTING INFORMATION
St James' Music Series presents The Choir of Clare College, Cambridge
Date Friday, March 22nd 2019 at 7.30 pm
Address St James' Anglican Church
303 East Cordova Street, Vancouver, BC V6A 1L4
Ticket Price $25 Students $30 Adults
Tickets Online http://clarecollege.eventbrite.ca
Media release, video and images provided by Michelle Herrewynen, St. James Anglican Church.
[wdi_feed id="2″]