I attended a terrific wine tasting event at the end of February and I was so impressed with both the event and the BC Wines on offer I wanted to share my experience with you my wine loving readers.
The evening was run simultaneously with a weekly Twitter feed chat called #BCWineChat. BC Wine Chat is a Twitter chat, held every Wednesday night from 8-9 pm.  Each week, a different wine-related topic is discussed. Interested in wine? Have a Twitter handle? Join #BCWineChat on Wednesdays!
A walk-around wine tasting featuring some fabulous wines from a selection of BC's top wineries. As well as the pleasure of hosting a Nova Scotia winery! The venue was the Chali-Rosso Art Gallery, 549 Howe Street, Vancouver.
The evening included a selection of wines from 15 wineries, a selection of appetizers, a chance to meet and chat with winery owners and representatives, and time to hang out with fellow wine lovers in a beautiful, artistic space!
So many wines, so little time! Each winery brought at least one wine, and in most cases at least two or three different wines for tasting. So you do the math – 15 wineries times 3 wines and that's a lot of wine!
As we often do my companion and I split the wine tasting duties with me taking the whites and him taking the reds. Rosés are a toss up!
I had no sooner walked in the door and there was Leslie D'Andrea (co-owner of Noble Ridge Vineyard) and lucky me she just happened to have a bottle of "The One" in her hand. We were off to a good start.
I think it's easiest to just go step by step to each table I visited. What a great opportunity to talk to winery owners, winemakers and their representatives. How often do you get to meet so many knowledgeable wine people all in one place?
In random order a pictorial of the wines available for tasting: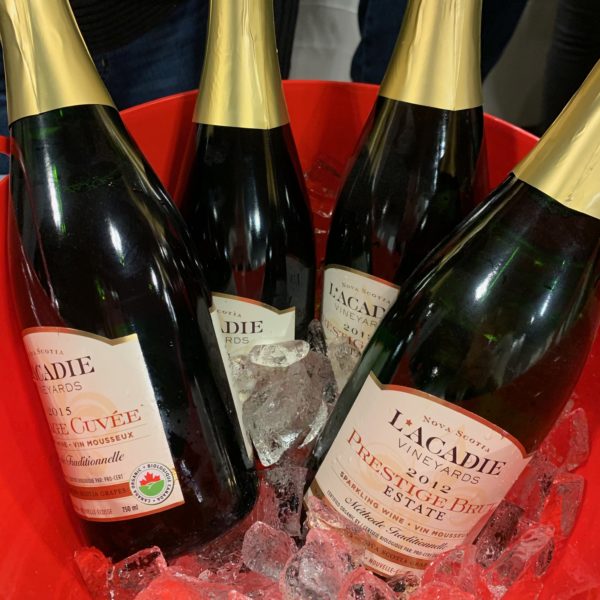 Here is the list of all the wineries that were represented:
8th Generation Vineyards

Bench 1775 Winery

Black Cloud Winery

C.C. Jentsch Cellars

Culmina Family Estate Winery

Fairview Cellars

L'Acadie Vineyards

McWatters Collection

Noble Ridge Vineyards & Winery

Okanagan Crush Pad

Quails' Gate Estate Winery

​Summerhill Pyramid Winery

TIME Estate Winery

Tinhorn Creek Winery

Wild Goose Vineyards & Winery
This evening of BC Wine tasting cost $40. per person. I thought that was a very reasonable price to pay for the opportunity to taste so many excellent wines, meet winery owners and principals, and chat with winemakers all in a beautiful artsy environment.
Next BCWAS event is the 6th Annual Double-Blind Tasting on March 18 with optional dinner. Members/Guests $49/$64 Water Street Cafe Dinner option: $35. Tickets and information here.
What you may ask is the BCWAS? Established in 2005, British Columbia Wine Appreciation Society is a not-for-profit organization showcasing the wines of British Columbia through monthly tasting events.  Our events range from informal walk-around tastings to formal tastings with the winemakers and/or winery principals. Attendees enjoy tasting, learning and discussing wine in a relaxed atmosphere.  ​
In support of enhancing the knowledge and interest in the wines of British Columbia, the purpose of our Society is:
to encourage our members to develop an appreciation and increase knowledge of the wines of British Columbia through regular wine tasting events;
to facilitate a link between our members and the BC wine industry;
to facilitate interaction between our members with other wine organizations;
to provide opportunities for the social interaction of like-minded wine lovers;
to act as a forum for discussion about the wines of BC and wine education generally;
and to promote the wines of British Columbia.
The marked improvement in the BC Wine Industry during the last two decades has brought international recognition and a large number of quality awards to our local wine producers.  We are proud of these achievements and we want to create a venue where BC Wines can be showcased and celebrated.
BCWAS, as we affectionately call it, has many events throughout the year, usually about four weeks apart.  They range from sit-down tastings with wine educators, reps, or winery owners, to walk-abouts, dinners, and barbeques.  Each September, we put on a winery bus tour in BC wine country.
2019 BCWAS membership: Join us now, and your membership is good until March of 2020. Only $40 for more than a year of our fun and fabulous events! Click here to become a member of the best wine club in town.
Information in italics courtesy of British Columbia Wine Appreciation Society.
proceeds from this event benefit the BC Hospitality Foundation 🙂
[wdi_feed id="2″]