The 2018 Rieslings from Synchromesh are LIT for 2018.
A return to a typical vintage and Alan's famous"Bladerunner" acid range.
Alan Dickinson stops his ferments naturally to purposefully leave a healthy dose of residual sugar.  The wines require it – they come from small cool-climate plots which produce ripe grapes with extraordinary low PH. Seriously.
 -Among the lowest PH's in the world-
The resulting wines are a contradiction of complexity.
Bursting fruit followed by mouthwatering lin button pretty yetear acidity.
But it's the soil and aspect of these small plots that tell the rest of this Riesling Story.
– Bob Hancock – 
Cooler outflows from the mountain to the east retain bracing acidity and freshness to offset the warm, gentle southern exposure. Gravelly loam intermixed with a sand layer and calcium carbonate provides fairly consistent, well-drained alluvial soil structure.  North Naramata.
-Thorny Vines-
North facing vineyard slopes gently towards the northwest and enjoys good drainage, acid retention. Lower bench south Naramata.
-Estate Storm Haven-
Clay and coarse sand over well-drained gravel. The lower southern end is straight gravel, with rotten granite and limestone bands.
Okanagan Falls.
The picks are done in stages, the ferments separate.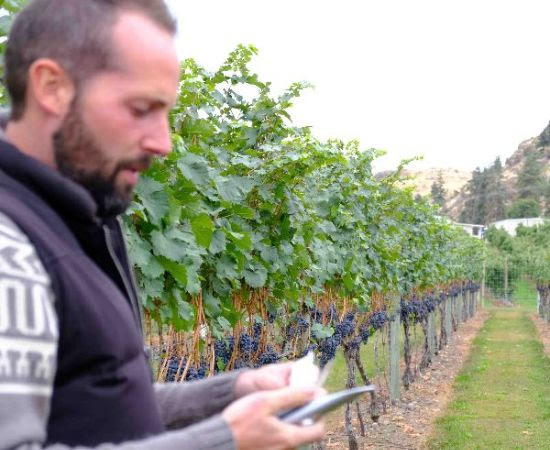 2018 Riesling Blend

A thoughtful blend of the four Riesling vineyards:
Bob Hancock Vineyard North Naramata Bench
Thorny Vines Vineyard Middle Naramata Bench
Four Shadows Vineyard South Naramata Bench
Storm Haven Vineyard Okanagan Falls
A striking and complex array of fruit representing each of our four vineyard sites and showcasing our signature balance with Riesling and the 2018 growing season.  Aromas of honey lemon, lean pineapple, and lemon curd lead to a racy, near dry palate with impeccable balance and persistence.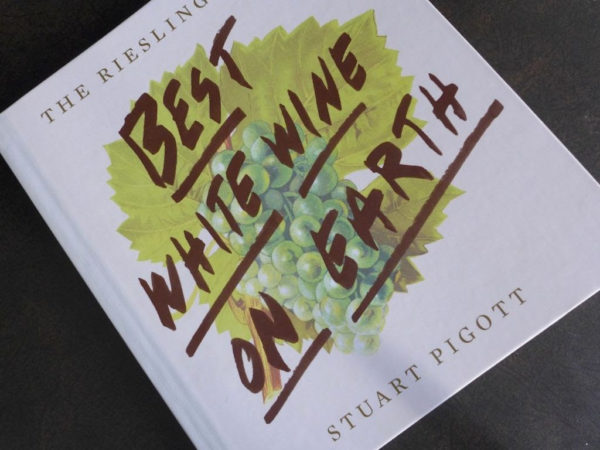 2018 Thorny Vines Riesling

The Thorny Vines property is located at the southern end of the Naramata Bench, immediately north of Penticton.  Benefitting from the moderating effects of Okanagan Lake, this cooler North facing vineyard enjoys slow, steady ripening with good acid retention.
The vineyard consists entirely of German clone 21B vines that are hand farmed by the family owners.  Individual vine attention, a sustainable philosophy and drive to create premium quality Riesling are at the heart of this property. Intense mandarin, honeycomb and sweet Asian pear with chalky acidity and lemon zest. The fruit is sweet on the attack but quickly dries aggressively on the finish.
2018 Bob Hancock Vineyard
One of the last vineyards on the Northern tip of the Naramata Bench this vineyard looks South, gently sloping over gravelly clay towards its brilliant view of Okanagan Lake and Penticton beyond.  Tended by 3rd generation Naramata farmer Bob Hancock, this 21B Riesling is not grafted on rootstock, sending its own roots deep into the soil.
Lime and poached pear on the nose give way to a burst of mandarin in the mouth. Barely off-dry with a beautiful endless softness to the bright acidity.
2018 Storm Haven Riesling

The home property. A 107 acre estate property is centered around the base of Peach Cliff mountain, a 50 million-year-old volcanic structure and along the Okanagan Fault Line. With a peak of over 2000 feet and the lowest area at 1300 feet, this site has an incredible range in geology and elevation. Soil structure ranges from clay loam on the Eastern borders to sandy loam on the Southwest. Decomposing granite and large quartz deposits make up the majority of the planted area with high levels of slate and metallic deposits surrounding the fault line ridge.
The influence of soil structure, large rock formations, elevation, and exposure have allowed small planting blocks of different varieties that are suited to the unique conditions in each area. A total of 21 acres planted to vines, each block individually fenced and developed to help keep the majority of the property accessible and protected for wildlife habitat and conservation efforts.  Currently undergoing habitat assessments and working with local wildlife organizations to maintain and protect the undeveloped land as a sanctuary and host to the biodiversity needed to farm in a holistic manner.
Release: May, 2019
2015 Tertre Rouge Cab Franc / Merlot

Aged for 20 months in French Oak with 50% new barrels without fining or filtering.
Our blend of Cabernet Franc (55%) and Merlot (45%) is named after the evocative corner of the Le Mans racing circuit in France, where perfect driver balance and finesse are key to a clean exit leading to one of the longest straightaways in motor racing. Much like this corner requires the hand of an experienced driver; our wine will perform best after time in the cellar.
This is a single vineyard wine from Turtle Rock Farms above the Naramata Bench. Carefully tended by the Britton Family, this stunning property has perfect conditions for the long slow ripening of Cabernet Franc and Merlot producing fantastic flavour and tannin ripeness while keeping brightness and balance.
2015 was one of the hottest vintages on record and produced a generous wine, highly complex and layered.
Brooding dark fruit complexity with brambly sarsaparilla and sweet pea along with a  fine-grained long finish.
About Synchromesh
Synchromesh Wines is a small family run operation focused on producing terroir driven, world class Riesling, Pinot Noir and Cabernet Franc. From vineyard to bottle we practice sustainable techniques, no-chemical farming, natural low cropping, extensive use of indigenous yeasts and no additives or manipulations in winemaking. We approach the entire business with a holistic philosophy, ensuring every aspect of the farm and winery helps to support our business ecosystem, philosophies and enables us to produce interesting and unique wines.
Media release and bottle shots provided by Rich Massey, Massey Wines. Featured image courtesy of Synchromesh.
[wdi_feed id="2″]