Hello fellow wine enthusiasts!
Many of you are curious when our sparkling wine, Santé, will be released, and we are pleased to let you know that as of May Long Weekend it will be available both via our website and our wine shop, hooray!
We also wanted to let you know that our wines are FLYING out of here- the word is out that Corcelette's wines are nothing short of awesome and we are going through our wines with record speed. If you thought about ordering from us, we encourage you to do so very soon so that you're not disappointed by missing out on this year's release.
Some inside information from the cellar (aka- Charlie)- we will not be producing a 2017 Syrah as we need all of it to blend with Cabernet Sauvignon for the Menhir, so there won't be any more until fall of 2020. If you like our Syrah, we have a limited supply left.
Some more inside information? I saw Charlie counting our Cabernet Franc barrels last week, and it looks as though we have enough to make a Micro Lot of 70 cases single varietal this fall! Club Corcelettes members will each be receiving 3 bottles of our inaugural 2017 Cabernet Franc with their fall package, so if you've thought about joining our Club, here's just another awesome reason to do so.
Click here to sign up for Club Corcelettes if you're not already a member!
If you're interested in attending one of our "Table de Famille" harvest style dinners, there are still several tickets left for the August 10th dinner if you haven't snapped up yours already.
You can order your tickets here, or just call Tree to Me directly to secure your seats.
Wishing you all a fabulous spring, and hope to see you in our wine shop and on our patio this summer!
– Jesce Baessler and the Team at Corcelettes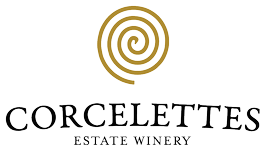 Corcelettes Estate Winery
2582 Upper Bench Road
Keremeos, BC