Hello fellow wine enthusiasts!
Harvest 2019 is in full swing and we are happy to announce that our 2017 Meritage is officially released, available only online and at our wine shop. This special blend is hand crafted by Charlie- he began making this wine while pruning in the early spring of 2017. Two and a half years later, our flagship is ready for you to taste and enjoy. Our Club Corcelettes Red Pack members have all received their sample pack that included this wine, and it is now available to everyone who is a fan of our Meritage or perhaps would like to experience it for the first time. We have become well known for our Meritage, and the last two years in a row it has won Gold at the Nationals, making us back-to-back "Top 10 Canadian Wineries". 

So far we have harvested our Pinot Gris, Chardonnay, Gewurztraminer, Pinot Noir and Merlot. Today we are knees deep (literally) in Syrah, and with a beautiful forecast ahead of us we will be harvesting and crushing grapes all week.
Charlie and the Team have been pretty busy not only with harvest and cellar work, but also setting up some very high tech weather monitoring stations throughout our sites, including the new plateau site that's WAY above our estate vinyeard.
Our current estate vineyard elevation is 420 meters, this new site above us is 500+ meters, hence the difference in climate. We developed a road access to this unique place that will be a highly interesting Similkameen vineyard. The weather data will certainly determine the varietals destined to be planted on this gnarly terrain, but Pinot Noir and Chardonnay will definitely benefit from a long and more temperate season. 
The image below is just a snapshot of the view from our new site, to be planted in 2021. This past weekend we set up a custom-built picnic table right here, so that we can bring our Club Corcelettes members for a very "off road" wine tasting experience. Stay tuned for more exciting progress, always happening at Corcelettes…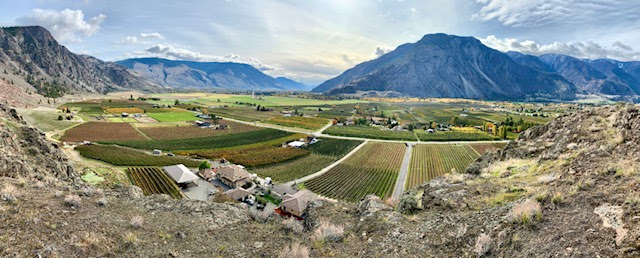 There's a small amount of our Micro Lot Cabernet Franc left (about 24 bottles!) if you'd like to sign up for our wine club and receive your fall sample pack.
Click here to sign up for Club Corcelettes if you're not already a member!
Also, if you follow us on Instagram and wish to share one of your experiences/food pairings with any of our wines, be sure to use our hashtag #getatasteofit along with your photo. We post information on our Instagram and Facebook pages like what festivals and restaurants we'll be pouring at over the winter season- would love to see our wine friends at these events with us!
Wishing you a wonderful fall, and I'll be in touch soon with a very special Christmas gift box offer.
– Jesce Baessler and the Team at Corcelettes
Corcelettes Estate Winery
2582 Upper Bench Road,
Keremeos BC, V0X 1N4
T: 250.499.5595
E: info@nullcorceletteswine.ca