BOULEVARD KITCHEN & OYSTER BAR PRESENTS MICHELIN ON THE ROAD™ DINNER WITH CHEF MELISSA RODRIGUEZ OF NEW YORK'S DEL POSTO ON JUNE 27
Boulevard Executive Chef Roger Ma Welcomes Chef/Partner from Michelin-Starred Restaurant for Exclusive Multi-Course Dinner at Award-Winning Downtown Restaurant
Boulevard Kitchen & Oyster Bar Executive Chef Roger Mawill share the line with a former colleague when he welcomes Melissa Rodriguez, Chef/Partner of New York City's Michelin-starred Del Posto to Vancouver for an exclusive MICHELIN on the Road™ dinner on Thursday, June 27 at 6:30 p.m.
The evening features a cocktail-and-canapé reception and a six-course collaborative menu that showcases the unique culinary talents of both Ma and Rodriguez, with wine pairings by Jackson Family Wines. Tickets to the one-night-only event are available for $225 per person plus tax and gratuity and may be purchased online at exploretock.com/michelineventscanada.
Both chefs have enjoyed a long association that dates back to the five years they spent honing their skills at celebrated chef Daniel Boulud's eponymous two-Michelin-starred restaurant in New York beginning in 2006. Ma moved on to open several more Boulud-branded outposts before returning to his hometown of Vancouver in 2014 to launch Boulevard as Chef de Cuisine. In 2018, he was promoted to Executive Chef and recently led the restaurant to consecutive gold medals for Best Upscale and Best Seafood at the 2019 Vancouver Magazine Restaurant Awards and the No. 31 ranking on the prestigious 2019 list of Canada's 100 Best Restaurants.
Rodriguez joined the team at Del Posto in 2011 and six years later stepped into the role of Executive Chef, becoming the first woman at the helm of a restaurant awarded four stars by the New York Times. More recently, Rodriguez was promoted to Chef/Partner and Del Posto — which she co-owns with renowned restaurateurs Lidia and Joe Bastianich — earned a coveted Michelin Star for 2019, with the dining guide calling her dishes "gorgeously crafted … it is her playful interpretation of Italian cuisine that makes this kitchen creative."
"It's an honour to welcome a friend and culinary talent like Melissa, who is not just an accomplished chef in her own right but also a role model and mentor for so many up-and-coming cooks and chefs," said Ma. "We're excited to cook together once again and pull out all the stops to present a one-of-a-kind dining experience."
MICHELIN on the Road™ events bring together the greatest chefs from around the globe to combine their unique talents and host inspired, collaborative events in restaurants and unexpected settings. Ma and Rodriguez's collaboration is only the third MICHELIN on the Road™ dinner to be held in Vancouver and follows a pair of sold-out events in 2018.
TICKETS
A limited number of tickets to the exclusive MICHELIN on the Road™ collaborative dinner featuring chefs Roger Ma and Melissa Rodriguez on Thursday, June 27 are available for $225 per person plus tax and gratuity. Tickets may be purchased online at exploretock.com/michelineventscanada.
For the latest news about Boulevard, register for the restaurant's e-newsletter at boulevardvancouver.ca, become a fan of /blvdyvr on Facebook or follow @blvdyvr on Twitter and Instagram.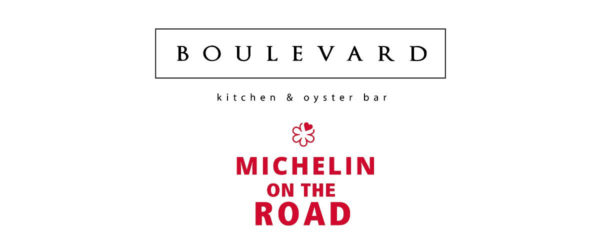 ABOUT BOULEVARD KITCHEN & OYSTER BAR
| Located in the heart of downtown Vancouver, Boulevard Kitchen & Oyster Bar redefines the fine art of dining with subtle, unexpected and playful approaches to cuisine, service and style. From the all-star front-of-house team to the acute attention to detail in design to the understated elegance of the restaurant's seafood-focused cuisine infused with casual West Coast flair, Boulevard sets forth an uncompromising standard of excellence guaranteed to capture the attention of food-savvy Vancouver residents and visitors on plate and palate alike. Paired with exceptional service, a wide-ranging selection of wine and cocktails and true European ambiance in a traditional-yet-modern setting, Boulevard — winner of the 2019 Vancouver Magazine Restaurant Awards for Best Seafood, Best Upscale and Best Dessert, one of Canada's '100 Best Restaurants' for 2019 and Where To Dine Vancouver's 2019 choice for Best Hotel Dining — offers breakfast (6:30 to 11 a.m.), lunch (11 a.m. to 3 p.m.), dinner (5 to 10 p.m.) and late-night service until 1 a.m. in its adjacent Gerard Lounge seven days a week, as well as weekend brunch from 11 a.m. to 3 p.m. and happy hour from 3 p.m. to 5:30 p.m. |
boulevardvancouver.ca
845 Burrard Street, Vancouver, BC  V6Z 2K6 | 604-642-2900 | Twitter: @blvdyvr | Facebook: /blvdyvr | Instagram: @blvdyvr
ABOUT MICHELIN | The MICHELIN guide selects the best restaurants and hotels in the 28 countries it covers and provides a showcase of gourmet dining around the world while highlighting the culinary dynamism of a country as well as new trends and emerging young chefs. Backed by its rigorous selection method and longstanding knowledge of the hospitality industry, the MICHELIN guide provides customers with unique expertise that enables it to offer them a true quality service. MICHELIN also brings together the culinary, travel and hospitality industries to create unique and innovative experiences in a series of Michelin All-Star™ and Michelin on the Road™ dinners where the greatest chefs from around the country and worldwide team up to serve guests in locations ranging from restaurants to unexpected settings. These inspiring experiences combine the individual talents of each chef to showcase one-only, collaborative tasting menus | guide.michelin.com
Facebook: /MichelinGuideUnitedStates | Twitter: @MichelinGuideUK | Instagram: @michelinguide
Media release and images provided by Jan-Christian Sorensen, SMC Communications Inc.
[wdi_feed id="2″]