EARLY MUSIC at HYCROFT MANOR JUNE 16 2019: MERAVIGLIA d'AMORE: THE WONDER of LOVE
Hycroft Manor warmly welcomes the public to a wonderful afternoon of 17th cent. Italian Love Songs and music to celebrate Fathers Day.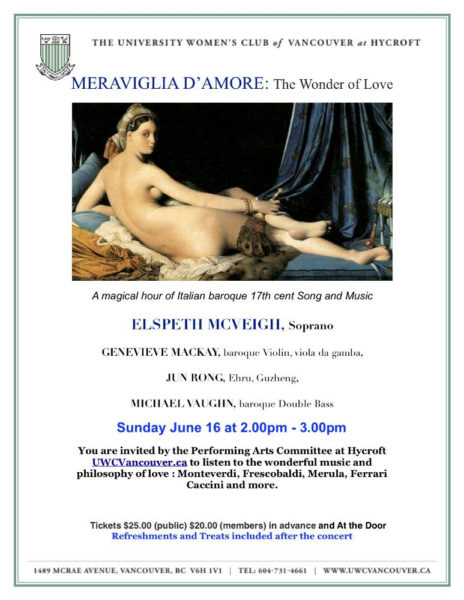 MERAVIGLIA d'AMORE: THE WONDER of LOVE
A concert with soprano Elspeth McVeigh – accompaniment and instrumental pieces with highly talented local musicians Jun Rong (erhu and guzheng), Genevieve MacKay (baroque violin), and Michael Vaughan (baroque double bass).
Having played to a packed and appreciative audience at their last concert, these wonderful musicians have been asked back to delight again with the excitement and beauty of early music and song by the greats – Monteverdi, Caccini, Ferrari, Lundi…
Celebrate the wonder and Joy of Love in true 17th cent manner in a gorgeous setting of the unique parlour at Hycroft Manor, one of Vancouver's finest heritage buildings.
Enjoy refreshments after the show and see the house.
Dates and Locations
Sunday, June 16, 2019
Concert 2.00pm – 3.00pm | Refreshments after concert
Hycroft Manor
1489 McRae Ave
Vancouver, BC V6H 1V1
Tickets
$25.00 (public) | $20.00 (members) | $10.00 students in Advance and At the Door
Refreshments and Treats included | 
https://www.uwcvancouver.ca
| Office: 606 731 4661
Biographies:
Elspeth McVeigh is an accomplished singer of early Scottish and European Renaissance and baroque music.
Born and raised in Scotland, she learnt numerous, unusual and almost forgotten traditional songs and ballads from her grandmother (including by Robert Burns) which she delights in singing.
Elspeth lives and performs in Vancouver and frequently returns to her native Scotland to perform early Scottish and European music. She has sung at a number of historic venues including Traquair House, Mellerstain House (an 18th cent. jewel) the Edinburgh Fringe Festival and Rosslyn Chapel (da Vinci Code) returning there in June for a concert of 16th cent music of the court of Mary, Queen of Scots.
Elspeth usually sings with lute and baroque violin, viola da gamba and recently 18th cent flute. She also likes to experiment and plays with mixed instruments including Chinese violin and harp, small pipes and clairsach (early Scottish harp).
BC Alliance for Arts and Culture
The BC Alliance for Arts + Culture is British Columbia's leading arts information aggregator and a resource to the arts, culture and heritage community. Since 1986 we have advocated for our sector by monitoring public policy, synthesizing issues for the public, supporting and developing research, and representing the interests of artists and cultural workers.
Media release and poster image provided by BC ArtsPost.
[wdi_feed id="2″]