Congratulations to Andrew Forsyth, winner in the Canadian category of the 2019 Wines of South Africa Sommelier Cup! Forsyth is one of the Sommeliers at Gastown's L'Abattoir Restaurant. He triumphed in the national competition final held at the Terminal City Club on Monday, June 10th, and will compete this September at the International Sommelier Cup final in South Africa.
Sommeliers, wine directors, and retail wine store staff from around the world entered the competition, which takes place every 3 years. In Canada, master classes on South Africa were held in 6 major cities. Over 200 wine professionals attended the classes, and 75 wrote the eligibility exam that followed the events. 10 finalists were then sent bottles of wine, and were asked to shoot a short video on their phone in which they offered a tasting note and suggested food pairings.
The top 3 entrants all turned out to be from BC. Andrew Forsyth, Nilo Du Plessis, and Maude Renaud-Brisson competed in the finalist round, which included blind tastings and a service component. Forsyth, who was accredited by the Court of Master Sommeliers US, WSET 3 Certified with Merit, was judged the winner. Although he holds the Canadian title, Du Plessis and Renaud-Brisson will also join him on his trip to South Africa. The runners-up will cover their own transportation costs, but once they arrive in Cape Town they will enjoy an all-expenses-paid visit, including opportunities to see the major wine regions and to meet top producers.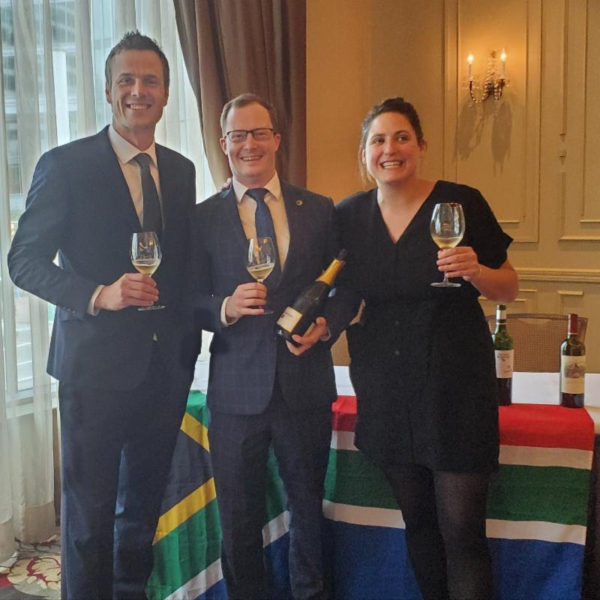 "Congratulations to Andrew and we look forward to welcoming him in South Africa," said Laurel Keenan, Canadian Director, Wines of South Africa. "This was a tough competition and the finalists worked hard to make it through."
About Wines of South Africa: Wines of South Africa (WOSA) is a fully inclusive body, representing all South African producers of wine who export their products. WOSA, which was established in its current form in 1999, has over 500 exporters on its database, comprising all the major South African wine exporters. South Africa's winemaking history stretches back to the 1600s.  In recent years, however, the country has combined longstanding traditions with cutting-edge technology and a commitment to environmental stewardship.
WOSA social media links:
Media release and image provided by Dana Lee Harris, Dana Lee Consulting Ltd.
[wdi_feed id="2″]