"All my teachers said to become clever, I should study Shakespeare.
Not true.
Shakespeare never studied Shakespeare, and he went on to become Shakespeare."
-Glenn Moore
Now, I am one who loves to study Shakespeare.  But in truth, very little is known about the artistic life of the Bard and the evolution of his literary genius.  Shakespeare in Love (originally a movie by Marc Norman and Tom Stoppard) captured the imagination of audiences everywhere in 1998 and went on to win 7 academy awards with a story about this very thing. Seems fitting that Lee Hall's stage adaptation should make its way to the 30th anniversary of Vancouver's premiere Shakespeare Festival, Bard on the Beach.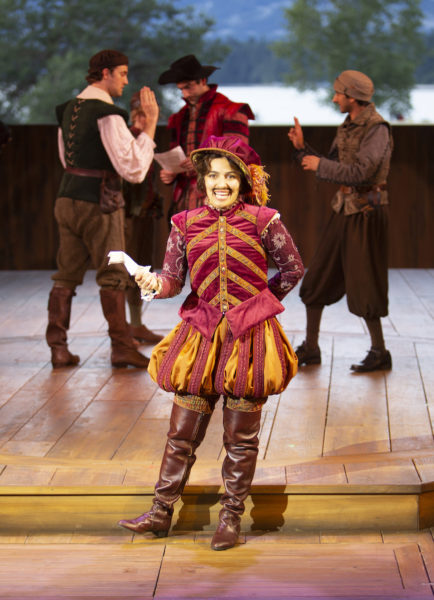 Upon entrance to the elegant tents decorated with dramatic and sophisticated container plantings, audience members can gain some insight into the play by dropping in on 'In a Nutshell.'  This brief talk is put on by the Bard Education staff and includes an overview of the plot along with some of the unique elements of this particular production.  In this case, Shakespeare in Love addresses the Bard himself and imagines a window into his life, his theater, his writing process and perhaps, his muse.  While it is purely fiction…as the education staff says…who's to say it couldn't have happened this way?  As well, in the tent that night there was a definite buzz about the dog.  At least two people pre-show talked about 'the dog'.  I was intrigued.  
A single desk at center stage opens the play and Shakespeare (played by Charlie Gallant), struggling with writer's block, is surrounded by the cast anxiously awaiting his next sonnet.  This creative process remains a running theme throughout.  This play reflects the writing, building and performing of a play from the ground up as well as the coming together of a theater company as a community of artists bound by passion and so often in conflict with the culture of its time.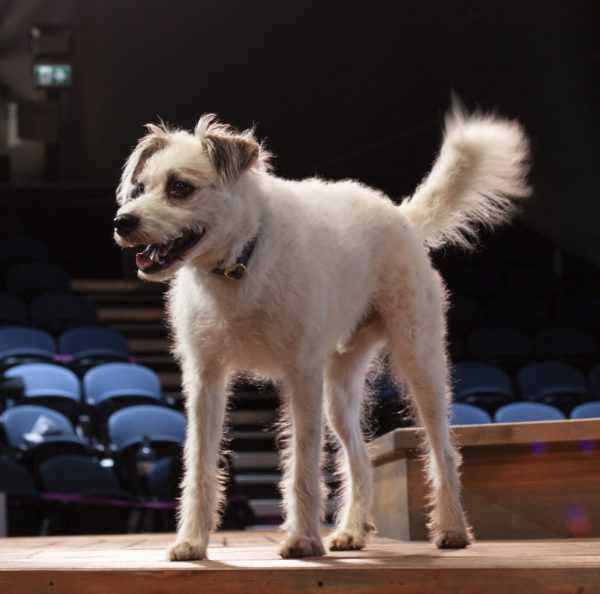 As this relatively large (and extremely talented) ensemble cast (including 'the dog', played by Kingsley) *came together throughout the story in chaotic and humorous ways, I imagine, it also reflects the wrangling of a modern theater cast as well. Yet, there was an elegance and fluidity to the action and unfolding of this play.  Spartan stage design and use of the many levels of the set, including the revolving stage inset, allowed for the cast to move in and around the action with ease and helped fit the complexity of the movie inside a theater space.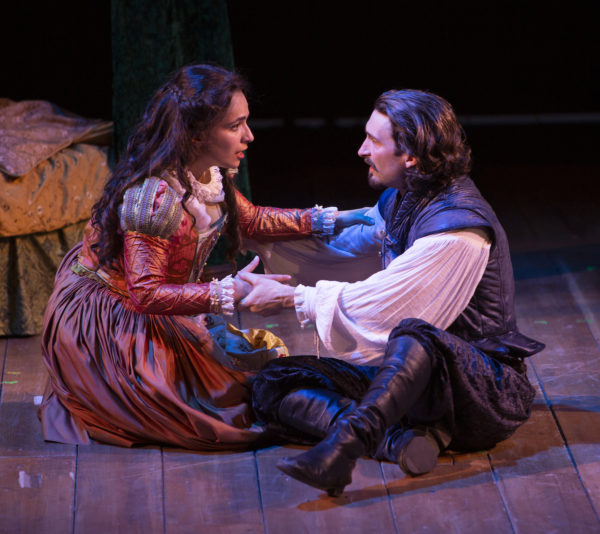 Shakespeare (played by Charlie Gallant) and Viola (Ghazal Azarbad) were by turn, both comic, passionate and touching in their roles as lovers divided by class and circumstance, but joined by their love of each other and of theater.  Outstanding performances were given by the entire cast and in particular, Scott Bellis (Henslow), Jennifer Lines (Queen Elizabeth) Kate Besworth (John Webster) and Austin Eckert (Kit Marlowe).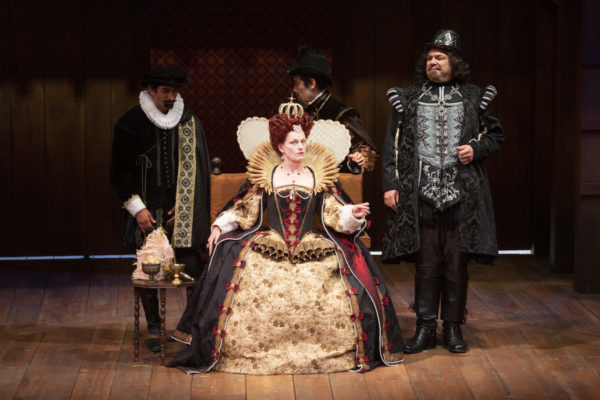 Throughout the play, the talented ensemble also comes together singing harmonies set to the words of Shakespeare's sonnets.  Captured by the fading evening light, these haunting renaissance inspired harmonies were quite moving.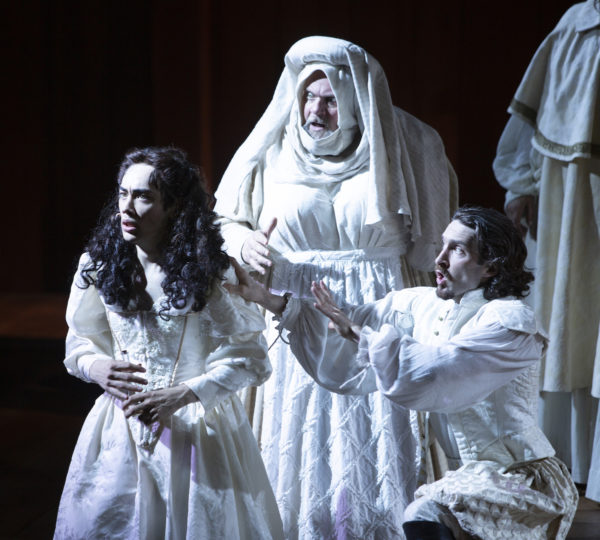 There are many classic and signature elements of Shakespeare woven into the play in witty ways. Expect disguises, a ghost, mistaken identities, passion and surprising twist and turns of the plot and dialogue.  As well, nestled within all of this were witty cameos, rollicking swordplay, wordplay, star-crossed lovers and enough Shakespeare to satisfy even the purest of the Bard's fans. At the close of the play he audience was on its feet calling for an encore.
Director Daryl Cloran writes: "That's the profound thing about theater.  We all come together in a space, for a moment, to create something that will never be exactly the same. It is ephemeral and magical." 
And…there's a dog.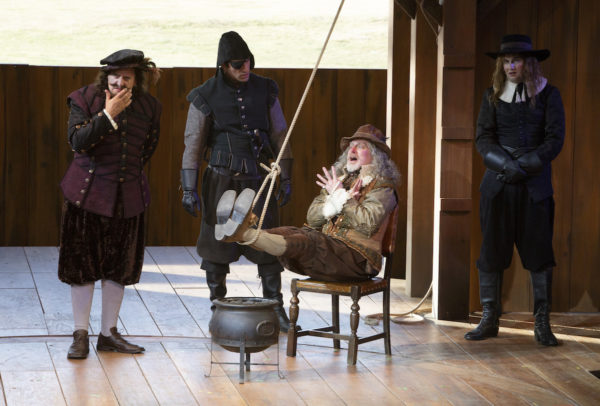 Please visit the Bard on the Beach website: bardonthebeach.org or call 604.739.0559,  to purchase tickets and view the wide variety of Bard Experiences and special events offered throughout the season.
Exploring Shakespeare – July 6 at 11am, presented by Simon Fraser University's Paul Budra
Forum: Kate – Victim or Victor? – August 26 at 7:30pm (Howard Family Stage)
Bard-B-Q & Fireworks –July 31 & August 3: play performance plus dinner and entertainment
Family Days – July 6, August 10 & August 24 at 2pm; activities plus Mainstage play performances
Talkback Tuesdays – Starting July 2 through to August 27, join members of the cast for lively Q & A sessions after each Tuesday evening performance
Wine Wednesdays – July 10, August 7, August 21 & September 4 at 6pm (pre-show events)
Accessible Performances – VocalEye – July 21 & August 10; Relaxed Performance – Sept 8
Ticket prices include all fees & taxes and start at $26 for all regular play performances. Youth Price tickets, sponsored by Global BC, are available for patrons ages 6 to 22, at 50% off regular adult prices. Prices for special events, group bookings and multi-play ticket packages can be found online at bardonthebeach.org or by calling the Bard Box Office at 604-739-0559. Early booking is recommended for best seat selection (all seats are reserved) and because many performances sell out in advance.
Bard on the Beach gratefully acknowledges the corporate sponsors who support and sustain the Festival and its programs. 2019 sponsors include Season Sponsor Goldcorp; Production Sponsors Avison Young, Lawson Lundell, BlueShore Financial and Lonetree Cider; Season Media Sponsors The Vancouver Sun and Global BC, as well as many other valued sponsors and partners. Bard also thanks the City of Vancouver Cultural Services Department, the Vancouver Park Board, the Province of British Columbia, the BC Arts Council, and the Canada Council for the Arts for their continuing support. 
About Bard on the Beach Shakespeare Festival
Bard on the Beach is one of Canada's largest not-for-profit, professional Shakespeare festivals. Established in 1990, the annual summer festival's mission is to perform, explore and celebrate the genius of William Shakespeare, surrounded by the natural beauty of Vancouver, British Columbia, Canada. Bard also offers year-round education and training programs for youth, adults and theatre professionals in its administrative home at the BMO Theatre Centre in Olympic Village as well as in schools and community facilities throughout the Lower Mainland of British Columbia.
Review by Anita Neufeld, MyVanCity. All images courtesy of Bard on the Beach. Photo credit: Tim Matheson. *note: there are two dogs playing the part of Spot, during the performance reviewed the dog was Kingsley, the dog in the photo is Porkchop.
[wdi_feed id="2″]