The 2019 Bard on the Beach production of All's Well That Ends Well is a a brilliant and provocative production, perfectly suited to the Vancouver Lower Mainland audience. The South Asian multicultural makeup of our population is reflected in this Shakespeare classic that includes Hindi spoken during Act Two between several of the actors, with a translation summary provided to the audience. 
Originally written as a comedy in 1623 about a French/Spanish doctor's daughter and the French son of a Countess, off to fight in Italy, the plot lends itself to an Indian girl with a British soldier, off to battle during the waning days of British occupation and the cusp of Indian independence. This tumultuous love story unfolds against a backdrop of dramatic societal change. 
Co-created and co-directed by Johnna Wright (The Merry Wives of Windsor, 2016) and Rohit Chokhani (Artistic Director, Diwali in BC) the new, bold staging of All's Well That Ends Well explores the cultural, social and political barriers that stand between them. The setting provides the opportunity to add the rich colours, dress, music and dance, and to explore some of the complexities that exist in this diverse and beautiful country. It provides a brief history lesson for those in the audience who may not understand or remember Mahatma Ghandi, the creation of independent India and Pakistan from the Punjab and Bengal provinces, or the immediate and long term impact on the Muslims, Hindus, and Sikhs, displaced by the decisions implicit in the Radcliffe Line. 
Edmund Stapleton & Sarena Parmar | Photo: Tim Matheson
Helena (Sarena Parmar), a privileged Hindu woman is living as a ward of a British Countess (Lucia Frangione) and is secretly in love with the Countess'  undeserving son, Bertram (Edmund Stapleton).  Being the daughter of a famous deceased doctor, Helena decides to use her knowledge and some of her father's potions to save the Viceroy (Bernard Cuffling) from his incurable illness.  If she fails, she dies, but if she lives, the reward is choosing her own husband!  Naturally, she chooses Bertram, who naively sees her as beneath his social standing and who loudly and repeatedly rejects her. But the Viceroy insists.  
Immediately after marrying, Bertrand abandons Helena to fight as a soldier in the North, leaving behind a letter demanding two impossible tasks of her: to secure the family ring and become pregnant with his child.
Helena starts a pilgrimage to the North taking her into the heart of her own culture and identity. She conveniently ends up near Bertram's troop and, faking her own death, sets out to accomplish the demands in his letter.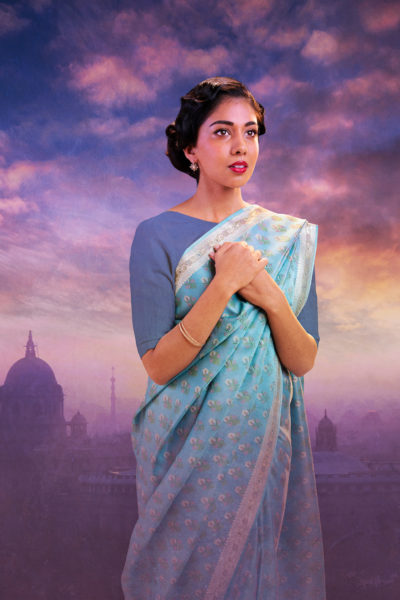 Helena meets a poor widow (Vaneesh DuBois) and her beautiful daughter Diana (Pam Patel) with whom Bertram is besotted. She shares the story of her marriage to Bertram. Together, the three hatch a plot involving two valuable rings and an unbelievable  masquerade to trick Bertram into becoming the husband he should and could be. An eventual return to Delhi and the Viceroy, amid the changing political situation reveals the success of the plan, and Helene and Bertram suddenly become a happily married couple in a quick ending.
Shakespeare frequently adds sub-plots within the story presenting interesting characters who add humour with their unique personalities. One of these is Parolles (Jeff Gladstone), a disloyal associate of Bertram's who is a boasting coward. His wordy speeches and views and his eventual downfall add levity and a comparison to the higher values of the others.
All's Well That Ends Well provides excellent performances from its female actors. Patel and Parmar are amazing in their roles, bringing joy, sorrow, wistfulness and determination to their parts. Parmar shows her true star quality, holding our attention throughout.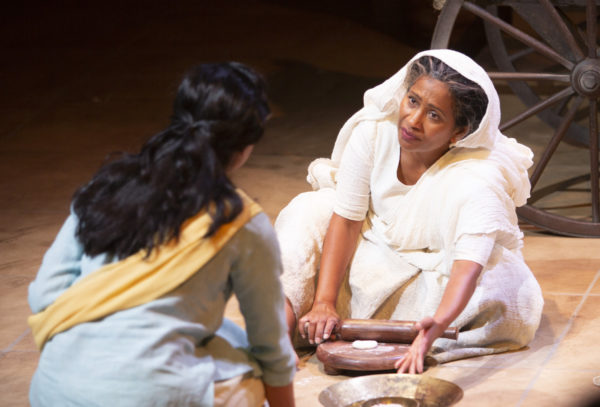 The play also contains two wonderful mature female characters.  The Countess adds a highly admired, wise and compassionate character, a caring mother, as does the Widow, who displays her own high moral standards and stamina. Frangione and Dubois present these women with strength of character and gentle but fierce love for family. 
The play gradually moves from Colonial British India to a more rich but realistic view. The settings and costumes change from beginning to end. In the first act Carmen Alatorre dresses Helena in a pale turquoise Western style skirt, white blouse and strappy pumps. The Countess wears satin suits and a servant in the home serves English Tea dressed in a formal black and white outfit. Geraniums grow in the pots around the table, creating a tiny corner of Britain. Pam Johnson designs a set quite organized and efficient, very Colonial.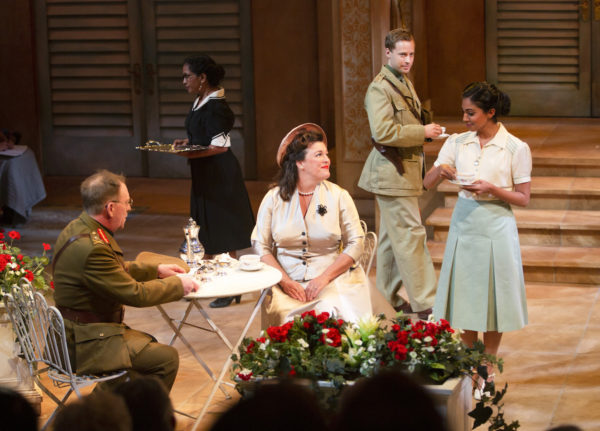 Act Two presents characters in vibrant Indian choli and saris in front of a bright display of fabrics at a village market. Instead of English tea, the characters make chapatti together on a wooden platform.  Signs and posters reveal the negative feelings toward the overlord British.
The sound and music chosen by Ruby Singh adds to the mood and plot and starts with an old radio sharing a message from British Prime Minister Clement Attlee. Music is classic and includes Western, Hindustani and Punjabi folk music. As we move along, the music becomes more bouncy, more Bollywood than staid, reflecting an emotional joy at the impending independence.
Helena's integration into her own culture provides the theme underlying this production. Luckily, the cast who provide this foundation are all outstanding. The actors of South Asian descent in this production provide a realism to the events, whether dressed in turbans, headscarves, hijab or bare headed, soldier uniforms or not. There is a very talented ensemble who provide the dancing, music, and even a sword dance performed by Munish Sharma and Nadeem Phillip, that allow the audience to feel part of the celebrations. 
This is not to diminish the performances of the other actors: Cuffling is a born Viceroy and Stapleton plays a weak, naive, slightly spoiled youth with affection, and the entire cast is extremely talented, giving skilful portrayals.
All's Well That Ends Well is at the Howard Family Stage in the Douglas Campbell Theatre and continues until August 11.
Review by Sylvia Pritchard for MyVanCity. Images courtesy of Bard on the Beach.
Bard-B-Q & Fireworks July 27 & 31, August 3| 5pm
See The Taming of the Shrew, Shakespeare in Love or All's Well That Ends Well*, then enjoy an exquisite salmon barbecue from Emelle's Catering and an entire evening of entertainment! Visit the PIXSTAR photobooth and enjoy a private view of the spectacular Celebration of Light fireworks.
*Note that the plays lineup varies, depending on the performance date: see schedule for full details. 
Family Days  August 10 & 24 | 2pm
A perfect Bard experience for you and your family! Arrive at the Village early for family-friendly activities, the PIXSTAR photobooth, hula hoop station, a food truck and an exclusive pre-show talk designed just for kids (Mainstage tent). Then enjoy a performance of our hilarious Wild-West love story, The Taming of the Shrew. Purchase a minimum of one Youth and one Adult ticket and receive $10 off each adult ticket (maximum two discounted adult tickets per order).
Exploring Shakespeare  July 13 & 20, September 7 | 11am Saturdays
Simon Fraser University's Paul Budra delivers in-depth explorations of this season's plays in his lively and engaging style. He'll take you beyond the story as he explores Shakespeare's inspirations and influences. Bring your questions and leave with a fuller understanding and appreciation of this season's plays. Each talk will run approximately 60 minutes, including Q&As. Talk dates are:
July 6 – Exploring The Taming of the Shrew; July 13 – Exploring All's Well That Ends Well;
0July 20 – Exploring Shakespeare in Love; September 7 – Exploring Coriolanus.
Forum: Kate – Victim or Victim? Monday August 26 | 7:30pm
Shakespeare's classic comedy, The Taming of the Shrew, features a complicated heroine. Kate Minola is at odds with her family and her community, and her relationship with Petruchio can inspire strong opinions when viewed through a modern-day lens. But is there more to Kate than meets the eye? What can – or should – we make of her in 2019? This moderated forum includes an on-stage panel followed by an audience Q&A session. Howard Family Stage, Douglas Campbell Theatre.
Operas & Arias: Verdi & More! August 26 & September 2 | 2pm & 7:30pm (both days)
The talented young stars of the UBC Opera Ensemble, directed by Nancy Hermiston, are returning to Bard to bring more gorgeous opera favourites to life. Joined by the Vancouver Opera Orchestra and conducted by Maestro Leslie Dala (Vancouver Opera), the singers will perform excerpts from Verdi's La Traviata and Rigoletto, along with a selection of French opera highlights from Manon Lescaut, Tales of Hoffman, Lakmé and Carmen. The concert, presented against the BMO Mainstage's signature backdrop of mountains, sea and sky, promises to be an unforgettable experience!
Wine Wednesdays July 10, August 7 & 21, September 4 | 6pm
Wine Wednesdays are an intimate pre-show wine-tasting in the Bard Marquee, presented by special guests. Mix and mingle with other Bard patrons while enjoying a selection of premium wines and light snacks.
OTHER EVENTS
Prior to each play performance, guests can listen to an insightful In A Nutshell talk. These short and informal sessions give an overview of the story of that evening's performance. On select Tuesdays, patrons are also invited to stay after the show for Talkback Tuesdays, an opportunity to dive deeper into the play they've just enjoyed with a lively Q&A session with members of the casts.
VOCALEYE PERFORMANCES
Bard is presenting four VocalEye performances (Taming of the Shrew – July 21 at 2pm and August 10 at 7.30pm;Shakespeare in Love – July 20 at 7.30pm and August 11 at 2pm) and one Relaxed Performance of The Taming of the Shrew (September 8 at 2pm) – enhancing the festival's accessibility.
Bard on the Beach special events, full performance schedule and site information are on the Bard website at bardonthebeach.org. To book tickets, order online through the Bard website or call the Bard Box Office at 604-739-0559 or (toll free) 1-877-739-0559.
Bard on the Beach gratefully acknowledges the corporate sponsors who support and sustain the Festival and its programs. 2019 sponsors include Season Sponsors Goldcorp and the Peter & Joanne Brown Foundation; Production Sponsors Avison Young, Lawson Lundell, BlueShore Financial and Lonetree Cider; Season Media Sponsors The Vancouver Sun and Global BC, as well as many other valued sponsors and partners. Bard also thanks the City of Vancouver Cultural Services Department, the Vancouver Park Board, the Province of British Columbia, the BC Arts Council, and the Canada Council for the Arts for their continuing support.
About Bard on the Beach Shakespeare Festival
Bard on the Beach is one of Canada's largest not-for-profit, professional Shakespeare festivals. Established in 1990, the annual summer festival's mission is to perform, explore and celebrate the genius of William Shakespeare, surrounded by the natural beauty of Vancouver, British Columbia, Canada. Bard also offers year-round education and training programs for youth, adults and theatre professionals in its administrative home at the BMO Theatre Centre in Olympic Village as well as in schools and community facilities throughout the Lower Mainland of British Columbia.
Schedule of events provided by Cynnamon Schreinert, Hartley PR
Something is wrong.

Instagram token error.