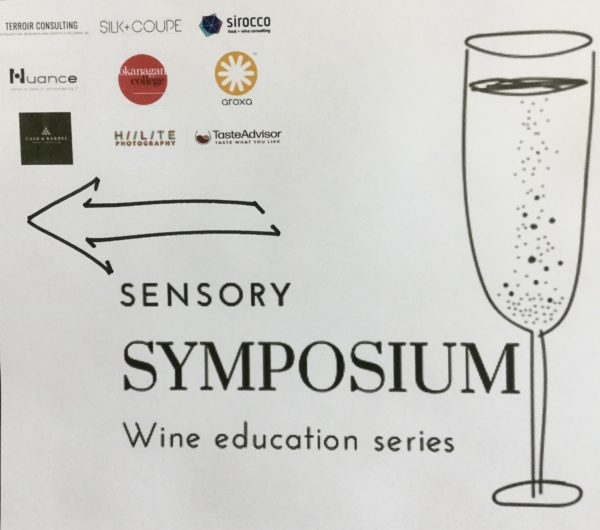 At the end of April, I attended a sold-out event organized by Laura Milnes titled Sensory Symposium, which was held at the Penticton campus of Okanagan College.  Milnes writes about food and wine on her Silk and Coupe  web site.  In addition, she conducts private tastings and plans events among other things.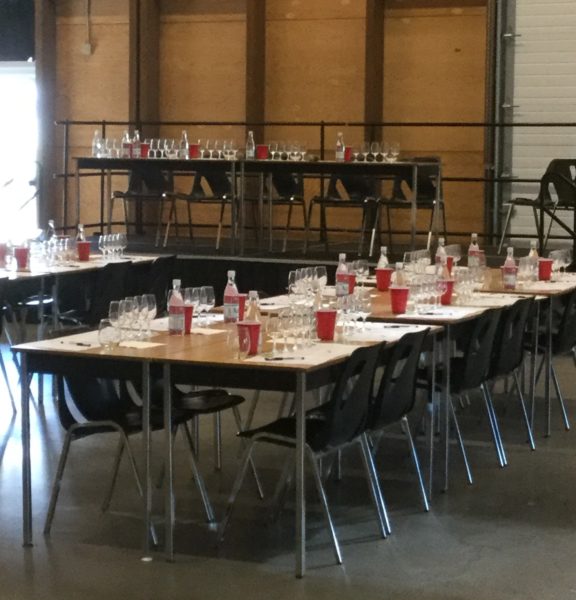 I asked Laura about the genesis of this symposium.  She told me that after conversations with several winemakers including Costas Gavaris, Graham O'Rourke and Luke Smith the idea was sparked.  At the same time, she had been meeting with Karine Lawrence of Sirocco Consulting and Darcen Esau Terroir Consulting who were eager to get involved with a panel tasting that would focus on the sensory aspect of wine tasting.  Now the idea was fully kindled.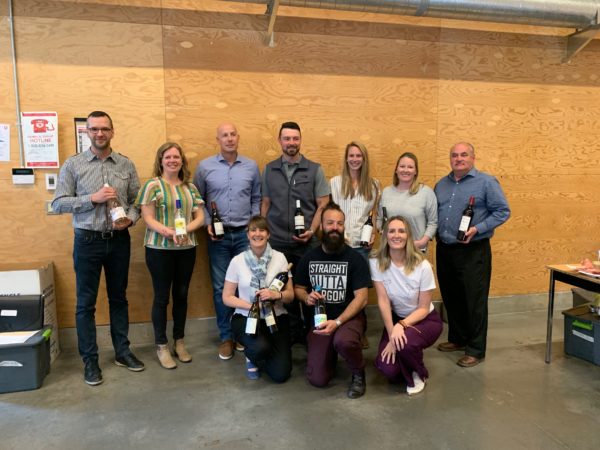 Several winemakers, representing a good cross section of BC wineries, were there to share their wines, thoughts and opinions including:
Costas Gavaris            Rigour and Whimsy           Okanagan Falls
Alison Moyes              Liquidity                               Okanagan Falls
Kelsey Rufiange          Echo Bay                              Okanagan Falls
Graham O'Rourke       Tightrope                            Penticton
Severine Pinte             Le Vieux Pin / La Stella    Oliver
Charlie Baessler          Corcelettes                          Keremeos
Rob Summers             Hester Creek                       Oliver
Mireille Sauvé             Dames Wine                       Kelowna
Michal Mosny             Winemaker's Cut               Oliver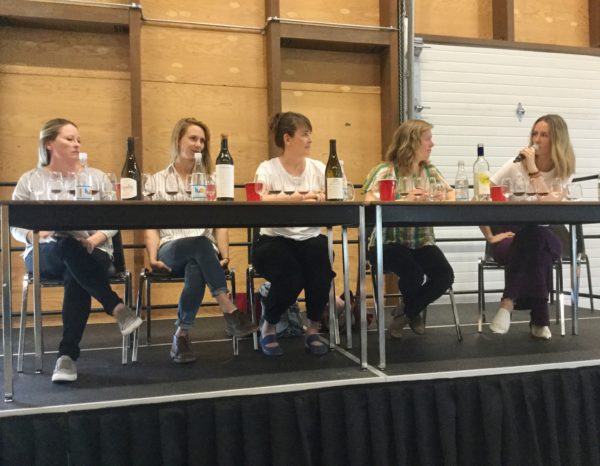 The day was organized into three panel discussions and tastings.  After opening welcoming remarks from moderator Milnes, we began the 'Women in Wine' session.   Panelists for this session were Mireille Sauvé (MS), Severine Pinte (SP), Kelsey Rufiange (KR) and Alison Moyes (AM).
Laura posed her first question:
SirQ:        Do women have better palates?
(Note:  For brevity, I have greatly condensed the panelist's responses and have only included snippets of the discussions that happened.  Some of the discussion was very interesting though quite technical.)
AM      I looked at gender differences as part of my thesis at Brock University.  The research I did, and other papers I reviewed, showed a statistical difference with women showing higher perceived taste intensity.  Whether that makes them wine tasters, remains to be seen.
SP        When I was in wine school, I noticed that the women had more detailed tasting notes.
KR       My experience has been that women tend to like different styles of wine than men – generally lighter wines.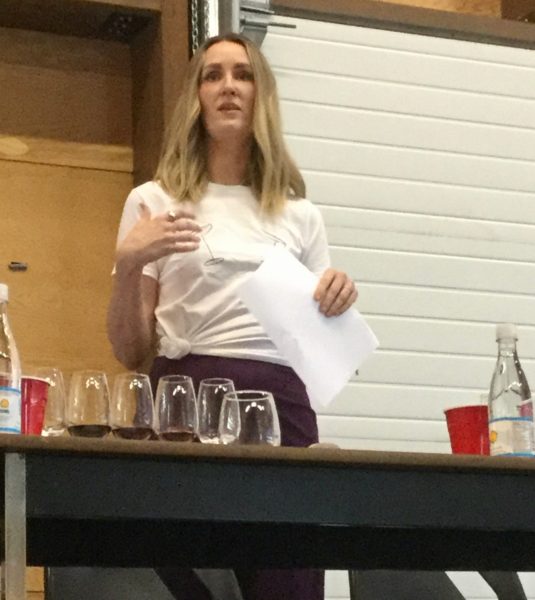 Q:        Who was a mentor for you?
MS      Christine Coletta, an owner of Okanagan Crush Pad.  She has incredible tenacity. Never gives up and always has a very positive attitude.
SP        Florence, a wine consultant in Languedoc encouraged me to stand my ground in what was a very male dominated industry at the time.
KR       Deirdre Heekin author of 'An Unlikely Vineyard: The Education of a Farmer and Her Quest for Terroir' gave me the inspiration to always do my best, no matter what the odds.
AM      When I began in Ontario, Thomas Bachelder gave me a lot of encouragement.  He instilled in me a passion for pinot noir.  Since I moved to BC, I have been inspired by all the women winemakers in the province.
Q:        How do you promote women in the industry?
MS      Through the Les Dames d'Escoffier, BC Chapter, which raises money for scholarships for women in culinary and hospitality industry.  I feel it is very important to give back as I was one of those recipients.
SP        Usually, 75% of the resumes I receive are from women.  We try to maintain a 50/50 male/female mix.
KR       We have noticed that the men are very good at getting the job done, while the women tend to be perfectionists.  A balance is the best of both worlds.
AM      What is needed is to change the face of what the public expects when they hear the word 'winemaker'. Do they expect to see a woman?  This year 100% of the applicants for a cellar hand position were from women. 
What follows are some very quick and dirty descriptions on each wine in the first flight.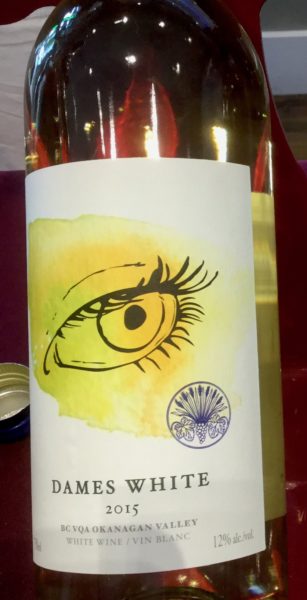 Dames White 2015
A blend of 80% Pinot Blanc, 10% Riesling and 10% Gewürztraminer.  Very pale straw in colour with medium-light intensity.  The nose is inviting with tree fruit, minerality and citrus.  Good balance.  Clean and refreshing on the palate followed by a medium-long finish.  Perfect for when you want a chilled glass of wine on a summer day.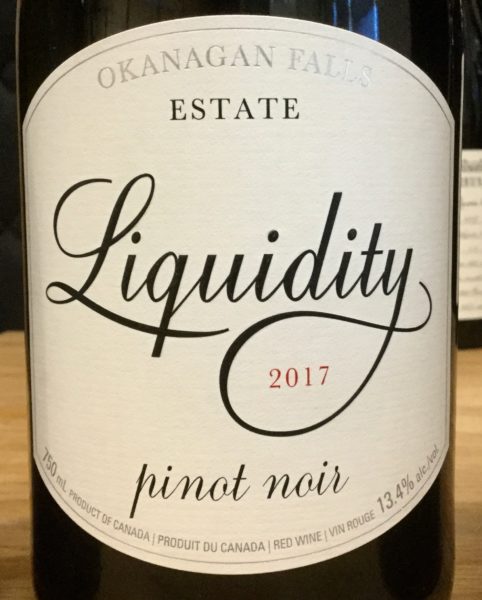 Liquidity Pinot Noir 2017
Garnet red colour with medium intensity.  Well made with good varietal character including cherries, game and forest floor.  Well balanced.  Flavours follow the nose.  Medium-long finish.  Impressive.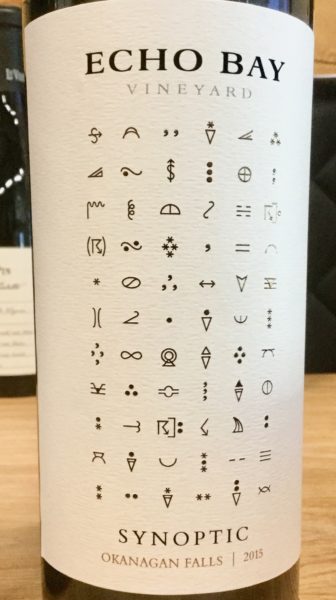 Echo Bay Synoptic 2015
A classic Bordeaux styled blend of Merlot, Cabernet Franc, Cabernet Sauvignon, Petit Verdot, Malbec and Carménère, yet this wine clearly has its own distinct personality.  Floral and fruity on the nose.  Red and black berries on the nose and palate.  Well balanced with just a hint of sweetness on the entry.  A medium-plus finish.  A juicy wine.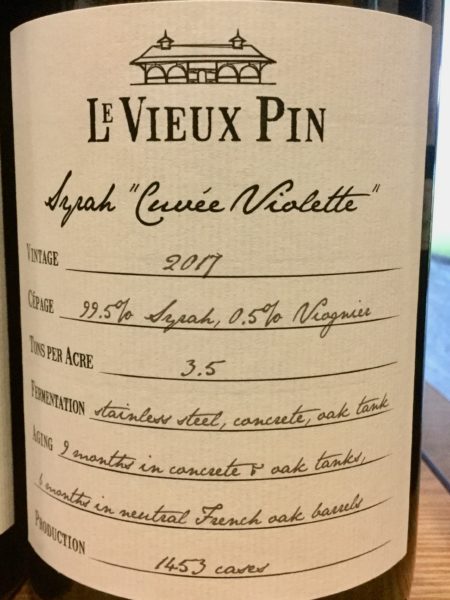 Le Vieux Pin Syrah Cuvée Violette 2017
99% Syrah and 1% Viognier.  Le Vieux Pin is highly regarded for their excellent Syrah and this vintage is no exception.  Garnet red with a hint of purple (still very young).  The nose is rich and layered and is clearly going to develop with aging.  Well balanced.  The palate reflects the nose followed by a medium-long finish.  If you get your hands on one of these, preferably several of them, do yourself a favour and try to have the patience to hang on to it for a while.  This wine will go the distance.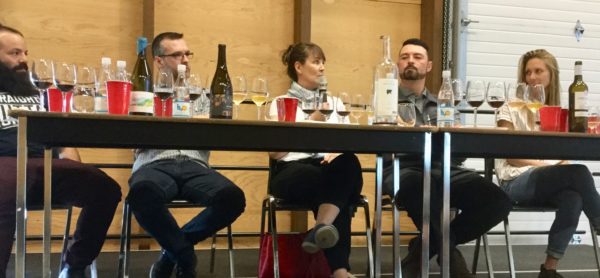 After a short break, we began session two, 'Natural Wine' with Kelsey Rufiange (KR), Charlie Baessler (CB), Severine Pinte (SP), Michal Mosny (MM) and Costas Gavaris (CG).
Q:   How do you define 'natural' wine?
KR       For me, it means nothing added, no new oak and respect for the grape.
CB        The term 'natural wine' is rather vague.  For me, it means striving to make wines that are terroir driven and show great varietal character with the least amount of intervention possible.  We are very lucky to have the climate that allows us to make wines as naturally as possible.
SP        Many wineries already make wines with little intervention.  My problem with natural wines is that some of them have funky, off-putting odors are then marketed as natural and then the public will say, "I do not like natural wines."  First and foremost, we should always aim to make the very best wines that are pleasant to smell and taste.  On the topic of little or no use of sulphite, I once made a wine with very little SO2 that was beautiful at first, but months later, it was spoiled – oxidative and lacking fruit.
 MM     All my life in Slovakia, while working for a large sparkling wine company, I was taught to make wine in a certain way.  Since coming here, I have seen a new way.  A way that is more natural with less intervention that makes better wine.
CG       All the wineries in BC, even the big ones, are small compared to some of the world's major wineries, so there isn't the degree of 'manufacturing' that one might see elsewhere.   The natural wine trend is a movement away from generic mass-produced wines that are the same year after year.
MS       As we all know, alcohol is the main cause of hangovers, not sulphur.  In addition, studies have shown that aldehydes that come from the processing of large batch processing where large amounts of sulphites are used to prevent or cover up oxidization from the processing or spoiled or damaged fruit.  The oxidation produces aldehydes which our body can't process at high degrees.  Therefore, the sulphur is masking what causes the headaches.
All agreed that labeling laws showing what is in the wine would be good for consumers.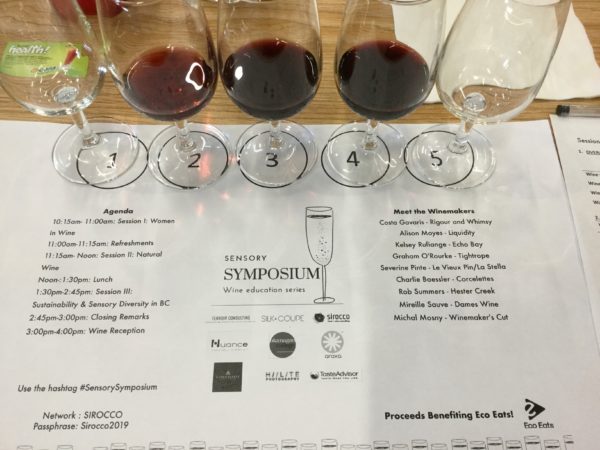 Wines from session two included:
Costa SC Pinot Blanc
Lemon yellow with medium-plus intensity.  Clear but not brilliant.  The nose is faint with some delicate aromas of stone fruit, pear and apple.  Acceptable balance.  A medium short finish.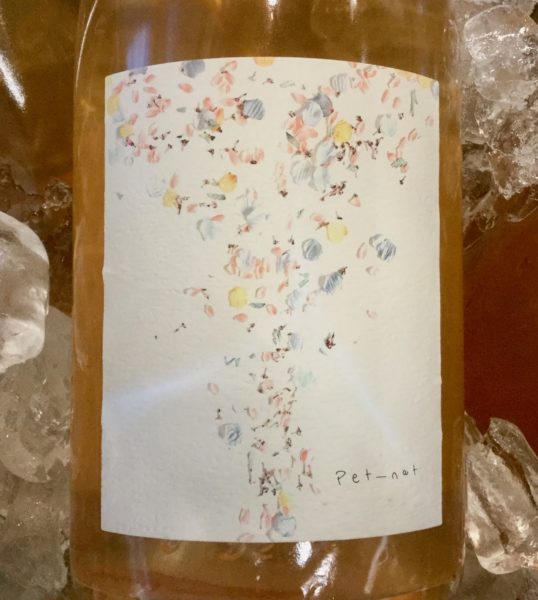 Echo Bay Sparkling Pet Nat Riesling
Cloudy, not clear.  The nose is yeasty with little fruit.  Acceptable balance.  Some pleasing flavours.  A medium short finish.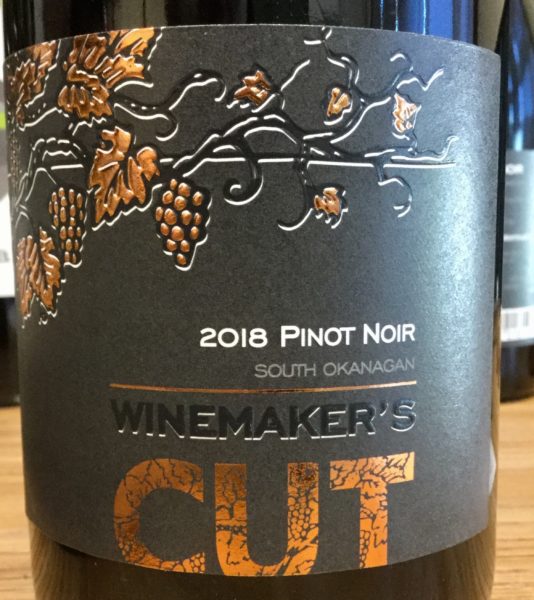 Winemaker's Cut Pinot Noir
Garnet red with some bricking and medium intensity.  The nose shows little fruit.  Good balance though lacking acidity.  Some pleasing flavours on the palate followed by a medium finish.  A very good wine that needs time to come into its full potential.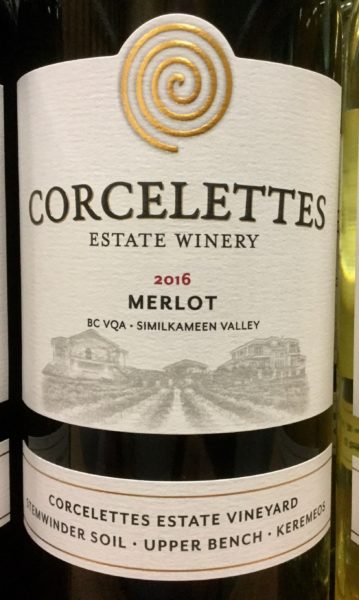 Corcelettes Merlot 2016
Garnet red with deep intensity.  The nose initially is very faint opening up later to some pleasing varietal character.  Good balance.  Flavours mirror the nose followed by a medium-plus finish.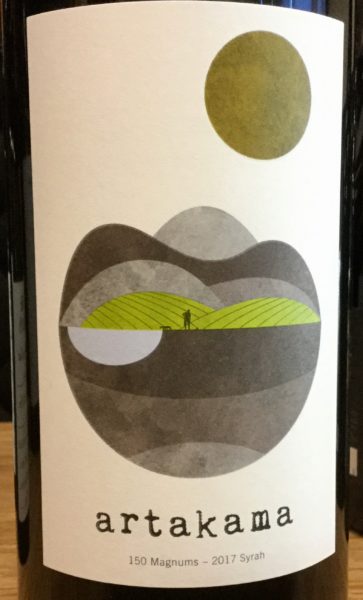 Le Vieux Pin Experimental Wine (Artakama 2017 Syrah – not for sale)
Garnet/black with deep intensity.  The nose is delicate with aromas of dark berries.  Good balance.  Pleasing fruit on the palate.  A medium-plus finish.
We broke for lunch and then returned for the final session, 'Sustainability & Sensory Diversity in BC' where Michal Mosny (MM), Rob Summers (RS), Severine Pinte (SP) and Graham O'Rourke (GO) shared their thoughts, opinions and insights.
MM     WC is basically a Garagiste winery.  When I grew up in Slovakia, sustainability was the natural way to do things so that things could be passed on to future generations.    
RS        At Hester Creek we are very concerned with the environment and the use of resources.  When the new winery was built in 2009 it was built into a hillside and then covered it with a green roof.   This meant energy saving as well as fitting in to the landscape.  The winery, the wine shop and villas all use geothermal energy.  All the vineyard is drip irrigation, no run off issues.  Composting and recycling are also extensively practiced.  We only do what is needed in the vineyard, when it is needed, we don't operate on schedules. 
SP        Sustainability means finding the right balance between the vineyard, the winery and being economically viable all while trying to make the very best wine possible.
Q:        Does the Okanagan have a specific sensory profile?  And if so is there a strategy you have for marketing that to your consumers.
RS        Tough question because the Okanagan is a very long valley with many different areas, each with their own unique conditions.  We are seeing the development of sub appellations as we understand more about what grows best where.  For example, the Similkameen Valley is much different than the southern Okanagan Valley.  We are still figuring all that out, but it is clear that different areas do different grapes best. 
GO       I don't see the Okanagan becoming known for just one red and one right.  For example, chardonnay grown in West Kelowna is very different from the same grape grown in Osoyoos, yet both are very good. 
SP        We do have one thing that is common throughout the valley and that is good acidity which gives our wines structure.  In twenty years from now, these wines are still going to show well
MM     The thing that really impresses me about the Okanagan is that in a relatively short distance, we can grow so many different wines and do them all well. 
Q:        The consumer is looking for a certain price point, generally in that $15 to $20 range.  Is it possible to produce sustainable wines for say $12?
GO       There are wines at that price that pass the VQA panel and there's nothing wrong with them.  However, it is a matter of scale.  A winery producing 4500 cases cannot make a $12 wine.  It just isn't possible without the necessary economy of scale.  The price of land is one of the major obstacles.  Many of the places we buy from are only 10 acres and they have to charge enough to make a living.  We don't have 400 to 600-acre vineyards that are the norm in other regions of the world.   That scale brings the price of grapes way down. 
SP        The price of the grapes is one thing, but paying for shipping is another.  For example, a 225 litre wine barrel is around $1000 and then about another $75 for shipping.  Then when you consider we rotate barrels after a few years, all that cost has to be tacked on to the cost of the wine.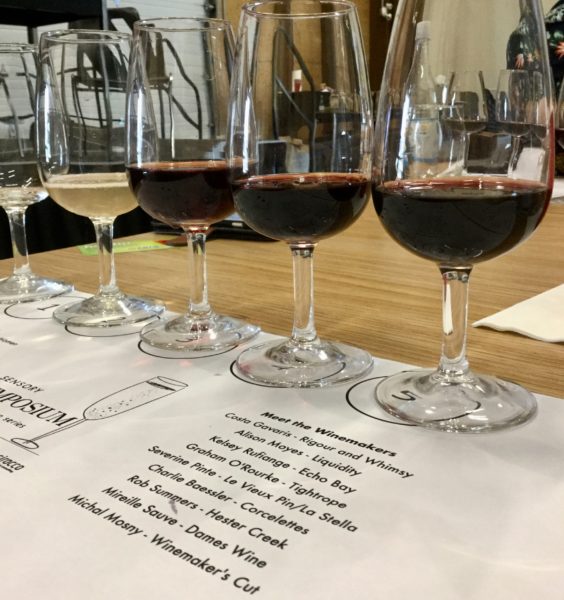 The final flight of wines.
Winemaker's CUT Sauvignon Blanc 2018

Very pale straw with light intensity.  The nose shows aromas of citrus, minerality, pear, melon and honey.  Good balance, pleasing fruit on the palate and a medium-plus finish.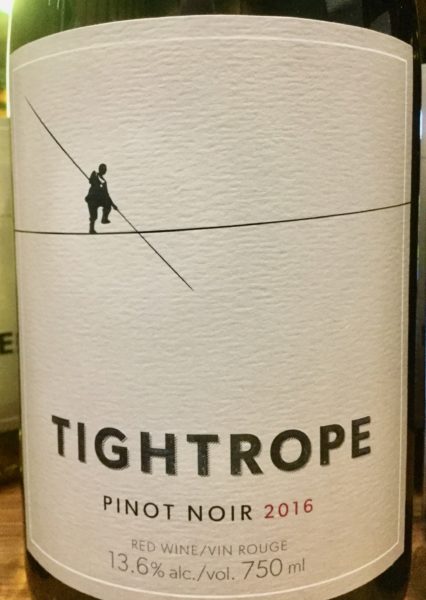 Tightrope Pinot Noir 2016
Garnet red with medium-plus intensity.  The nose is inviting and layered with varietal character including cherry, berries, black tea, earth and game.  Good balance.  Flavours follow the nose.  A medium-long finish.
Hester Creek Merlot
Garnet red with medium-deep intensity.  The nose is inviting with aromas of dark berries, earth, spice and cocoa. Good balance.  The flavours reflect the nose followed by a medium-plus, slightly warm finish.
La Stella Fortissimo
Garnet red with medium-deep intensity.  The nose was closed, tight, but with layers waiting to emerge.  Good balance.  A medium finish.  This description is somewhat deceiving as this wine is obviously well made, it is simply far too young and needs time to develop and show its true colours.
Laura thanked everyone who attended, the panelists, the volunteers, Cora, Avery Trent from Perfect Wine Pairings who supplied the wonderful lunch and the crew from Cask and Barrel who were on hand to sell a selection of wines from those wineries in attendance.
Then the day ended with a wine reception, where I enjoyed a glass of Liquidity Chardonnay and a 2018 Winemaker's CUT Rosé, both of which were not a part of the earlier flights.
I found Laura to congratulate her on the very successful and educational symposium and asked her if there were any plans for future events such as this.  Her response, "We will be branding the concept and plan to host future symposiums across Canada with varying themes. The next one will be in Toronto, since I'll be there." 
* Thanks to Donita Dyer of the Bottleneck Drive (https://bottleneckdrive.com/) for supplying me with some extra information.
(All photos, except as noted – Sam Hauck)