It was a Wednesday afternoon early this spring and many of us in the wine media were gathered at AnnaLena, a trendy little eatery in Kitsilano.  We were there to find out more about the new happenings at Cowichan Valley's Blue Grouse winery from owner Paul Brunner.  The AmoVino team of Jessica Luongo and Marisa Varas – Blue Grouse distributors – were on hand pouring wines and making sure the event ran smoothly.
We were greeted with a lovely sparkling glass of Paula, Blue Grouse's 2014 Methode Traditional sparkling wine.  After a while to chat and visit with owner Paul Brunner and other colleagues, Leeann Froese of Town Hall Brands welcomed everyone.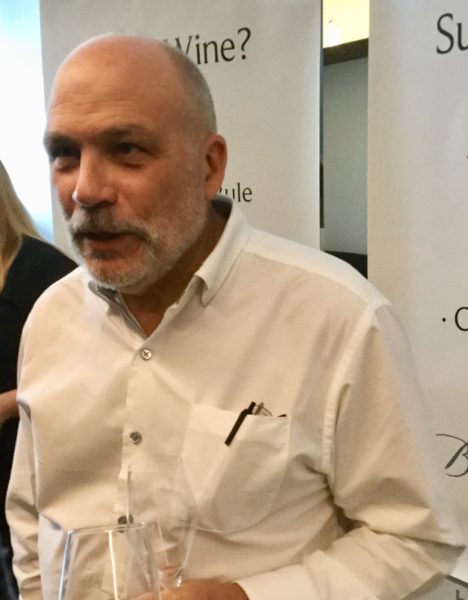 Then Paul spoke of many things and showed us their three new labels.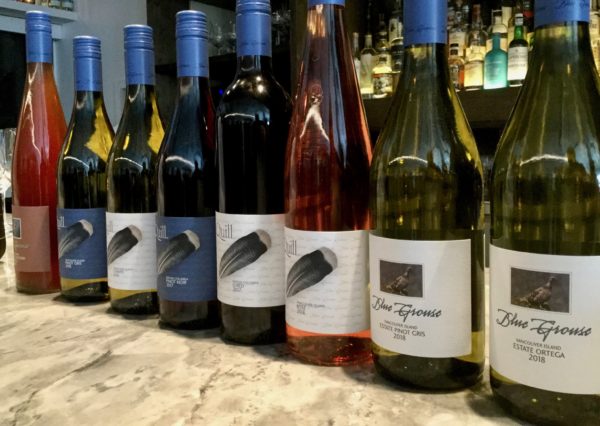 Blue Grouse believes passionately in 'stewardship' and this is reflected in everything the winery does – land, vineyard, winery, their employees and their customers.   They are dedicated to leaving everything better than the way they found it.  To this end they have installed geothermal heating, use rain capture, a water retention pond, no paving to prevent rain run-off which goes directly into the drainage system and out to the ocean.  With no paving about 10% of the water soaks into the ground and helps to recharge the aquifer.  The building was designed by a LEEDS certified architect.  The windows are and roofline are designed to let sunlight in during the winter months and keeps the sun out during the hot summer months.  They made the decision to go organic and have another two more years to become certified.  They use natural organic fertilizers and sprays to prevent mildew.  All waste is composted.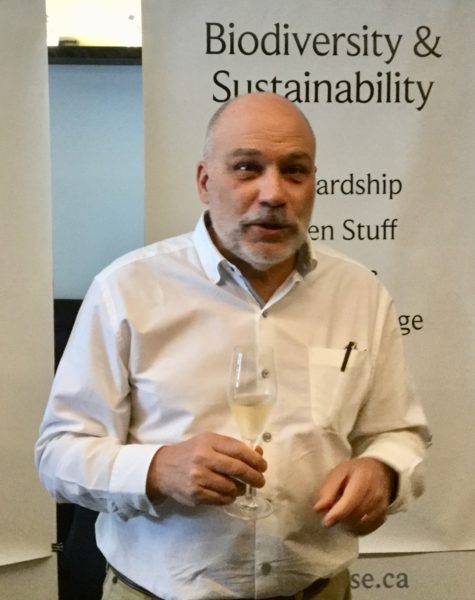 Blue Grouse is in a sensitive watershed.  In July and August there is little rain.  Unlike other farmers in the area who pump water from a local salmon stream, Blue Grouse takes water from the aquifer which has less impact.  The eight and a half-acre vineyard is planted with, "two rows of everything", (nine varietals) including interesting varieties such as Siegerrebe, Müller Thurgau, Marechal Foch and Ortega.
They recently began consulting with world-renowned soil specialist, Pedro Parra who helped them determine what grapes were best suited to each parcel on the site, including their new 26-acre lower vineyard which will be planted in five varieties – Pinot Gris, Pinot Meunier, Pinot Noir and Chardonnay.  These will also help increase their sparkling portfolio as well as allow for terroir focused wines.
As winemaker Bailey Williamson says, "It is important that we take what our terroir gives us rather than trying to force the terroir to give us what we want."
Their Quill label represents wines made from a blend of Vancouver Island and Okanagan fruit, while the Estate wines, as one might guess, are made from 100% island fruit.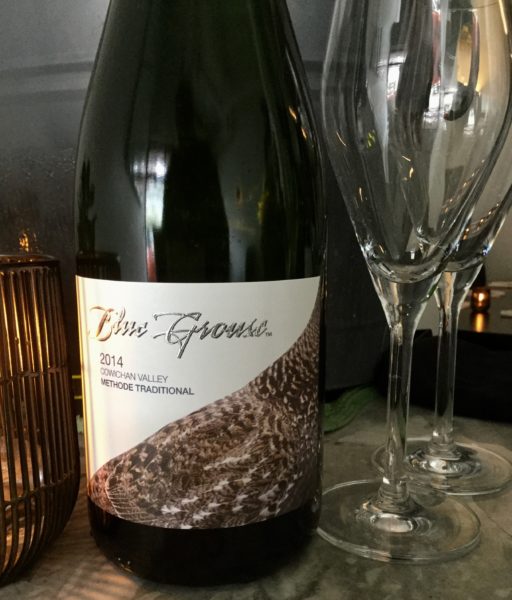 Paula, Blue Grouse's 2014 Methode Traditional
From Paul's personal cellar.  This attractive BC bubble is very pale straw in colour with medium-light intensity.  It has aromas that are delicate with bready, citrus, lees and toasty notes.   Good balance.  Clean and refreshing on the palate with flavours of pear and crisp apple, brioche and lemon followed by a medium-plus finish.  If you find a current vintage of this wine, buy it.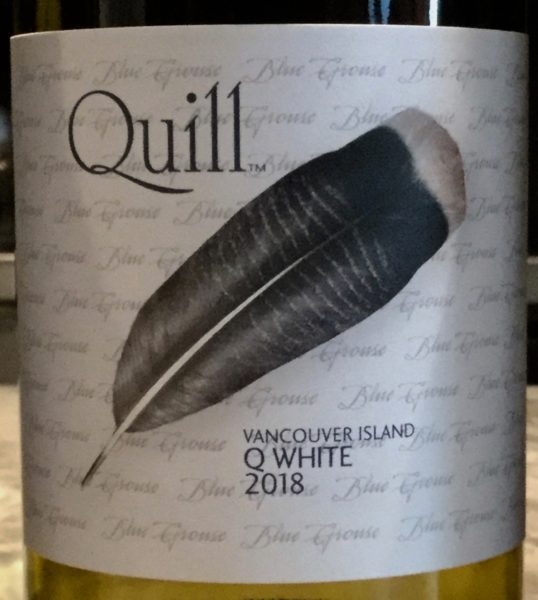 Quill White 2018                                                        $22
An excellent blend of Pinot Gris, Schonburger, Gewurztraminer and Siegerrebe.  Excellent balance and flavour.  Stone fruit, floral notes and citrus zests.  Crisp, fresh and delicious.  I have always liked this wine, but this one is better than ever.  An outstanding food wine.  Bring on the seafood.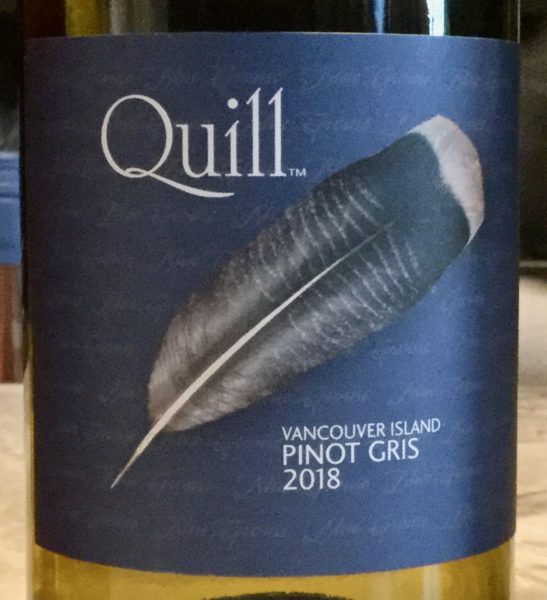 Quill Pinot Gris 2018                                                  $21
Made with fruit from two sites in the Cowichan Valley, one in the north and one in the south. The wines are blended together after fermentation to achieve just the right balance.  Clean, crisp flavours of stone and tree fruit floral and toasty notes. Lighter than the Estate version.  Serve with fresh cooked crab.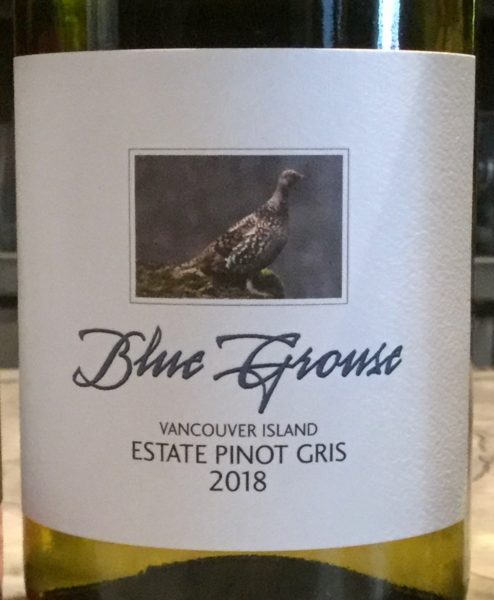 Estate Pinot Gris 2018                                                $25
From some of the oldest vines grown on Vancouver Island.  20% of this wine was barrel fermented resulting in a wine with creamy texture.  Bolder than the Quill version.  Butterscotch and vanilla.  A long luscious finish.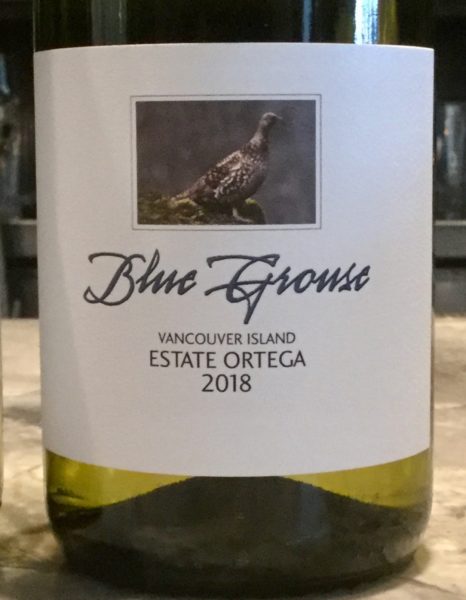 Estate Ortega 2018                                                    $23
All the grapes are from the Blue Grouse estate.  What makes this one of the best Ortega wines I have tasted is at least partially due to the mature 25-year-old vines.  Aromatic with floral and citrus aromas and flavours.  Medium-bodied.  A greatly under-appreciated grape that more people should try.  Great with seafood, especially fresh oysters.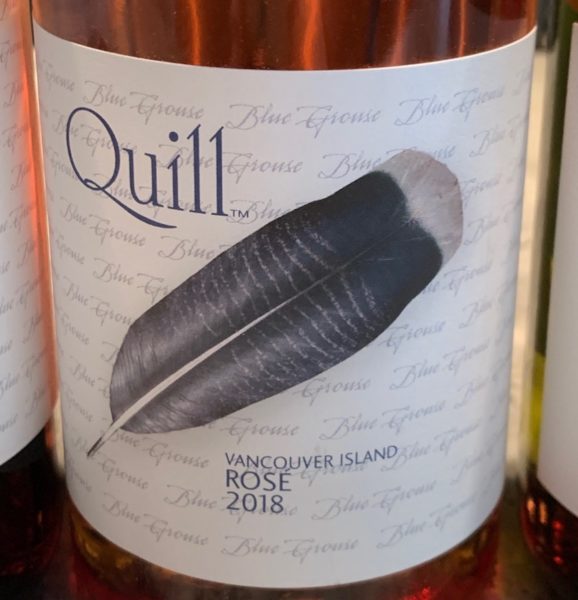 Quill Rosé 2018                                                          $22
Made from Cowichan Valley Gamay Noir.  Strawberry, cherry with a hint of rose petal.  Bright mouth-watering flavour followed by a medium-long finish.  Serve chilled on the patio with lunch or dinner.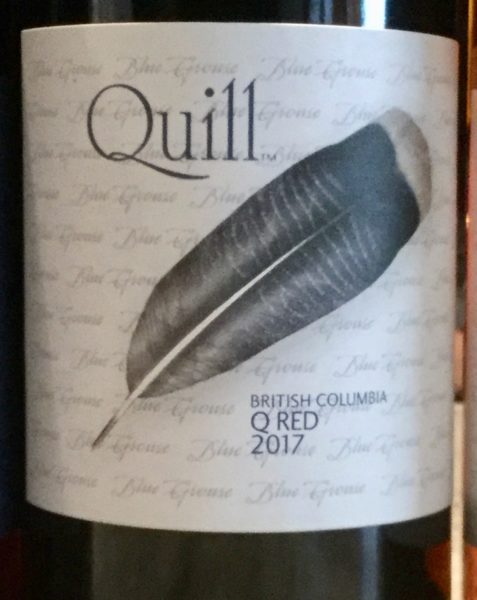 Quill Red 2017                                                            $26
An excellent blend of Cabernet Franc (Okanagan), Merlot (Okanagan) and Marechal Foch (Cowichan Valley).  French and American oak.  Everything adds something to the flavour profile.  Dark fruit, cocoa and baking spice aromas and flavours.  Very delicious.  Fire up the barbecue and serve slightly cool.  Perfect.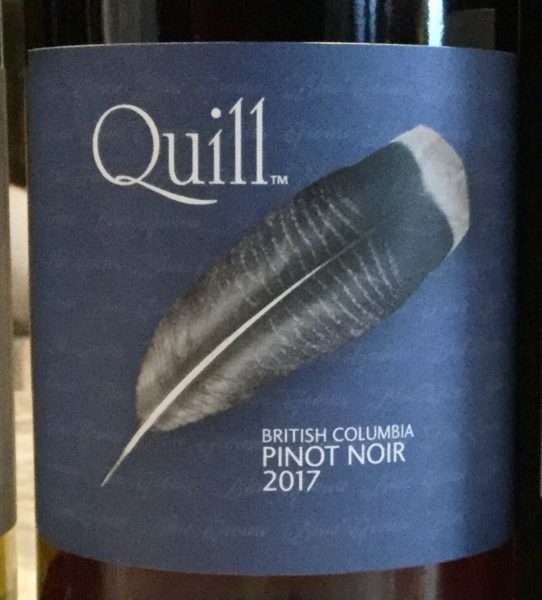 Quill Pinot Noir 2017                                                 $26
The grapes came from the Cowichan Valley and from the mid Okanagan Valley.  This mix of four clones was aged in a combination of French and American oak, with all giving this wine complexity.  Pronounced nose, ripe plum, cherry, cranberries, and sweet spice. Big body, well balanced.
I am quite familiar with Blue Grouse wines and have always enjoyed them, but this vintage is clearly their best ever.  Be sure to seek them out.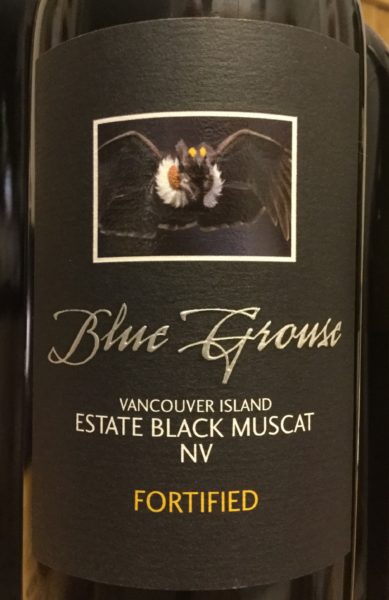 If you have the chance, Blue Grouse is a beautiful place to visit.  The setting is scenic and the architecture stunning.  You can find them at 2182 Lakeside Road in Duncan.  To treat yourself, give them a call at 250-743-3834 and book a stay at their beautiful Bed and Bottle situated amongst the vineyard.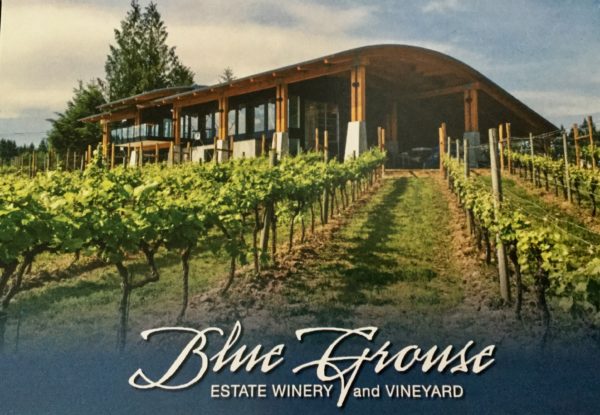 [wdi_feed id="2″]