The Rogue Folk Club presents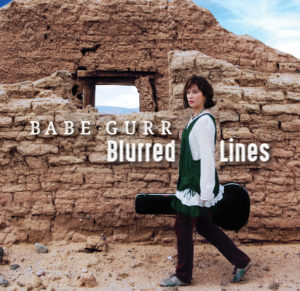 Babe Gurr
Friday, September 6th 2019
8pm (doors open at 7pm)
St. James Hall 3214 West 10th Avenue
Vancouver singer-songwriter Babe Gurr celebrates the release of her new recording 'Blurred Lines' at the Rogue! Joining her will be Paul Pigat (guitar), Nick Apivor (percussion), Jeff Gammon  (stand-up bass) and Simon Kendall (keys, accordion, support vocals).
Babe Gurr's sound defies labelling but musically she finds a home best described as adult alternative -a fusion of blues/pop, with a twist of roots. Her new release "Blurred Lines" exemplifies her unique and seamless blend of genres. Her warm and sultry voice, intelligent lyrics, memorable melodies and savvy personality add up to pretty much everything you want to see on a stage.
The organic bent to Babe Gurr's music contributes to the success of her songwriting. Babe has recently received accolades; taking the win for the Sonicbids Nashville Song Contest, garnering honourable mention for three self-penned tunes in the acclaimed Billboard World Song Contest, and being selected as a finalist for three tunes in the 12th and 13th Great American Song Contests.
Whether live in concert or on her various recordings, this artist promises to bring people on an emotional rollercoaster. Audiences will feel a whole range of emotions while on this musical journey but will walk away with a smile upon their faces!
Babe has headlined at numerous festivals across Canada and has played some of the most popular and prestigious concert halls spanning from Vancouver Island to the Maritimes as well as U.S. dates in New York and Seattle and her name is becoming familiar to many more fans each day, people who appreciate finely crafted songs performed with sincerity.
Strong reviews for both her recorded and live work have given her a profile that is beginning to attract attention not only at home but further afield. Nashville's Gary Allen puts it succinctly: "This Canadian chick rocks!
Tickets $24 / $20 members
Available online at www.roguefolk.bc.ca
in person at Highlife & Tapestry
or call the Rogue Ticket Hotline at 604-736-3022

REVIEW: Blurred Lines
Babe Gurr just keeps getting better. Blurred Lines, a seven piece collection of new work proves the point in spades- box of audio chocolates, each one with its own unique flavour. These are songs with complex over and under tones reflecting a songwriter who has outdone her previous work as lyricist and composer while maintaining her ability as a singer of passion and subtlety. Babe has produced these songs herself and she exerts a firm hand, making sure that her voice is front and centre and the production never drowns the creations. She has assembled a fine team with Paul Pigat's guitar work as a strong partner in delivering the songs.
Blurred Lines is as fine a collection of contemporary songs for grownups as is out there- anywhere by anyone- a set of finely cut jewels, each in a distinctive matching setting. The boundaries may be blurred in a dozen delightful ways; Babe Gurr's vision is 20-20.
By Gary Cristall – Co-founder of the Vancouver Folk Music Festival, Canada Council for the Arts officer, and Capilano University Educator.
www.roguefolk.bc.ca/concerts/ev19090620
www.babegurr.com
Media release and images provided by Jodi Smith, JLS Entertainment.
[wdi_feed id="2″]