Be Noble: Noble Knights and Dames
Noble Ridge aims to create premium wines and experiences to match. But we don't stop there. We craft a culture of nobility for all we do in life. As part of our BE NOBLE program, this year we have hosted fundraisers and donated a portion of our tasting fees to four charities. Our 2019 Noble Causes are:
-Vaseaux Lake Stewardship Association
-Southern Okanagan Women In Need Society
-West Coast Kids Cancer Foundation
-South Skaha Housing Society
This desire to elevate our noble causes has led way to the release of a brand new label. Noble Ridge is proud to introduce:
Noble Knights and Dames
The goal of this label is to showcase people who emulate honourable traits of nobility, perform exemplary deeds, demonstrate effective contribution to their communities or profession and act as incredible ambassadors for Noble Ridge. Over time, each new Noble Knight or Dame will be honoured with a wine named after them. With admiration, our first inductees are:
Mr. Richard Powers
2017 Powers Vintage Chardonnay
Barrel fermented in neutral oak, 5 months  batonnage,
aged 7 months on lees, patial malolactic fermentation
Creamy with deep notes of butterscotch and apple
"…the best Chardonnay we have made yet."
– James D'Andrea, owner
$38.99
One time purchase only, 3 bottle limit, please contact winery for purchase
Wine Club Members, please login to your Member's Exclusive Account
Drs. Jim and Pam Stone
2017 Stone Vintage Cabernet
59% Cabernet Franc, 41% Cabernet Sauvignon
Aged 16 months in 20% new French and American oak
Notes of savoury roasted peppers, tobacco leaf, and plum with firm lingering tannins.
"A new exciting and very special blend for Noble Ridge"
-Leslie D'Andrea, owner
$38.99
One time purchase only,  3 bottle limit, please contact winery for purchase
Wine Club Members, please login to your Member's Exclusive Account
You can read more about our Noble Causes, BE NOBLE program, and the Noble Knights and Dames label here.
We have New Releases for You!
Your fall tasting experience has lots of options to tickle your fancy.
We prepared two new flights for the Reserve Bar and Premium Tasting, boasting brand new releases.
In case you didn't catch our last update, these beauties are available now!
Visit us at the winery or click here to see our current wine selections.
What's happening in the vineyard?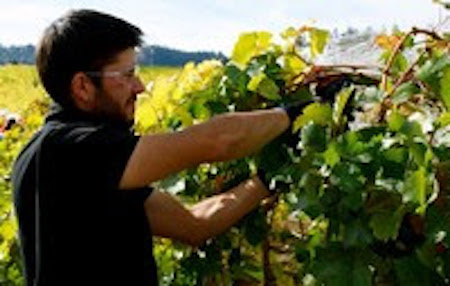 Where would we be without the efforts of our dedicated vineyard team? Without wine! One of the most important aspects of our business happens with hands among the vines. All 34.5 acres of our vineyards are cared for by hand. Our team guides the vines with a watchful eye to ensure their best health.
The vines prospered through unfavourable cold conditions in early April. By June, our plants had full foliage, ready to be thinned for ideal air flow and sun exposure. The summer gave us consistently sunny days, easy sprinkles of rain and only one noteworthy fire in the season (a major contrast to earlier years). Our winemaker, Benoit Gauthier, is left smiling.
And now, harvest has begun! One of the most fruitful but busy times of the year. In late August we kicked off the 2019 harvest by picking Pinot Noir and Chardonnay for our signature sparkling wines. Benoit noted high acidity and low sugar in the grapes that will offer a promising vintage.
Following closely, in the first week of September, we picked our Pinot Grigio. This variety comes from the Pinot family. Did you know that once ripened, Pinot Grigio clusters have a mix of red and golden coloured berries?
Benoit is following the weather closely for optimal days in the Autumn when we will pick the remainder of our fruit. Stay tuned to our social media pages for updates.
Upcoming Events
Harvest Work Days
October 5th, 10am – 1:30pm SOLD OUT
October 6th, 10am – 1:30pm
Want to experience harvest first-hand? Join us among the vines for an educational experience lead by our winemaker, Benoit. Learn about the grapes, help with picking, and purchase future wine made from the clusters you harvested. Afterward, and enjoy a hot meal under the sail prepared by Flame Catering Co.; four courses paired with Noble Ridge wines.
Last call for ticket sales: Friday, September 27th
Sip and Dip Water Marbling Workshop
November 9th and December 7th, 10am – 4:30pm
We welcome Colour Drop to the winery to guide our guests in water-dying beautiful scarves with marbling techniques. Hands-on fun, wine to enjoy, and lovely fabric pieces to take home, or give as a hand-mad gift to someone special.
Get Your Sparkling on with Katherine McEachnie
November 30th, 2pm – 4pm
Local vineyard owner, Champagne Master, noteworthy wine educator, and a lovely individual. Katherine McEachnie leads us through a vertical flight of Noble Ridge sparkling 'The One' and compares to some of the best Champagne in the World.
Happy Harvest & Thanksgiving Season
The Noble Team
Noble Ridge Vineyard & Winery
2320 Oliver Ranch Rd, Okanagan Falls, BC V0H 1R2 tel: 250.497.7945
http://www.nobleridge.com
Information and images provided by Noble Ridge Vineyard & Winery. Feature image courtesy of the Winery.
[wdi_feed id="2″]