It's no secret that Vanessa Vineyard wines are on our #FavouriteThings list that we personally recommend. Fabulous wines from the Similkameen Valley.
Right now you can save 10% until December 15 (including boxes sets, excluding Members exclusives) while quantities last with free shipping within BC for orders of 12 bottles. That's a deal worth looking into.
We are repeating ourselves but it's worth saying again: "Just join the Vanessa Vineyard's wine club and never worry about buying any other wines again, their wines are that good." Sam Hauck, the Wine Teacher
2018 Viognier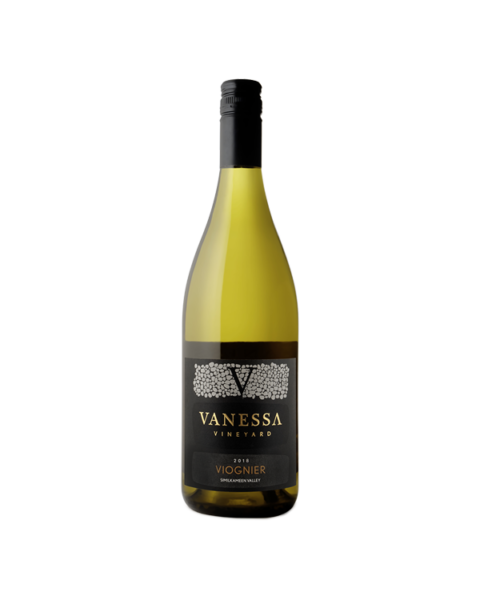 Light gold in colour, with aromas of sun ripened peaches and honeysuckles, this unctuous wine is one to savour. With its lovely structure and beautiful mouth-feel, it has just the right amount of acidity to keep wine refreshing and food-friendly. Pair it with a luscious starter like baked brie and apricots.
The Vanessa Vineyard 2018 Viognier is everything I look for in a Viognier, or should I say, rather it doesn't have  the traits of a Viognier which I avoid. No heavy cloying perfumey, after shave scents or taste instead a lighter much more approachable version that many viogniers never achieve. I had first tasted the Viognier in March and I was pleased with how it has continued to improve. On this late May tasting is was superb. Valerie, Editor.
I am very fortunate.  I get to taste a lot of wine.  A lot of good wine, very good wine and sometimes excellent wine.  It is rare when so many wines from one producer make you say, "Wow", but that happens to me when I sample wines from Vanessa Vineyards.  That's precisely why I joined their wine club. Sam Hauck, wine reviewer
Viognier 100%
Viognier Clone 642
Alcohol 12.2%
Residual Sugar 1.6 g
LTotal Acidity 6.08 g
LpH 3.4
Brix 24
Cases Produced 325
Released 2019
SKU 169089
2014 Right Bank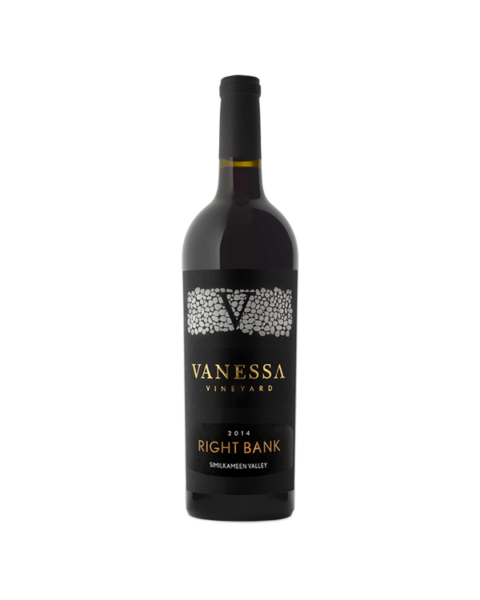 Crafted in a classic "Right Bank" style of Bordeaux, this is a Merlot-dominate Meritage with Cabernet Franc and Cabernet Sauvignon rounding out the blend. Deep garnet in colour with seductive aromas which promise brambly fruit, raspberries, blackberries, and blueberries with smoky notes. The rich palate shows ripe black cherries, blackberries and a dusting of cocoa with a lingering, pleasing finish. An elegant 100% estate wine, this generous vintage demands full flavoured dishes or try with Entrecôte Bordelaise.
After careful consideration of the wine menu at Spirit Ridge Resort's the bear, the fish, the root & the berry we selected the Vanessa 2014 Right Bank. The Right Bank was exceptional, full bodied, boldly flavoured and paired equally beautiful with both the bison tartar and the medium rare grilled bison as well as the dark chocolate dessert. I highly recommend you try this wine. Valerie, Editor.
Merlot 77% / Cabernet Franc 14% /
Cabernet Sauvignon 9%
Merlot Clone 181 Bordeaux, France
Cabernet Franc Clone 331 Pyrénées-Atlanliques, France
Cabernet Sauvignon Clone 169 Bordeaux, France
Alcohol 14.9%
Residual Sugar 1.0 g/L
Total Acidity 6.8 g/L
pH 3.6
Brix 30
Cases Produced 1,090
Released 2017
SKU 052194
2015 Syrah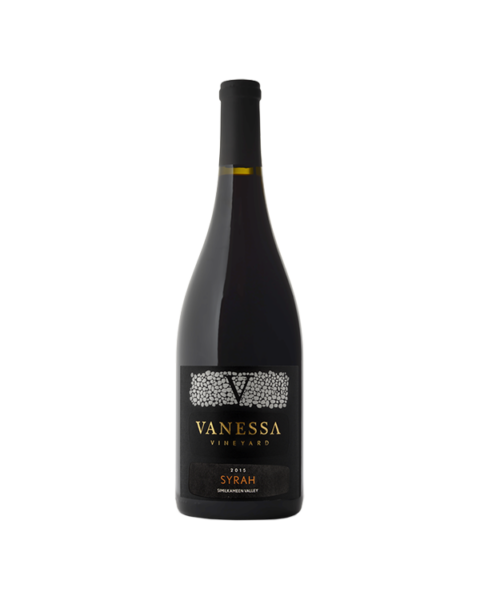 Dark ruby in colour, this classic Syrah expresses earthy aromas with vanilla, leather, mocha and mint accents. Full-bodied with concentrated dark berry fruit flavours, filling the palate are tobacco, vanilla bean, black pepper, clove and ginger spices. A wine with an opulent mouthfeel layered over well-rounded tannins, this vintage is built for aging with good structure and seamless fruit and oak integration. The lengthy finish shows exotic spices and smoky oak. Enjoy this elegant wine as you might any Syrah based northern Rhône red. Crafted from only 100% estate grown and hand-picked fruit.
Syrah in general is really the go-to standard of red wines. When in doubt bring out the Syrah, you really can't go wrong with this juicy, fruity, smooth, big flavour red wine. Valerie, Editor.
Syrah 92% / Viognier 8%
Syrah Clone 100 Côtes du Rhône, France
Alcohol 14.2%
Residual Sugar 4.0 g/L
Total Acidity 6.4 g/L
pH 3.9
Brix 28
Cases Produced 445
Released 2019
SKU 790873
2014 Meritage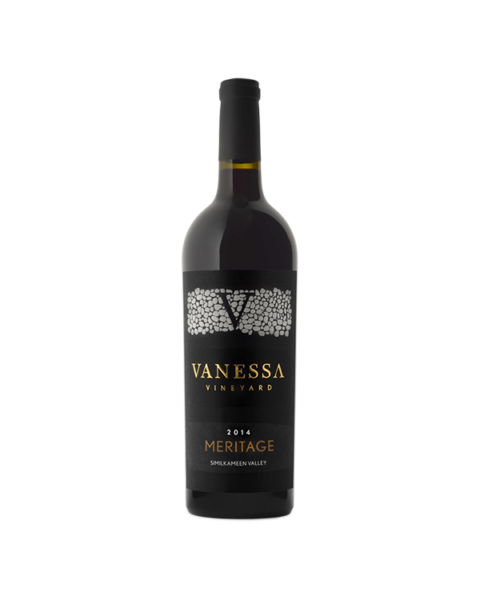 A rich Cabernet-based cuvée, our 2014 Meritage is a softer, yet more complex vintage that has been contoured and sculpted by our winemaker. Elegantly layered with deep berry flavours, this is a wine with excellent structure and concentrated flavour. The ripe, silky tannins are balanced by fresh cherry, dark berry, coffee and licorice flavours. The fruit and oak are particularly well integrated with a smooth lingering finish.
The Vanessa Vineyard 2014 Meritage is one fine wine. Made with grapes from two Bordeaux clones and one Pyrénées-Atlantiques clone the Meritage is rich, soft and still complex enough to be an all around choice for the pairing with the flavourful Wagyu Beef. And don't forget even though the grapes have their roots in France – do not pronounce it with an accent, it is Meritage like heritage. I know this because Master Winemaker Howard Soon says so! Valerie, Editor.
Cabernet Franc 37% / Cabernet Sauvignon 35% / Merlot 28%
Cabernet Sauvignon Clone 169 Bordeaux, France
Merlot Clone 181 Bordeaux, France
Cabernet Franc Clone 331 Pyrénées-Atlantiques, France
Alcohol 14.7%
Residual Sugar 0.70 g/L
Total Acidity 6.05 g/L
pH 3.75
Brix 27
Cases Produced 775
Released 2018
SKU 160895
Buy Vanessa wines online.
Vanessa Vineyards Our Vision
Our vision is to produce only the highest quality grapes that reflect the terroir on which they grow and, in time, to become one of the best red sites in Canada. For the first five years we were exclusively grape growers, selling our high quality fruit to a select few wineries in British Columbia. In 2012, the decision was made to begin producing small quantities of premium wine. We hope that by using only 100% estate-grown fruit in the making of our wines that we can properly represent the Similkameen Valley and strengthen its reputation as what EnRoute Magazine calls one of the "world's five best wine regions you've never heard of ".
We are committed to achieving uncompromising quality and production efficiency and, most importantly, to respecting the land on which we operate. We aim to bring innovation to the Similkameen Valley, and build a strong reputation in the wine industry through our standard of quality and environmental consciousness.
Tasting notes, bottle shots and images courtesy of the winery. My comments and quotes from Sam Hauck in italics. I received one complimentary bottle of each wine to facilitate this feature. All opinions are my own.
[wdi_feed id="2″]